8 Common Renovating Mistakes Homeowners Make
Undertaking home renovations allows homeowners to add their own stamp to pre-existing properties. Rather than building a house from the ground up, you can simply add a few features to suit your unique tastes.
It seems straightforward in theory and often can be, but not all renovation projects go to plan. It's not uncommon to make some of these mistakes:
Not Researching How Much Renovations Cost
Most homeowners will know that performing renovations will not be cheap. Even tackling some tasks yourself will only bring down the costs slightly. You still have to factor in materials. Don't neglect to perform research to find out the expected costs. You can then plan your renovations to suit your budget. For example, renovation service providers like Cornerstone Remodeling provide helpful pricing guides for various kitchen renovations. They break down the costs based on the type of kitchen renovation you're performing, such as basic, mid-level, and high-end.
You can do the same for all manner of interior and exterior renovations to plan your funding channels. Surprisingly, many people wait until they're purchasing materials before they start planning costs. By this point, they may realize they don't have enough money to tackle all preferred house changes.
Not Hiring the Experts
There's no reason why you have to hire the experts if you know what you're doing and the tasks you're performing don't legally require licensed professionals. However, not hiring the experts can be a major mistake if you're not particularly skilled.
We can learn a lot from online tutorials and other people, but practice makes perfect. You won't always achieve a perfect result the first time you try something. This can sometimes mean that tasks you undertake yourself, like painting, wallpapering, and laying flooring, won't always result in finishes you can be proud of.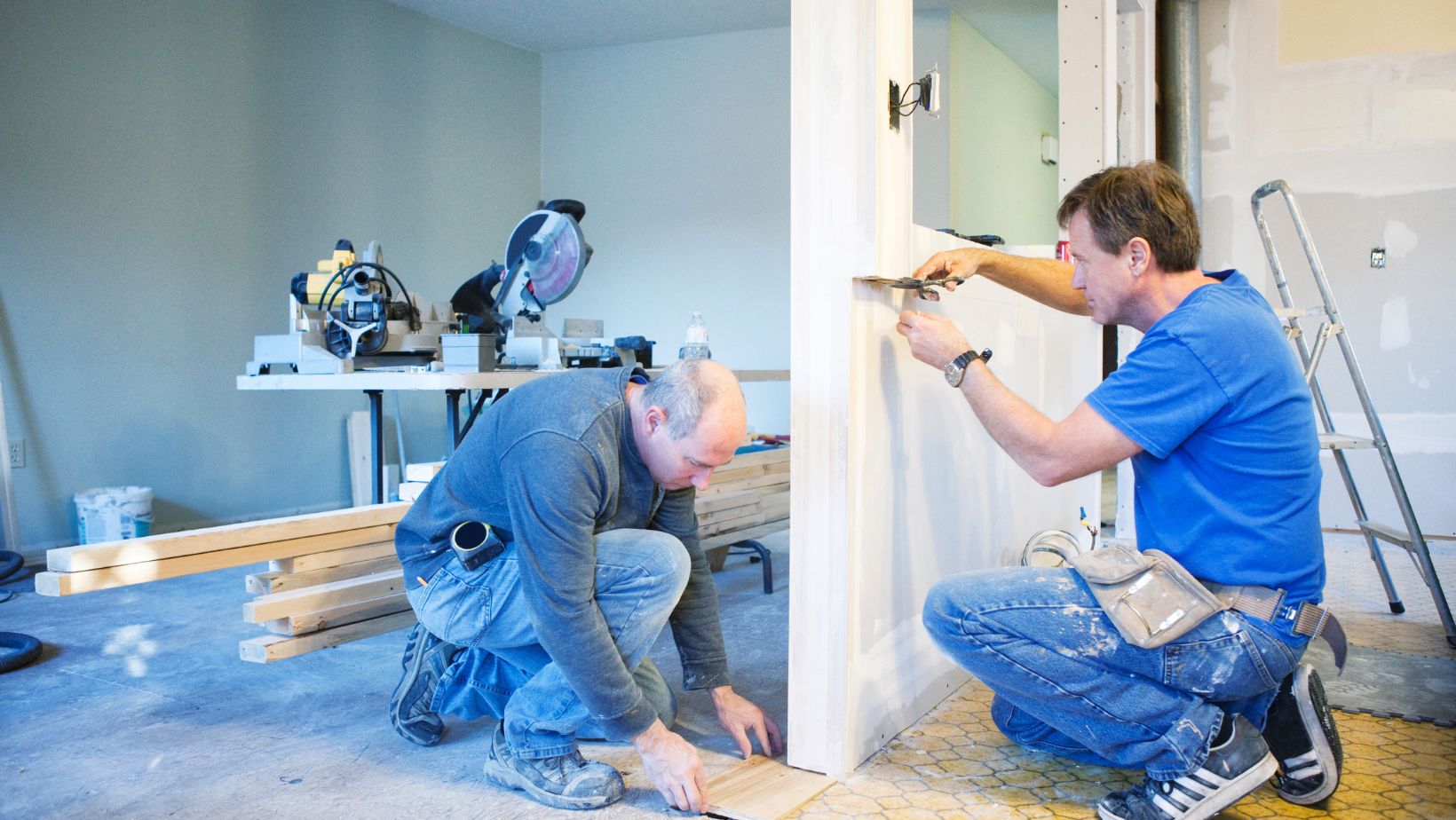 If you know you lack the skills to do a specific task, don't be afraid to outsource it to a professional. You might even save money by not having to do a job twice after not being satisfied with the outcome the first time.  
Incorporating Too Many Trends
Many people love thumbing through the pages of house and garden magazines, looking for innovative decorating ideas. There's also nothing wrong with incorporating a few of these ideas. However, it's important to remember that trends change. They can also change quicker than you think!
Bold colors and innovative materials that are on-trend today may go out of fashion within a matter of months or a few short years. This might not matter if you're renovating your 'forever' home, but some design choices can impact your property's resale value.
Installing Too Much Tech
Technological advancements for homes have been incredible. We can now install USB outlets in our walls, turn lights on and off from our mobile devices, and even order grocery deliveries from our refrigerators.
Think carefully about all house renovations you plan to make with technology in mind. For example, you might decide not to create a TV nook on your wall, knowing that TV sizes and shapes can change in the future. You might also steer away from hard-wiring speakers into your ceilings when audio technology is changing at a rapid rate.
Renovating All Rooms At Once
Renovating multiple rooms at once can help you save money. You can purchase all building materials in bulk and take care of all tasks simultaneously, like laying flooring and painting throughout. However, a full house renovation can take its toll while you're still living in it.
Many homeowners can find themselves living in a construction zone for months on end, putting strain on their relationships with their loved ones. If you have young children and pets, their health and safety can also be compromised.
Instead, consider focusing on one room at a time. You might start and finish a bedroom so there's a safe haven in your home or tackle the most critical rooms first, such as the kitchen and bathroom. This approach can also suit people with budgetary constraints. It might take several months or years to finish your home, but your bank balance and mental health might thank you for it.
Not Prioritizing Quality
As home renovations can be expensive, it can be tempting to purchase the most affordable materials and products you can buy to get the job done. While you can get away with this with some things, it's not a recommended approach for everything.
For example, entry-level taps and light fixtures might not come with guarantees and warranties. If they fail before they should, you might not have any come-back with the manufacturer. Spend a little more, and you might be able to enjoy quality materials that are designed to last the distance.
Starting Renovations Too Early
Some homeowners purchase properties and know they'll be renovating them to suit their preferences. There's nothing wrong with having this in the back of your mind, but don't start ripping your new home apart right away.
Instead, spend around a year living in it to see how it does and doesn't suit your needs. Planning your renovations might then be an easier task. You'll know where you lack storage, the colors you do and don't like, and the areas you must prioritize first. You can only learn this information by living in a property.
Not Focusing On the Bones
Some homeowners get so caught up in the cosmetic features they don't like about a property that they forget about the more important features: the bones. Before you start painting, wallpapering, and installing new flooring, don't forget to inspect your property's roof, plumbing and electrical systems, and foundation. If these aren't in good condition, they may affect the longevity of any other design changes you make.
Renovating properties can be expensive and time-consuming, and that's without making mistakes. If you want to enjoy a less stressful, more rewarding renovation experience, heed the advice above. The more mistakes you're aware of, the fewer you might make!