10 Tips To Instantly Improve The Aesthetics Of Your Home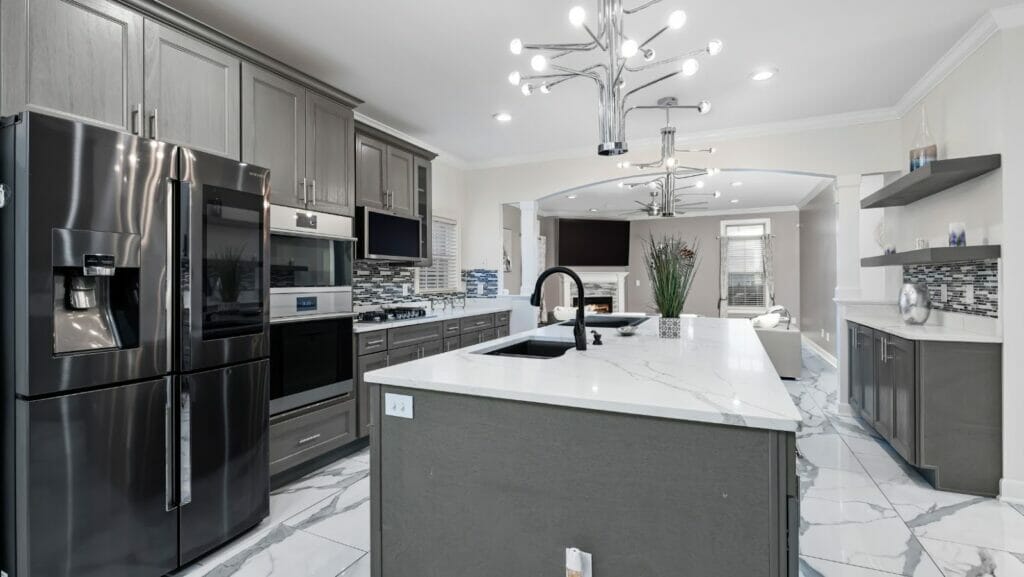 Are you working on your home's exterior? When it comes to improving the aesthetics of your home, sometimes it can be difficult to know where to start. When you shop in the right places like home goods hardware, however, getting creative with your décor doesn't have to cost you much money.
The tips and tricks in this article will help you improve the aesthetics of your home instantly. All you need are some basic materials from
Home Goods Hardware and the right guide. Let's get started!
Clear Out Clutter
Decluttering your home is a great way to improve overall aesthetics. Remove anything you haven't used in at least six months, and tackle those piles of books and papers that are collecting dust on shelves. When decluttering, be ruthless; if it's old, worn, broken, or hasn't been used in years, get rid of it!
Once all your items have been properly stored in a closet or shelf unit with designated space for things, go through every item again and remove any pieces that don't bring you joy when you look at them. The less clutter there is within your home, the more attention can be given to how colors are arranged and placed throughout the house.
Plants are one way you can instantly improve the aesthetics of your house. They offer a variety of colors and add a touch of life to an otherwise lifeless space.
Set Up Your Entryway
This fall, you may want to try placing a small pot with flowers or a bucket with sunflowers in it near your front door. There are so many reasons for this that I could probably write another blog post on this idea alone. But for now, I'll give you just one reason.
When you walk into your home and see something beautiful and welcoming in your entryway, it puts a smile on your face, and we need more of those these days! So, if all else fails, take two minutes this weekend and place something there that welcomes you back into your own home.
Create a Functional Office Space
Check for any furniture that is old or damaged and replace it if you need to. For aesthetics, paint walls a brighter color than they already are and consider adding artwork on the walls. Utilize unused space by installing shelves, getting a new desk, etc. When organizing your office space, make sure to store anything too big on overhead racks or in other drawers where they won't take up much room.
Consider keeping your more frequently used items closer by with things that don't get used as often out farther away, so it's easier to find what you're looking for when you need it most. Avoid buying office supplies that might expire soon; this will help cut down on clutter and make sure that nothing passes before it's supposed to.
Use Plants as Decor
Plants are one way you can instantly improve the aesthetics of your house. They offer a variety of colors and add a touch of life to an otherwise lifeless space. If you want some that require less maintenance, consider plants that need indirect sunlight, like green beans or succulents. For brighter areas, grow begonias, snapdragons, or caladiums (very decorative and fill quickly). For cooler spaces, opt for cacti or flowering plants like poinsettias.
Remove Mirror Clutter
Remove clutter from your home with a mixture of baskets, furniture arrangements, and organizing accessories. The first step is deciding where you want chaos to be collected. For example, baskets placed in an entryway or hall can catch incoming mail and small items like car keys or loose change that would otherwise litter surfaces.
Next, consider where objects belong and whether they should be stored in spaces nearby or put away elsewhere. For example, sink clutter can be relegated by using toothbrush caddies for loofahs, beauty products with lids can be stowed away in desk drawers, and cosmetics cases can go into drawers designated specifically for that purpose.
Align Furniture in Symmetrical Fashions
As it relates to furniture placement, think symmetrically. When your bed is on one side of the room, try putting a desk on the other side. If you have one bookcase in your office, add another across from it. Not only will this provide a sense of symmetry that looks cleaner and classier, but it will also keep things more organized by balancing out space and contents. Keep in mind that there are exceptions; symmetry does not work for every single room or situation and can cause an unintended lopsided appearance.
Create Cozy Quotidian Spots
Every space should have a place for someone to sit down and relax. For this reason, homeowners should consider adding comfy seating in as many areas as possible. Placing a sofa or chair in an entryway will provide extra space for visitors and turn your first impression into a warm one.
Include some comfortable seating in corners or by windows where it will be welcoming to those who are seated there reading or conversing with others. Not only does plush seating make spaces more inviting, but it is also important for improving the aesthetics. So go ahead and get that sectional sofa you've been eyeing; all your friends will be so impressed when they come over!
Switch Out Light Bulbs for Ambiance
Switching out light bulbs for softer, warmer bulbs can change the feel of a room almost instantly. Depending on what you're trying to achieve, you might also want to purchase lamps or install dimmers on your existing lighting.
If you're going for a more practical approach and just need some added mood lighting, candle holders are a wonderful addition that looks beautiful while giving off heat in colder months. Also, consider adding sconces near entrances or at the base of walls so that they provide plenty of light without being overpowering when guests enter your home.
Choose Neutral Tones on Walls, Floors, & Furniture
Avoid dark colors on floors, walls, and furniture; too many dark colors give your house a depressing vibe. The biggest difference you can make in your home is by implementing neutral tones and bright colors. Consider grays, whites, beiges, and light yellows.
White trim around doors, windows, and ceiling moldings also adds brightness and vibrancy to any room. Blue floors provide a sophisticated look that creates interest in the eyes, while natural wood finishes off rooms beautifully! Add pops of color with pillows or area rugs if you want to add life to space but still keep it simple!
Consider keeping your more frequently used items closer by with things that don't get used as often out farther away, so it's easier to find what you're looking for when you need it most.
Add an Antique Piece as a Point of Interest
A beautiful old grandfather clock serves as a nice focal point in this loft-style space, bringing balance and elegance. It's important not only to create good functional living spaces but also lovely ones for our senses. To do this, people can take advantage of their imagination and skills as interior designers by adding things like a painting or a variety of lamps for mood lighting.
Place your favorite books on a gorgeous antique table that you love; it will be something you'll never want to hide from sight! If you're not sure where to start, think about the things that make you feel good, a home should be somewhere where we can both find solace and inspiration.
Conclusion
Home Goods Hardware has a wide selection to add home goods without needing any renovations. This is especially helpful if you're not sure what aesthetic you're going for or if you're going for that rustic cabin feel. Home goods can be an investment, and they will last a lifetime and have a potential resale value, so they are worth looking into.