The Right Bathtub That Compliments The Rest Of Your Bathroom Interior
It is true what they say – happiness lies in the little things indeed. Every little thing counts, from enjoying a picturesque sunset at the beach to simply enjoying a hot cup of coffee. Similarly, a long and luxurious bath can go a long way in helping you unwind after a tiresome day. This relaxation method finds its roots in Roman bathhouses and Onsen, or hot springs in Japanese culture.
Are you looking to transform your bathroom into a serene and functional home spa? Investing in the latest bathtub designs will help you with that. In the era of "bathfluence," you can choose from a plethora of options to design your dream bathtub. Believe it or not, you do not always need a very spacious bathroom for a bathtub. In this article, we shall explore some of the latest bathtub designs to complement the bathroom interiors of your dreams.
Five Leading Bathtub Design ideas
Here we shall discuss ten sure-fire bathtub design ideas to complement your bathroom interiors.
Marble-ous
If you are looking for a classy finish to your bathroom, you cannot go wrong with marble. Choose from a variety of types of marble, be it vintage white textured marble or colored marble, to install the bathtub you always envisioned. Marble gives an elegant and luxurious look to your bathroom. Marble is a great choice for relatively spacious bathrooms. Go for an oval or circular bathtub at the center of your bathroom. You can also choose to elevate the bathtub above the floor level using a raised platform.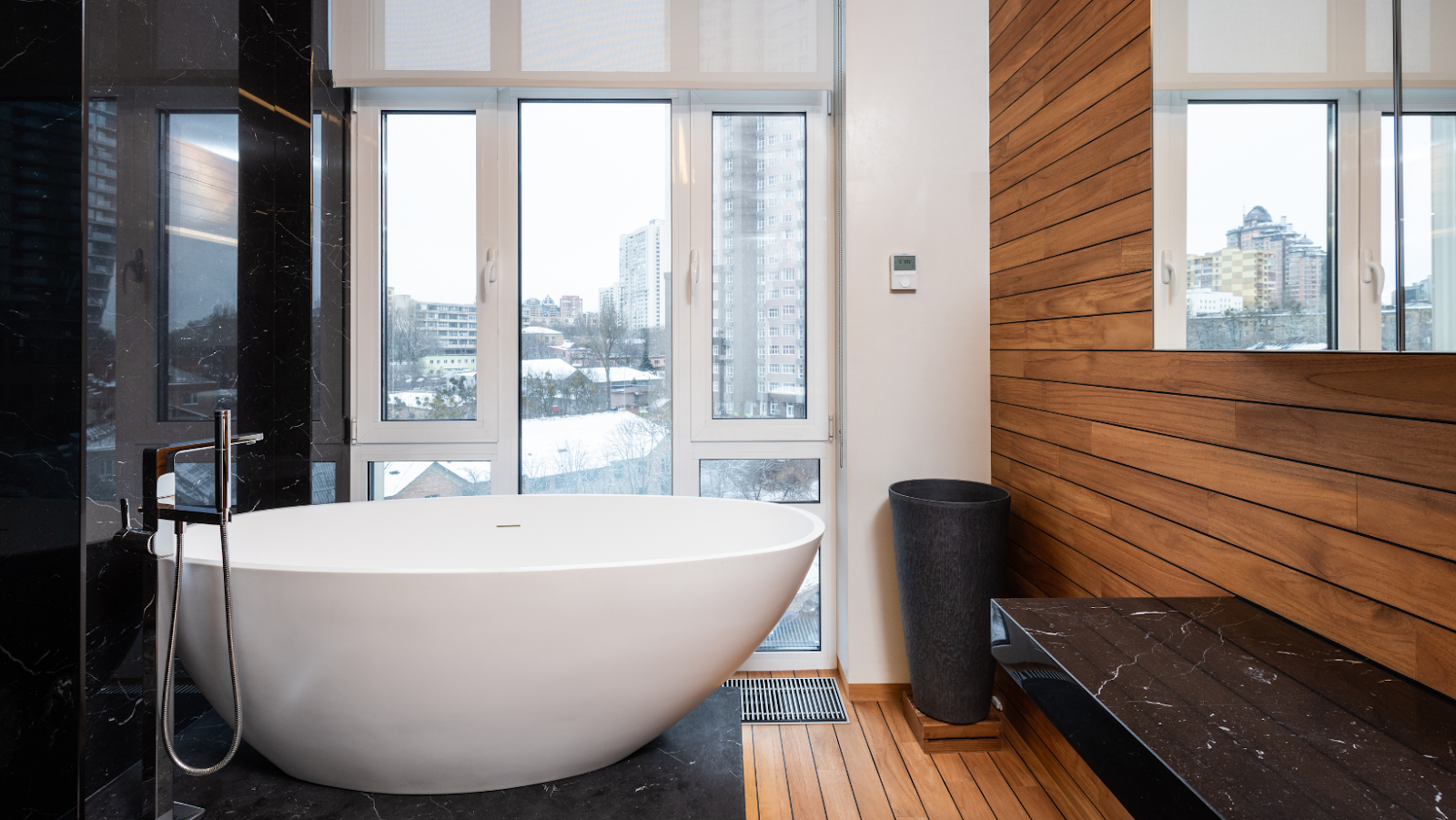 Go Back to Metal
Be it a new modern look or a traditional, rustic one; Metal can be an excellent option for bathtub designs. If you are looking to achieve a sleek and chic look, go for a single-standing metallic bathtub in your bathroom. Stainless steel and copper are the two most popularly used metals for designing bathtubs. These bathtubs are durable and cost-effective as well. If you are feeling a little adventurous, choose your bathtub from antique tubs.
Go Green
Feeling one with nature is one of the best ways to relax after a hectic day. Feel the goodness of nature by sprucing up your bathroom with elements of nature like potted plants and natural lighting. The greenery, open views, and natural aroma can have a calming effect on you. Worried about maintaining the indoor plants in the bathroom? The natural humidity of the bathroom makes it easier to maintain indoor plants in the bathroom. With so much greenery all around, the best bathtub design to complement these interiors would be an elevated bathtub.
Beautiful Corners
There are numerous ways to beautify a relatively smaller bathroom space. As mentioned earlier, you do not always need a very spacious bathroom for installing a bathtub. Bathtubs are available in a variety of sizes and shapes. Choose a bathtub that can fit into a corner of your cozy bathroom space. Some types of bathtubs that are best for small bathrooms are Clawfoot bathtubs, under-mount bathtubs, corner bathtubs, bathtub and shower combos, and the like.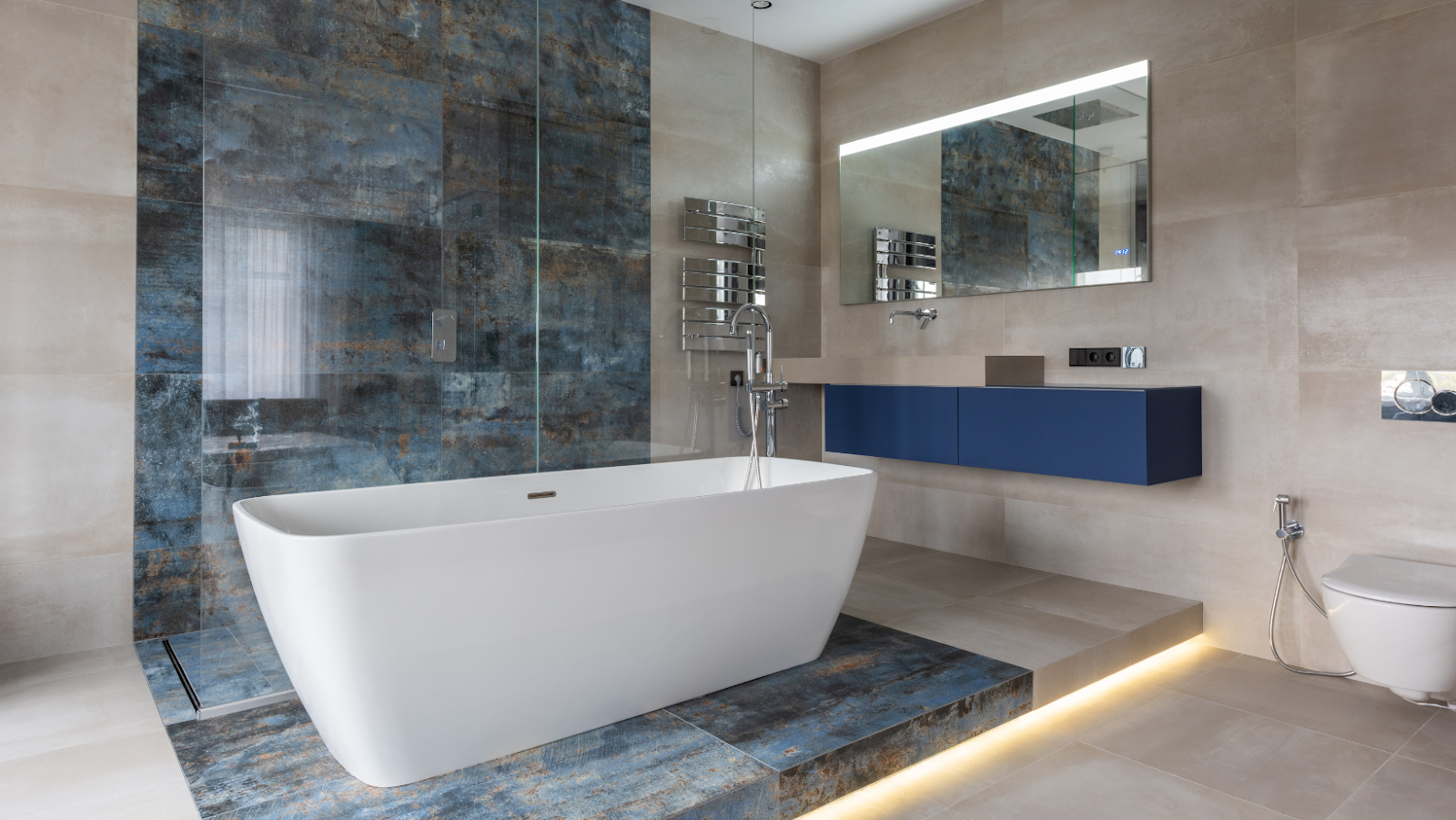 Open Bathrooms
Suppose you are someone who enjoys an open view while in the bathtub; an open design might be the best idea for you. A part of your open roof can be converted into an open bathroom, flooding with natural light. It automatically transforms the place to look and feel like a natural spa, but at home. With so much space all around, you can choose from a variety of luxurious bathtubs that go well with the elegant interiors of your open bathroom.
Things to Keep in Mind Before Installing a Bathtub
Needless to say, one can easily choose a variation of bathtub type depending on the interiors of the bathroom. There are several options available, and one can also customize their dream bathtub. However, before investing in the bathtub of your dreams, make sure to check the following list:
Consult your plumber regarding the drainage and viability of the bathtub you want to install in your bathroom.
In the case of compact spaces, measure the amount of space available for the bathtub. Choose a bathtub with dimensions that can fit into the available space.
It is always wise to check the material, color, and build of the bathtub first-hand before investing in one.
There are numerous options when it comes to choosing the right bathtub for your bathroom. From elevated bathtubs and composite bathtubs to cast-iron bathtubs, soaking bathtubs, and standing bathtubs, the possibilities are endless. So, choosing a bathtub that goes well with the interiors of your bathroom has never been easier. A beautiful bathroom that feels like an at-home spa is something that can make you feel at home at the end of the day.