Pool Tiles: What's Special about Them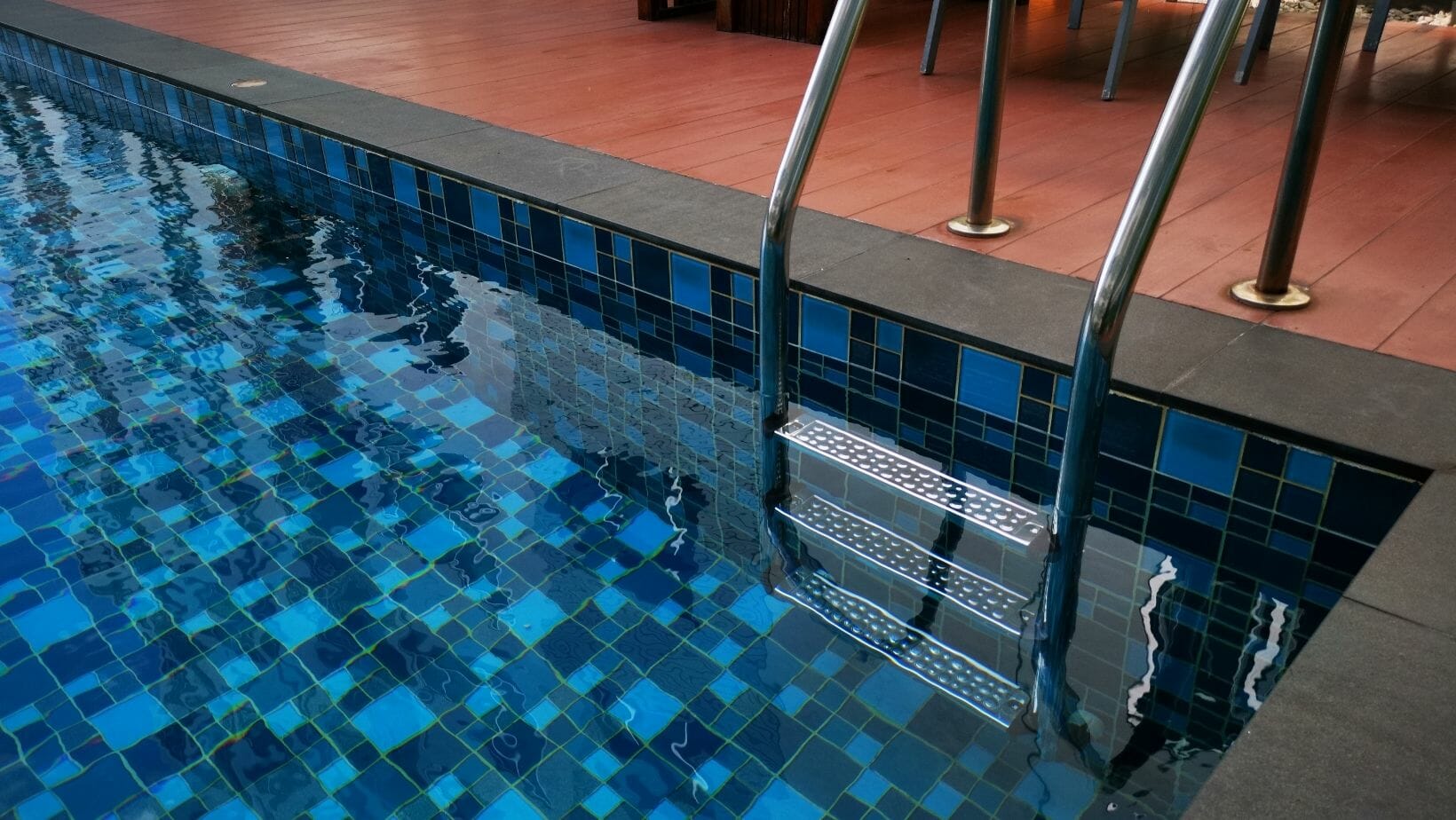 Tiling is undoubtedly the go-to solution when it comes to styling the interiors or exteriors of your house. To get rid of the leakage and seeping wallpapers, most people have moved on to installing visually appealing tiles and strong for daily usage. 
Swimming pools are unarguably the focal point you can add to your outdoor space. Besides complementing your home, it also happens to be the space where you rejuvenate and relax. However, as pools and the area around them is obviously wet, maintaining them is pretty different from the house. Besides appearance, you also need to consider the safety aspect, as one can potentially slip near pools, or germs may develop there due to moisture. It's a good thing there are a lot of modern concrete pool deck ideas you can choose from to avoid accidents. The spray knockdown texture, for example, has a slip-resistant feature, so you can rest easy while the kids are enjoying the pool.
The same is the case when going for pool tiles. While modern-day tiles have become the best option for flooring, you need to keep in mind the essential factors related to pools, as mentioned above. While all this may sound challenging, the process overall is pretty simple. Once you get the right pool tile, the whole look of your swimming pool is elevated (and rightly so).
What Are Pool Tiles?
Pool tiles are specifically manufactured to sustain them while being submerged in water all the time. Regardless of whether you introduce them in the pool or the wet area around, you need them to be durable and anti-skid. As they are in contact with water, heat, and rain for most of their existence, they need to be durable, long-lasting and have a solid grip to prevent mishaps.
Pool Tiles Vs. Regular Tiles
As mentioned above, swimming pool tiles are mostly submerged or in constant contact with water and harsh weather conditions. This makes high durability and anti-skid properties mandatory for pool tiles to prevent accidents.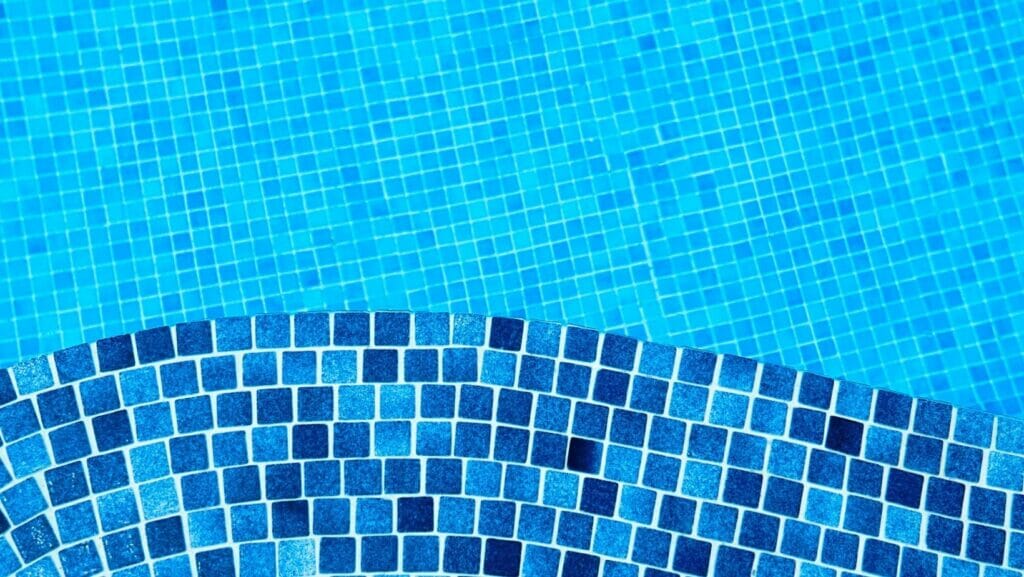 Regular tiles, on the other hand, are more commonly used in kitchens and bathrooms, living rooms, and even in the study. While most of them possess water resistance and can withstand limited spills, they do not require rigorous anti-skid properties. As the kitchen backsplashes and bathrooms are exposed to lower moisture levels than pools, regular tiles can easily sustain them. 
Thus, it becomes essential to note that regular tiles cannot be submerged in water like the pool ones and, hence, should not be interchanged.
Factors To Consider
Before closing down on your favorite swimming pool or spa tiles, here are some things you need to consider.
Material
Pools face plenty of moisture, heat, humidity, and all sorts of extreme weather conditions. While moisture-free tiles are always great addition anywhere, they are not compulsory for regular places. However, in the case of swimming pools, this factor is absolutely non-negotiable. They have to be water-resistant and highly durable for a safe experience. 
Colour
Swimming pools are the places where you relax, rejuvenate and exercise. The color should also embody these factors. To create a more harmonious appearance, you can choose light-colored tiles coming in pastels, blue, green, and other neutral colors.
Size and Pattern
For a great fit and appearance, the size of the tile should complement the area of your swimming pool. Going for the extremes won't work, whether for the small or large end. Hence, you need to understand the right size and pattern before laying the tiles. 
You can always check out the images of such tiles to get an idea of their design and size. However, a tremendous visualizing tool comes in the form of TriaLook. You can get a definite understanding of how the tiles will look in your pool or spa, all from the convenience of your home.
Style
Choosing the right style for the pool tile helps you enhance the aesthetic and the overall appeal of the place. Going for the trending pool tile styles adds value to your exterior area and creates a modern yet contemporary space for relaxation. Hexa Dove and Hexa Nero are some of the most popular pool tiles at the time for your consideration. 
Different Types Of Pool Tiles
Now that we know about the things you need to keep in mind before buying a pool tile, let's have a look at some of the different types available out there.
Glass Mosaic Tiles
A glassy mosaic tile will work best for a glossier, dazzling, and visually appealing touch to the swimming pool. They are made by pressing glass powder into the dye and heating until the glass particles fuse. In fact, that's precisely how you can notice a nice layer of glass on the surface of the tile. These are some of the most popular choices when it comes to installing in swimming pools.
Porcelain Tiles
Porcelain tiles are denser and have excellent water resistance, making them safe for pool flooring. Porcelain pool tiles are less porous than other models, which makes them safer and more durable. The delicate look they provide will be an advantage if you're looking to create a fancy night-time pool party in your backyard. Tiles are more popular than ever. You can get classic looks with square tiles, but there are many diverse sizes and patterns to choose from, like subway and herringbone.
Natural Stone Tiles
Natural stone pool tiles are famous for providing a timeless and, sometimes, rustic look. Stone pool tiles give a more earthy, natural feel and look to your pool. They are made from granite, limestone or slate and come in a variety of bright colours, making it easy to create any look you want – from rustic to sleek and modern.A stone-tiled pool encompasses a warm and cozy ambiance, something that a relaxing space is looking for. Pools can be beautifully designed with stone pool tiles. They're strong, durable & slip-resistant, which is great for modern and rustic styles.
Choosing the proper swimming pool tiles can be a task in itself, but definitely not tedious. With the details mentioned above, you can make a well-informed choice of which tile will fit the best in your pool. If you want to keep it in mind in a simple manner, just remember that durability, skid resistance, and life span are the three most important features when it comes to getting a pool tile.