How to Paint Fan Blades (Ceiling & Stand Fans)
Have you ever wondered how to make your ceiling fan, stand fan, and other blades look brand new without having to buy a whole new set? Well, you're in luck! In this blog post, I'll show you the easiest and most cost-effective way to spruce up your fan blades and make them look good as new. Let's get started!
For painting the fan blades on base
Painting fan blades on a base is an easy job that can be completed in less than an hour. Before you begin, you should make sure your fan is unplugged and the switch turned off. You will need some basic supplies including painter's tape, primer, paint, a paintbrush and some rags for cleanup.
Begin by cleaning the fan blades with a damp cloth to remove any dirt or debris. Once clean, use painter's tape to cover any areas of the base you want to protect from paint. Place newspaper or drop cloths around the area where you will be painting to help contain any drips or splatters.
Next, apply primer using a brush – two thin coats should do the trick. Allow each coat of primer to dry completely before continuing with the next step. When dry, lightly sand all surfaces of the fan blades with fine grit sandpaper and apply two thin coats of paint using a brush – allowing each coat to dry between applications fully before applying more coats until desired coverage is achieved.
Lastly, remove all painter's tape and allow your painted blades to dry completely before reattaching them to your fan and plugging it in – turn switch back on when ready to use fan's new look!
How do I change the colour of the blades of the ceiling fan?
Changing the colour of ceiling fan blades is a straightforward process that can help to update the look of any room. In most cases, all you need are a few simple tools and supplies. Before beginning your project, be sure to turn off the electricity powering your fan and clean off the blades with a damp cloth or vacuum cleaner.
After cleaning off the fan blades, use painters tape to mask off any other areas that should not be painted such as any exposed hardware on the fan or surrounding lighting fixtures. Once masked, you can apply two or three coats of paint to both sides of each blade. In some cases, you may choose to sand lightly between coats for an even smoother finish.
When painting wooden fan blades, opt for an oil-based paint that won't chip away easily when coming in contact with air movement or dust particles. If it's already glossy, sand it down lightly with 220 grit sandpaper prior to priming and painting for best results.
Once finished painting, make sure all surfaces have had enough time to dry thoroughly before re-installing them on your fan motor assembly and turning your power source back on!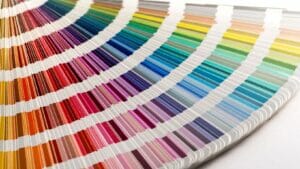 How do you paint a ceiling fan?
Painting a ceiling fan can be a simple and rewarding DIY project. The best part? Your fan will become an eye-catching feature of your room, creating the perfect atmosphere.
To begin, make sure the fan is turned off and unplugged from the wall before you start. After removing all dust, dirt, and grease with a dusting cloth or vacuum cleaner, you're ready to paint!
First, decide on which paint finish you would like to use on your fan blades. Latex-based paints are generally preferred because they offer good coverage and are easy to clean. You can also find unique colors in specialty paints. Be sure to avoid spray paints if working with a ceiling fan due to their tendency to cause overspray or splotching.
Apply primers if needed for extra adhesion before beginning the painting process. You'll want to begin by applying your chosen paint in long slow strokes until all surfaces have been evenly coated. For designs with more than one color, use painter's tape along areas you'd like left unpainted and move from light colors to dark colors target areas as you go along for best results. Once finished painting allow ample drying time (at least 24 hours), then carefully remove any painter's tape that was applied earlier in the process without tugging at fresh edges or newly painted areas of the body or blades.
Finally, it's important that you adhere to safety protocols since ceiling fans can be hazardous due to spinning blades functioning near electrical wiring after installation—especially important if working with outdoor models that often carry exposed electrical components such as motors and light fixtures that require extra attention when handling them during installation/assembly or maintenance procedures like painting/staining replacement parts etc.; inspect your fans regularly for any signs of wear & tear and consider replacing damaged & worn parts often found in older models as recommended by manufacturer guidelines or suggested by qualified personnel with credible experience performing such services when necessary as well as reading & adhering all safety notices & instructions provided during operation or included within manufacturer documentation prior use when working with fans of any type—ceiling/stand included!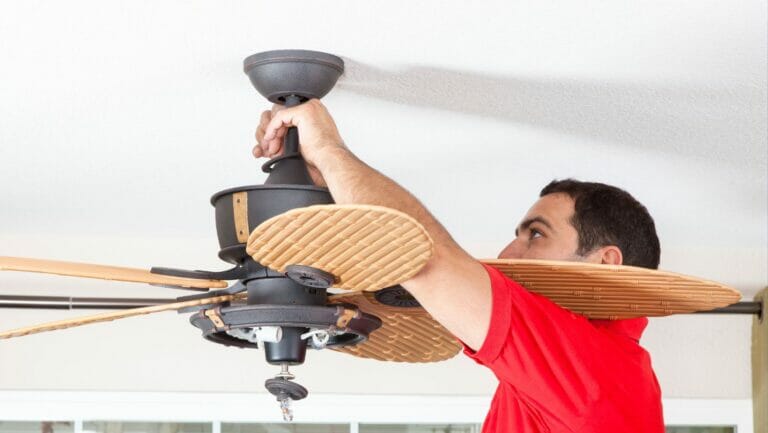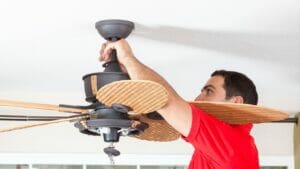 Can the ceiling fan be painted without removing it?
In most cases, you can paint a standing fan or its blades without removing the fan from the ceiling. Before beginning any painting project it is important to ensure that all surfaces are clean and free of any debris. You may need to perform a few extra cleaning steps before painting, such as dusting or vacuuming the fan blades.
Once the surface is cleaned, you can apply primer and paint specific sections of the fan surface or entire blades. All paints should be applied evenly and deliberately to reduce dripping or streaking on finished surfaces. For ceiling fans, you can use a paintbrush, roller, or a sprayer; just keep in mind that spraying is best left for well-ventilated areas and you should use protective gear when working with aerosol paint or solvent-based paints.
It is important to thoroughly dry between coats of primer and painted surfaces using low heat from an oven setting (no more than 140 degrees Fahrenheit), then hand buff any brush/roller marks with a soft cloth. Normal paint drying time for oil based paints runs about four hours per coat; water-based paints may require eight hours per coat before applying a second coat to ensure complete coverage and even color saturation for your completed project.