Head to Head: Kitchen Drawers vs Pull Out Shelves
Which is better, kitchen drawers or pull-out shelves? Any time you are remodeling or renovating, you will be faced with questions like this one. This time, the answer is that they both have unique advantages and disadvantages, and you will have to decide based on the characteristics of your renovation and your personal preferences.
Whether you choose cabinet drawers or cabinet pull-out shelves will likely be a matter of personal taste, but there are other factors to consider. So let's take a closer look at some of the pros and cons.
How Much Do They Cost?
For many people, let's tackle the most important question first, which is essentially the question of which is cheaper. It depends. It pays to make equal price comparisons. You don't want to compare apples to oranges because a well-built pull-out shelf compared to an inexpensive kitchen drawer will always be more expensive, but plenty of drawers are more expensive, too.
Regarding kitchen drawers and cabinet pull-out shelves, the price depends on the quality of craftsmanship and materials. If you are willing to sacrifice on quality, you can get either option for less money, making price an almost worthless means to compare kitchen drawers and pull-out shelves.
What Are You Storing?
To compare pull-out shelves and kitchen drawers, consider what you are storing. Usually, kitchen drawers are used for larger items, and pull-out shelves are used for smaller items.
However, be careful not to store very heavy items in kitchen drawers because they can sag. A standard kitchen drawer can hold about 20-50 pounds, and a pull-out shelf made with high-quality materials can hold up to 100 pounds.
Drawers have taller sides, so they are better used for linens and other stackable items. But if you want to store pots and pans, pull-out shelves are the better choice. Countertop appliances, like electric fryers and popcorn makers, are also more suited to pull-out shelves.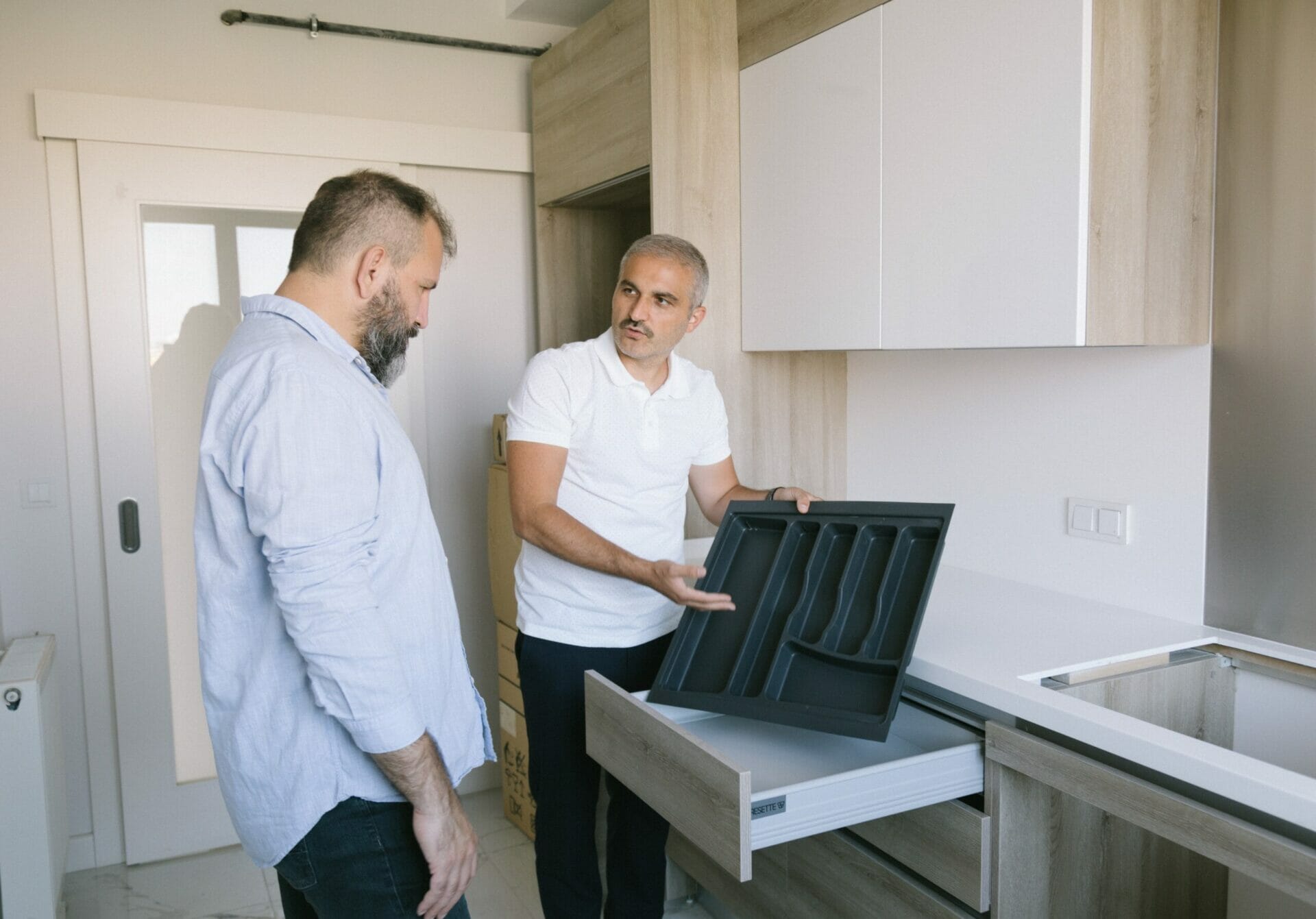 Which Is the Best For Organizing?
You can add many different kitchen cabinet organizers and dividers for your pull-out shelves, making them great for organizing. In addition, there are organizing solutions for every type of kitchen storage problem.
There are also kitchen drawer organizers, but because the sides aren't open, drawer organizers are more two-dimensional than pull-out shelves. There are more options available for pull-out shelves, whether you are storing food items or kitchen appliances.
Does the Extra Step Matter to You?
Some people complain about the extra step required when you pull out shelves. First, you have to open the door, and then you have to pull out the shelf. So pulling out shelves might not be your number one choice if this seems like something that will bother you.
Other people, however, either isn't bothered by the extra step or recognize that they don't always have to pull out the shelf. So, for example, items are accessible on the shelf when you open the door, and you only have to pull out the shelf when you are trying to find something in the back. So that's probably going to be an item that isn't used as often.
Are You Retrofitting a Cabinet?
Pull-out shelves are the obvious choice if you are retrofitting existing cabinets. It is much easier and far less expensive to add pull-out shelves to a cabinet base than it is to add drawers.
You should use pull-out shelves if you are simply trying to find the best space-saving solutions for existing cabinets. They are available for every type of cabinet base, including sink bases and those difficult hard-to-reach corner cabinets.
You can schedule a design session for pull-out shelves in Auburn, CA that will take less than an hour. If you want to spend less time searching through your messy kitchen cabinets and more time doing what you love, pull-out shelves are the clear favorite when you are retrofitting existing cabinets.
Will You Ever Need to Adjust the Height?
To adjust a kitchen drawer's height, you would have to rebuild it. On the other hand, pull-out shelves can easily be adjusted if you decide at some point down the road that you need more or less headspace above the shelf.
What's Easier to Repair?
Pull-out shelves are easier to repair than drawers. The entire unit can easily be replaced when something breaks on a pull-out shelf. When a kitchen drawer breaks, it must be fixed to match the rest of the drawers.
Which Has Better Resale Value?
Pull-out shelves are very popular in a modern kitchens, and people are impressed with their convenience. While some people prefer drawers, having a combination of both will make your kitchen more appealing to potential buyers.