10 Great Front Door Colors for Blue Houses
Choosing a new front door color for your blue house can seem overwhelming, and the choices are seemingly endless. A front door is a defining feature of any home, directly impacting its overall curb appeal.
Fortunately, there are various hues that can add an exciting new look to blue homes. From bright pops of color such as navy blue and yellow to subtle earthy tones like gray and sage green, we have talked to experts to create this comprehensive list of 10 great front door colors for blue houses.
Front Door Colors For Blue House
With these top picks in mind, you'll have the ideal look for your home in no time!
Blue-Gray Door Color
Blue-gray is an understated yet attractive front door color to use if you have a blue house. It's subtle enough that it won't stand out too much, but will still add a degree of character and distinction to your home. It will work great with a light blue house and a dark blue house.
While it is typically more appropriate on blue houses, it can also work wonders on homes of other colors. It gives off an aura of sophistication while also providing an eye-catching touch of contrast. If you are looking for something that will add a hint of mystery and charisma to your home, consider trying a medium or slate blue-gray tone.
White Door Color
White is another option which traditionally goes well with many types of homes, including particularly prominent blue dwellings. However, to stay within the context of this article's focus on accent colors for blue houses, white should be used sparingly; one way to do so would be in the form of coordinating trim and accents (e.g., window frames or shutters).
Additionally, avoid using pure white as often as possible since it tends to overpower other colors and does not always pair as well with blues than other hues/tones may do.
Navy is another excellent choice for those who are looking for front door colors that will match their blue house without being too bold or bright. A deep navy color carries a classic look while still providing enough contrast ensuring the entranceway doesn't blend in with its surroundings completely – instead making sure it stands out just enough indicating the entranceway while providing balance within its overall aesthetic style.
The navy door color can also nicely complement a frame made of natural wood, making for a remarkable first impression of your house's exterior.
One of the best front door colors for blue houses is a matching deep navy blue. Deep navy blue provides a perfect balance between standing out and blending in, and it's the obvious choice to show off the deep blue accents in your home. Suspend any doubts you have about deep navy blue being too dark or gloomy and go bolder than you normally would with this color. Paint it on both sides of the door for an elegant look that will truly stand out.
If you're looking for a bit of contrast, try painting your window shutters and trim a bright white to offset the rich navy hue. You can also try painting your frame in a different color like dark gray, reddish brown, or heck something adventurous like canary yellow, royal purple, or even pale pink!
Cobalt Blue Door Color
Cobalt blue offers a bold and striking contrast to your blue house. Blue stands out against its house color, providing a perfect mix of modern and traditional. For a contemporary look, consider pairing some of the shades of cobalt blue with a white trim. This will help complete the classic look while keeping it fresh and modern.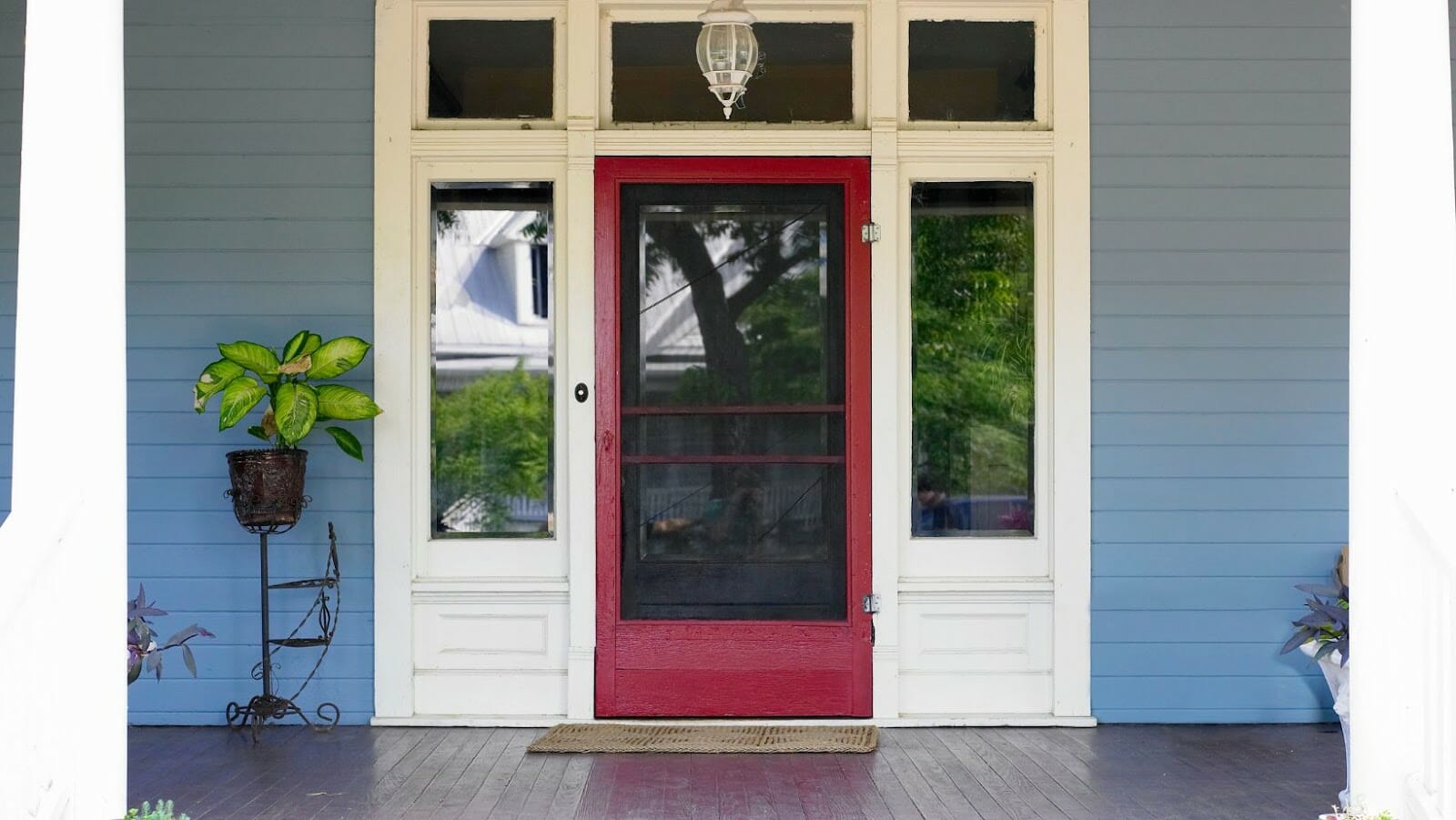 Other things that could be added to your door would be black hardware or even an intricate wreath tied to the door knob for added texture.
This can give your front door an extra "pop" from afar when it's contrasted against its lighter colored surroundings, including the blue siding and white trim of your home. Cobalt is a great color for accentuating archways, shutters, and window frames too, making it an excellent color choice for that finishing touch!
Teal Door Color
Teal is an incredibly versatile color and one that looks great on any blue house.
It makes a bold statement against the darkness of a navy blue or grey, as well as adding subtle detailing to a lighter shade. Depending on the kind of finish you use, you can create a glossy, reflective guarantee with teal paint, or capitalize on its stunningly chalky texture. Match it with some glossy black accents for a contrast-filled look that will give your home's front volume and intrigue. Or go for a fun combination with canary yellow for a really impressive look.
Hunter Green Door Color
Many homeowners looking to give their blue houses a bolder, sophisticated look may want to consider hunter green for their front door color.
Famously known as a key shade of olive and reminiscent of the Napoleonic era, this dark, mossy color is timeless and classic. It stands out against blue walls better compared to other dark colors such as black or gray, and goes particularly well with brick exteriors.
Not just about appearances — hunter green is also known for its good energy vibes and door protection qualities. Hunter green can also be combined with a natural wood frame, which will make for the perfect finishing touch to any classy blue home!
Red Door Color
Red is an excellent choice of front door colors for blue houses. Its bold and vibrant hue provides a striking contrast that can instantly liven up the exterior of a home. Red also represents vitality, energy, and can symbolize success and achievement, making it a great choice for homeowners.
When choosing a red door color for your blue house, take into consideration the overall ambience and colors of your property.
Consider lighter shades of red for cottage-style homes or darker hues for a classic look, such as adding a darker blue siding. Compliment the hue with complimentary accessories such as potted plants by the entrance or colorful doormats to add an extra touch to your home.
White Door Color
White is a classic front door choice for a blue house. It will bring out the hue of the walls, but can very quickly create a strong, crisp contrast with navy or indigo siding. White will never seem outdated and provides an excellent backdrop for other decorative touches like plants and fixtures.
Dark bronzes do well with white, as do rich earth tones like reds, oranges, and yellows. Consider combining white siding with a subtle dark blue accent on your front door to achieve an elegant two-tone look.
Charcoal Gray Door Color
Charcoal gray is a great front door color for blue houses as it creates a striking contrast without overwhelming the look of your home.
The dark shade of gray makes your blue house stand out and allows other elements, such as outdoor furniture and landscaping, to come to the forefront. Charcoal gray doesn't distract from the rest of your house's color palette while still making an impactful statement.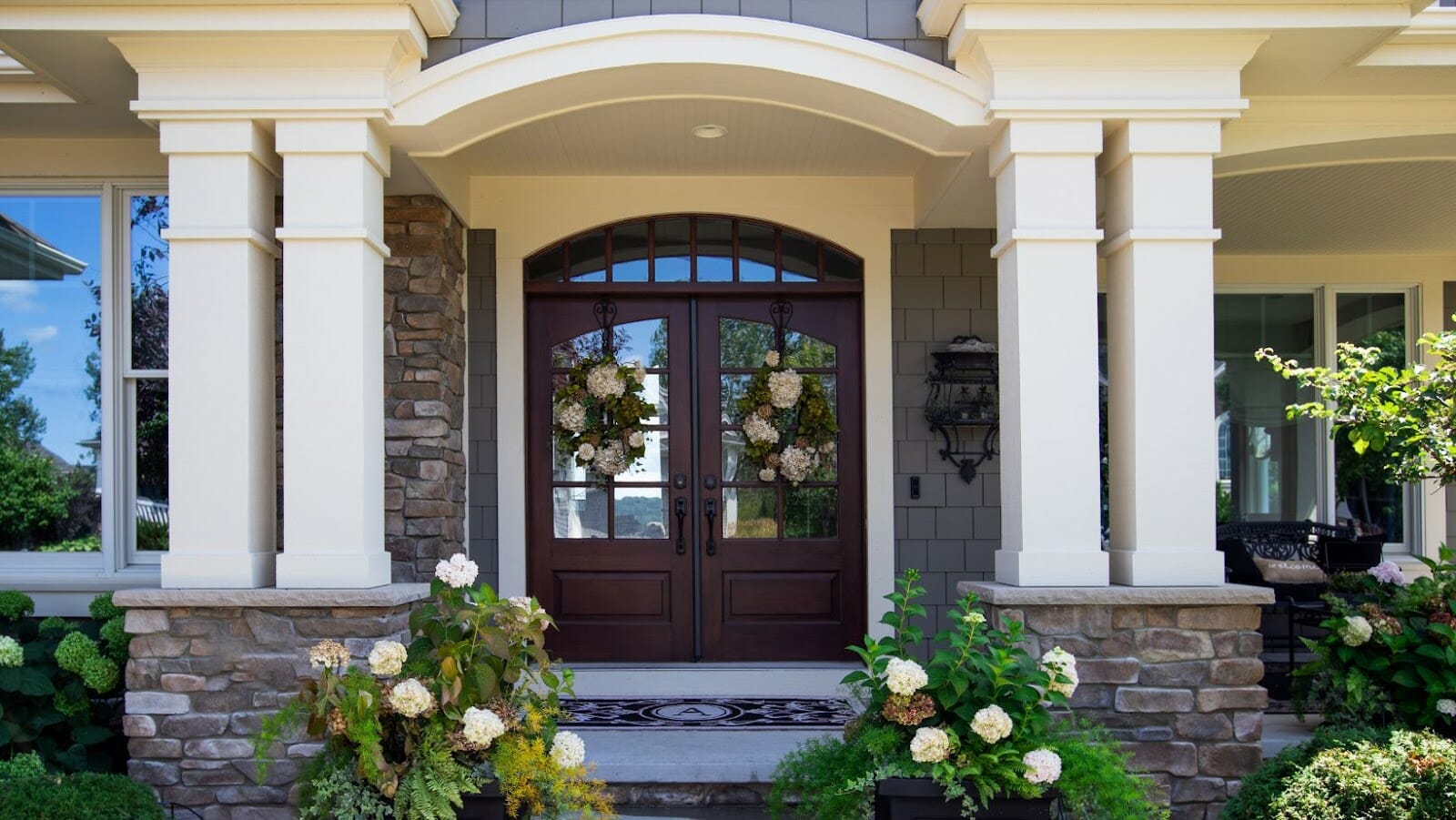 To add a bit more visual interest, try pairing charcoal grey with an accent color such as white, bright orange or black on the door frame and hardware. Alternatively, you can also paint the door trim in a hue that complements your blue exterior, like navy or dark blue, to complete the look.
Black Door Color
If you have a blue house, black is an excellent choice for your front door! Its timeless style will suit your home regardless of its architectural style, while bringing contrast and sophistication to a muted color palette.
Black can also instantly make a bold statement with its strong hues; a great idea if you're looking to add character to your entryway. For an added touch of modern drama, painting the front door in glossy black paint can produce head-turning results. Also, be sure to pair with black hardware for an extra hint of sophistication.
The Color Combinations Are Almost Endless
When considering front door colors for blue houses, it is important to look at the style of your home and the neighborhood. Choosing a hue that compliments the hue of your house and also stands out as a different color can draw attention to the main entrance of your home.
Navy, burgundy, gray, sage, red-orange, pale yellow, white, aqua-blue, soft black, dark green, bright yellow, forest green, light green, light pink, dark brown, baby blue and royal blue (to name just a few!) are some great front door colors for blue houses.
Conclusion
It is always a good idea to consider many different options before deciding on one specific color for your entryway. With these tips and 10 great suggestions for front door colors for blue houses you're sure to make an excellent selection. It will fit in with not only your home's style but also provide a warm welcome to friends and family visiting you.