5 Ideas for Decorating a Small Game Room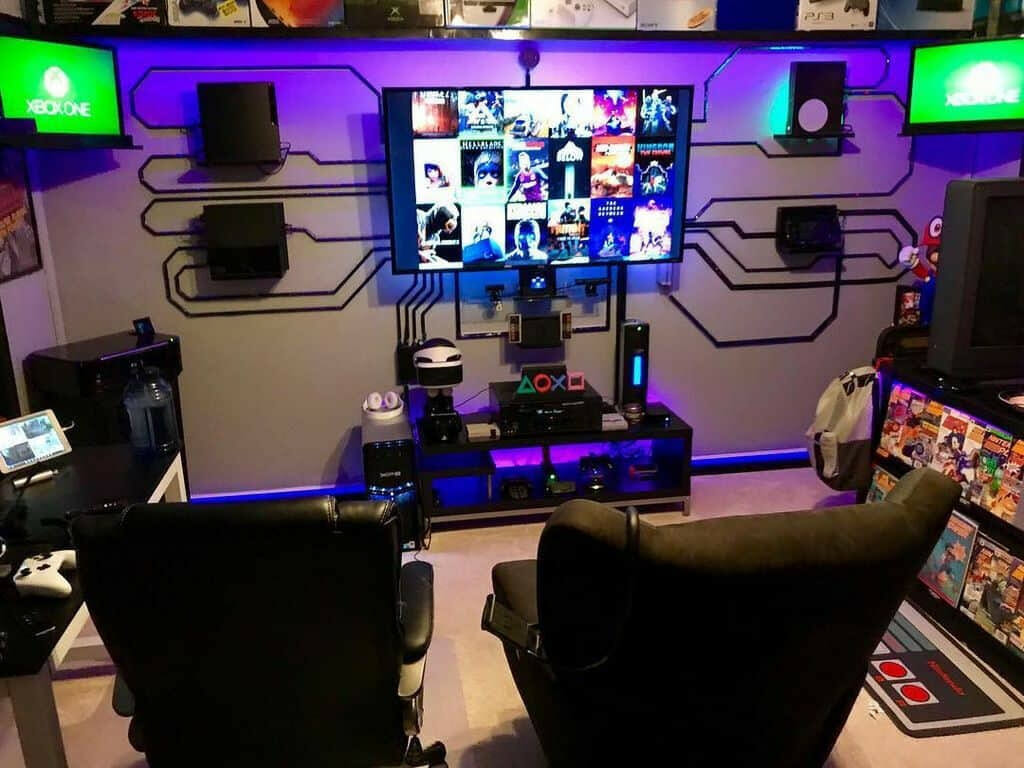 Lighting can be a great way to decorate a small game room. Depending on the types of games you like to play in it, or the activities you enjoy, you can customize it to your heart's content.
For example, you can install LED lighting strips or fairy lights along the walls to create a beautiful and cozy atmosphere. If you're into playing DND with your friends, or board games, or even installing a pool table, LED lights can enhance your game room's 'cool' factor significantly.
Adding some neutral light colors, such as white or yellow, can also help bring more life to the room. With some creative lighting ideas, you can easily decorate your small game room and make it look bigger than it really is. Slowly, but surely, these tips will make you have the ultimate dream game room. So let's delve into the details!
Choose Bright and Vibrant Colors
When it comes to decorating a small game room, bright and vibrant colors can help to create the illusion of a larger and more inviting space. You can also consider a bold accent wall with bright, vibrant hues of orange, yellow or fuchsia. Bright colors tend to reflect light and make the room appear larger than what it is. For added effect, pair muted white paint on surrounding walls or cabinets with stark colors for contrast.
Making your game room as unique as possible will add character to your area and make for an immersive experience. You can even get custom chairs for it, which can go along nicely with a poker table, or a game corner containing arcade games, or just when you want to play board games with your buddies.
Additionally, you can implement complementary table lamps or floor lamps for different kinds of lighting in the space that create a warm and inviting ambience. The latest trends also suggest installing ceiling fixtures such as pendant lights or chandeliers which will add to the overall appeal.
Don't forget about light-colored window dressings like curtains or blinds; they add additional texture and color in the room while allowing natural daylight to flow indoors during sunny days.
Consider LED lighting
LED lighting provides flexibility and cost savings that can't be matched by traditional light bulbs. LED's allow you to choose a color temperature that best fits your needs, as well as enable you to dial in the brightness of your lights with exceptional precision. This can be especially beneficial if you want to create a unique and immersive gaming atmosphere.
Additionally, LED lighting is more energy efficient than traditional bulbs and contains no hazardous materials, making it a much more sustainable choice. Furthermore, LEDs come in many stylish designs, including ones with multiple color options, so you can customize the look and feel of your game room.
And finally, don't assume that LED lights are not bright enough. You can find affordable LEDs that are bright enough to illuminate the whole room. If you're wondering whether your ping pong table, or foosball table will be well lit from the LED lights in your unused garage that you converted into a game room, wonder no more – it will be.
Utilize Task Lighting
Task lighting is an important part of room design — it helps you see what you're doing and makes sure that your activities are well lit. A small game room should have a few sources of task lighting, such as recessed can lights, spotlights, track lighting, or even pendant lights over the game tables.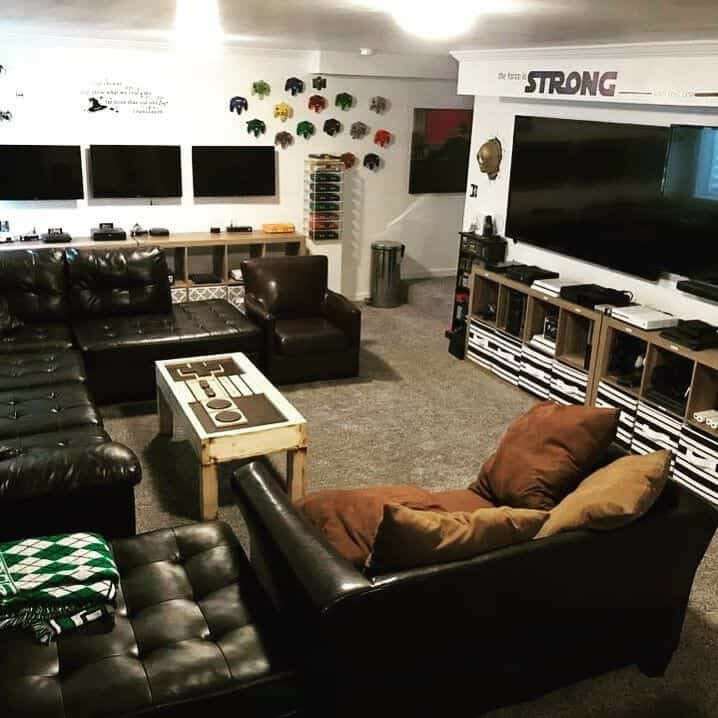 The lights should be positioned and focused so that they do not create harsh shadows or produce annoying glare. Additionally, the presence of task lighting can help create a vibrant atmosphere in the room. Let's not forget that one may connect several game rooms into one larger game area of sorts, and devote each smaller room to playing different card and board games. In such a scenario, you can light up the entire space with different LEDs or task lights, and make good use of any unused space.
Wall Décor Can Add Charm to Your Pool Table Area
Wall décor is a great way to add a personal touch to any game room, big or small. In a small game room, you can make a big impact by using bold, bright colors or using patterned wallpaper with fun accents and accessories. You can get creative and add unique features such as string lights, wall decals, or floating shelves.
But what if your game room is a larger space that has enough room to place a pool table, a foosball table, a tv screen with a tv stand and several game consoles to boot? What kind of décor would you need then?
Well, paradoxically, much of the same rules for a small game room apply to a larger game room too. Read on to find out more ideas for decorating your game room in this article.
Hang Wall Art
Hanging wall art is a great way to bring personality and life to your small game room without taking up too much extra space. Look for pieces of art with character that appeal to you, like vintage signs, posters from classic movies, original photographs or hand-drawn illustrations.
Hang them up as single pieces of art or arrange several together as a gallery wall. Choose frames in a matching style or mix-and-match different frame types and colors for visual interest and texture.
Additionally, you can consider hanging mirrors on the walls — they'll add depth and help define the room's space. Don't be afraid to experiment — there are so many interesting ways to hang your wall décor so feel free to switch things up or move around artwork until it feels right!
Hang a Chalkboard Wall
A blank wall is an opportunity to get creative, and no decorating tool is more versatile than a chalkboard. Whether it covers the entire wall or just a strip at the top, having a section of your small game room featuring a chalkboard wall gives you many outstanding design options.
Write out your favorite team's motto, draw out inspirational quotes, keep score or hang vintage artwork — whatever you decide to do, it's sure to be unique and will create conversation with guests. When not in use for playing games or brainstorming ideas, it can also be used to keep track of important events and tasks in a fun way.
Just make sure to invest in high quality chalkboard paint so that your efforts last for years to come.
Use Wallpaper
Wallpaper can add more depth and interest to a small game room. Consider using bold and fun wallpaper behind the game area for maximum effect. This could potentially tie in with other game-related decorations you might have in the room, such as retro signs or action-packed superhero wall art. Choose a wallpaper with a neutral base color like beige, but that features bright and bold accent colors that pop.
If you don't mind a bit of work, you can add removable wallpaper to one or two walls of your game room to instantly make it look larger and give your room an updated feel. Having walls covered with patterns or different designs can also make your small game room appear bigger, due to the optical illusions of those patterns playing tricks on our vision! Make sure to pick a design that resonates with all family members so everyone enjoys spending time in this part of the home.
Furniture
Furniture is essential for any game room, no matter how small the space is. Having the right furniture can make a big difference in how a space looks and feels. Gaming consoles usually require a sofa or two, or at least an armchair. But a game room isn't only used for… games. What about movie nights? You will need the appropriate furniture for that as well.
When decorating a small game room, look for pieces that are multi-functional and can be used for both storage and seating. For example, ottomans or pouffes can provide extra seating when needed, but can also be pushed under furniture or tucked away into a corner when not in use.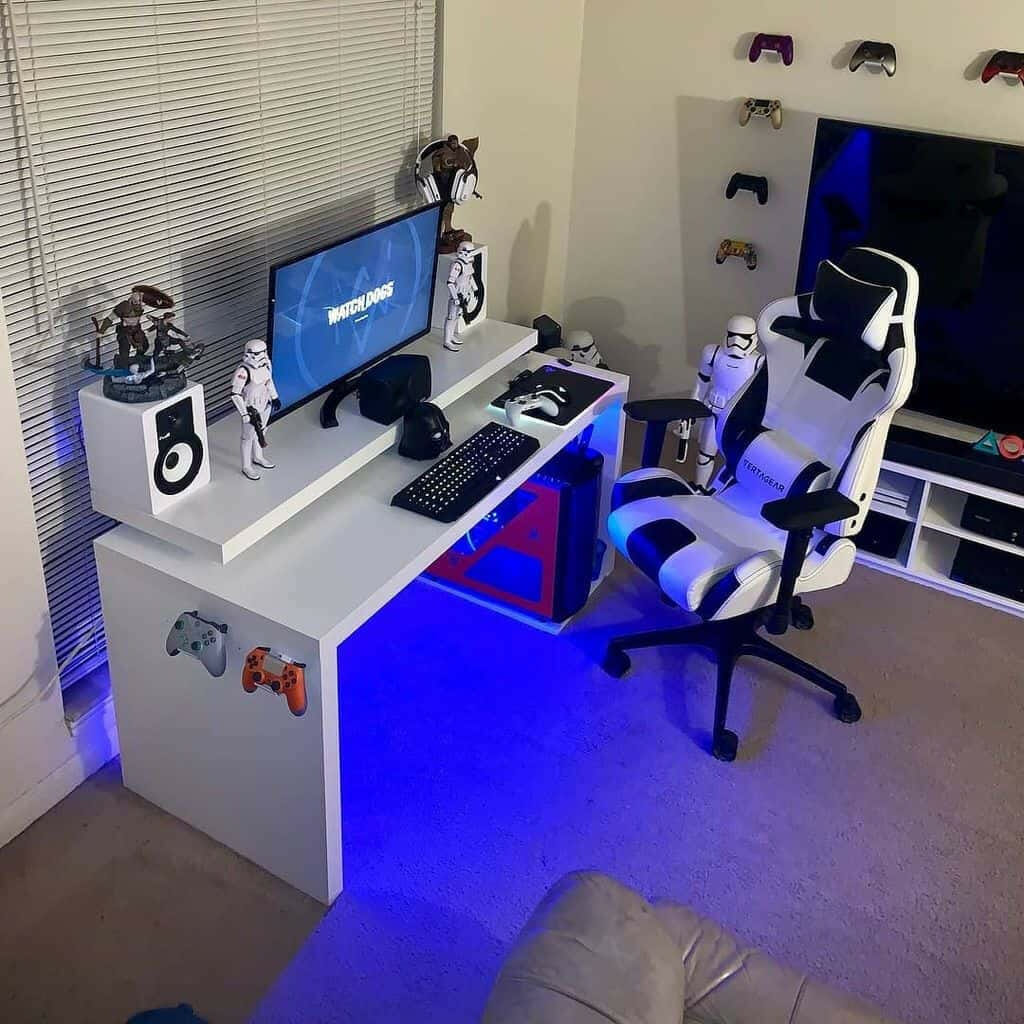 If your small game room is a PC games only area, then you'll need some quality gaming chairs for those long multiplayer sessions with your buddies. Important tip however: when considering furniture for your small game room, always have in mind that you will have enough space to move around comfortably.
Choose Multi-functional Furniture
When selecting furniture, opting for pieces that are multi-functional is a great way to save space and make the most of the area you have. From tables with built-in storage, to sofa beds and stools that can double as side tables, this type of furnishings can help you create a multi-purpose room with ease. Multi-functional furniture comes in many different forms, depending on your needs.
For example, one type of multifunctional furniture is a convertible piece, such as a futon or sofa bed which can convert from a seating area by day to a sleeping area by night. This type of furniture is both versatile and practical for any living environment, and can make your game room feel like an especially fun place.
By selecting dual-purpose furniture – such as ottomans with storage – you're not just gaining an extra storage solution but also adding texture and interest to the room. It's all about mixing function with style!
Another great option for smaller spaces is nesting tables which can be pushed together when more table top space is needed or pulled apart when additional seating is required. Just remember that it's important to always measure your space before you purchase any kind of multi-functional furniture to ensure it will fit comfortably in the room.
Utilize Vertical Space
Creating extra storage in a room can be difficult, but there are some simple tricks to maximize the use of space you have without crowding. Utilizing vertical space is one of the best ways to make a room appear bigger and more organized, and provide for more space.
Consider mounting or hanging adjustable shelves, cabinets, and even bookcases on walls. These can provide additional storage while creating less visual clutter than additional furniture. If wall-mounting isn't an option, standing shelves and bookcases are available in many different sizes and are perfect for tight spaces. Place smaller furniture on top of a chest of drawers or dressers to keep items off the floor. Placing items in bins or baskets helps uphold your feng shui goals by concealing whatever tidbits you're storing away.
And if your game room also has a full bar, what better way to organize all the excellent drinks than on a wall mounted shelf? The back wall can be just the right spot for a full bar, giving your game room a man cave fell.
Small Game Room Ideas
If you're looking for even more small game room ideas, consider utilizing the corner space, or even adding more rooms to it. Corners in a room can often be neglected and seem wasted, however it is possible to use them for storage or to house some fun and quirky furniture that could spice up the game room's atmosphere.
Choose furniture like corner shelves and corner-style sofas or tables which will give your small game room an edge. These can be bought easily; however, if you're looking to spruce up the look even more, there are lots of DIY options to explore too! Corner nooks and cute little seating alcoves can make great hideaway spots for activities or simply relaxing and it would be much appreciated by any visitor.
Also bear in mind that by using the corner space wisely you'll gain precious ground and make your game room appear less crammed. For example, what if you placed a comfy armchair in the corner? It will quickly become the favorite place to sit for any guest.
Accessories Can Really Add to the Mood When Playing Board Games
Accessories are a great way to spruce up any room and they can also be used to create a great space-saving game room. From game room pillows to board game art pieces or a wet bar, there are plenty of creative ways to decorate a small space with accessories.
This section will focus on the many accessories that can be used to add a breath of fresh air to anyone's small game room.
Use Rugs to Define The Space
Rugs can be an eco-friendly way to divide up your small game room. Choose two or three rugs and strategically place them in the room. This will help separate the different activities and spaces, making your game room more efficiently utilized while giving each activity its own unique area.
Furthermore, rugs can sort of give the impression that areas of your game room have had a "fresh coat" of paint. You may mock the idea but visual diversity is important (and fun!)
Select contemporary patterns to create a modern game room vibe for game night, or opt for fun shapes and colors for a child-friendly atmosphere. If you want to save money, use rugs that have been pre-used—not only is it environmentally friendly but they can often be bought at an excellent price!
Add a Bookshelf
One way to improve the décor in a small game room is to add a bookshelf. A well-styled bookshelf is both decorative and practical — it can also be used as a storage area of both books and game boxes, game figurines, manuals and so on.
Choose bookshelves that are as tall as possible, so as much of the wall space as possible is taken up. Heck, you may deck your entire room with bookshelves on all sides!
Opt for open shelving, if you plan on displaying decorations or trophies on them. Alternatively, choose bookcases with sliding doors if you want to create a more organized look in the game room. Pro tip: before even checking out bookshelves online, make sure to measure the area you have available for the bookshelves. How much space you actually have is important, regardless if its books you want to stash, a media console or a wall mounted TV.
Hang Mirrors
Hanging a few high-quality mirrors will give your small game room an instant makeover. Mirrors reflect natural light around the room and make it look larger, taking full advantage of the available lighting and creating an illusion of a wider space. You can choose from plain metallic frame or beveled edge options that provide a classic, timeless look.
If you want something more glamorous or contemporary, opt for ornamental frames and black lacquer accents to create a modern game room. Mirrors can also be used as a creative way to display artwork from your favorite games or movies that adds interest and depth to the room.
Storage
When it comes to decorating a small game room, storage is key. You want to make sure that all the items you plan on storing and using in the space are easily accessible, while keeping the room tidy and clutter free. Being smart about storing items can really leave room for more important things, such as displaying the figures from your favorite game.
There are many great storage options available that will help maximize the available space in your game room. From wall mounted shelves to decorative boxes and baskets, the possibilities are endless. Let's explore some of the best storage ideas for a small game room.
Install Floating Shelves
A simple, stylish solution for storing items, floating shelves provide a convenient way to store items in any room without taking up a lot of space (or without just dumping them all in the basement). Installing floating shelves is a relatively easy DIY project that requires minimal tools.
Before installing the shelves, measure the desired wall space and mark out where each shelf will be mounted. With basic tools such as a drill or screwdriver, install brackets onto the wall with appropriate screws or fasteners. When choosing brackets, make sure that they are out of reach for children or pets since it is important that these racks do not become detached from the wall from too much weight or movement. To ensure stability, look for heavy-duty shelf brackets and mount multiple shelves in the same area if necessary.
Once the brackets are mounted to the wall, slide each shelf onto its allotted bracket to complete installation. Floating shelves can be used to organize household items such as books and cookware in pantry spaces; toiletries in bathrooms; spices and seasonings in kitchens; magazines and framed photos in living rooms; toys and games in playrooms; and more! They're perfect for creating multifunctional storage solutions nearly anywhere in your home!
Utilize Under-bed Storage
Maximizing storage in any room is essential for minimizing clutter. Consider utilizing and customizing space around the bed with bins that can easily slide out under the bed. These types of storage units come in a variety of sizes and colors to fit any room decor scheme. When choosing materials and colors, look at the existing bedding and wall artwork, as well as other furniture pieces that you're using. Some options even come with lids so they can act as extra seating space when needed.
Additionally, if your small game room includes a pull-out couch or futon, great underneath storage solutions are available to store games and toys while they are not being used. With a bit of organization and appropriate furnishings, you can create a great gaming room without sacrificing precious floor space.
Use Wall-Mounted Storage Solutions
Wall-mounted storage solutions are an effective way to maximize the space in your home and create a clutter-free environment. Installing shelves, cabinets, or racks is a great way to create a designated spot for all your items, regardless if it's your living room, game room, or even the basement. This reduces the need for bulky furniture that takes away from floor space. Wall-mounted storage can also be customizable to fit the look and feel of your home.
Not only are wall-mounted storage solutions aesthetically pleasing, but they're also practical. These products come in an array of sizes and shapes, allowing you to store anything from small items like remote controls and books, to larger items like bicycles or shoes. You can use them for both decorative elements as well as functional items that help you stay organized. If you don't have a lot of wall space or want something that takes up less room, there are even smaller sized shelves available!
When deciding on a wall storage solution, it's important to make sure it fits both your needs and décor style — as well as being suitable for the type of walls in your home (e.g., drywall or brick). Consider if you should go with open shelving or closed cabinets? Would it be beneficial if the shelves were adjustable? Also keep in mind any weight limitations in order to ensure optimal safety when mounting them onto your walls.