Picking Out The Finest Restaurant Chairs For Your New Business Venture
Finding the best furniture for your restaurant can be difficult, mainly because it will be subjected to significant wear and tear. On top of that, the furniture needs to be flush with the rest of the decor and the overall vibe of the spot.
You will need to pay attention to specific details of the restaurant chairs, and if you've never done that before, it can be even more taxing. Luckily, we are here to help with this helpful buying guide!
Continue reading to find out what features your new restaurant chairs need!
Size
Size is one of the crucial things you need to pay attention to. That is why you should pick out the tabletops first, so you can find adequate chairs to pair them with.
Chairs come in various sizes, regarding the height and the width, and if you choose them first, they might not fit the tables right. The chairs should also be wide enough to accommodate many different guests without making them uncomfortable.
However, if you are dealing with a cozier restaurant, try to find chairs that are wide enough, but not too wide – as wider chairs can make the whole area feel cramped. When measuring the chairs, keep the armrests in mind, as they take up precious space, too.
Price
When you buy dozens of chairs, naturally, you're going to want to spend as little as possible. However, this is where the problem might come up if you decide to skimp on the chairs.
Chairs in the restaurant will be exposed to plenty of use compared to the chairs used at home. That is why you should look for high-quality chairs that will withstand being used.
If you are opening an upscale restaurant, the chairs simply cannot be cheap – they need to look flush with the space and the neighborhood. If the chairs you have your eye on are relatively expensive, you can try and negotiate a lower price for buying a couple of dozen with your retailer.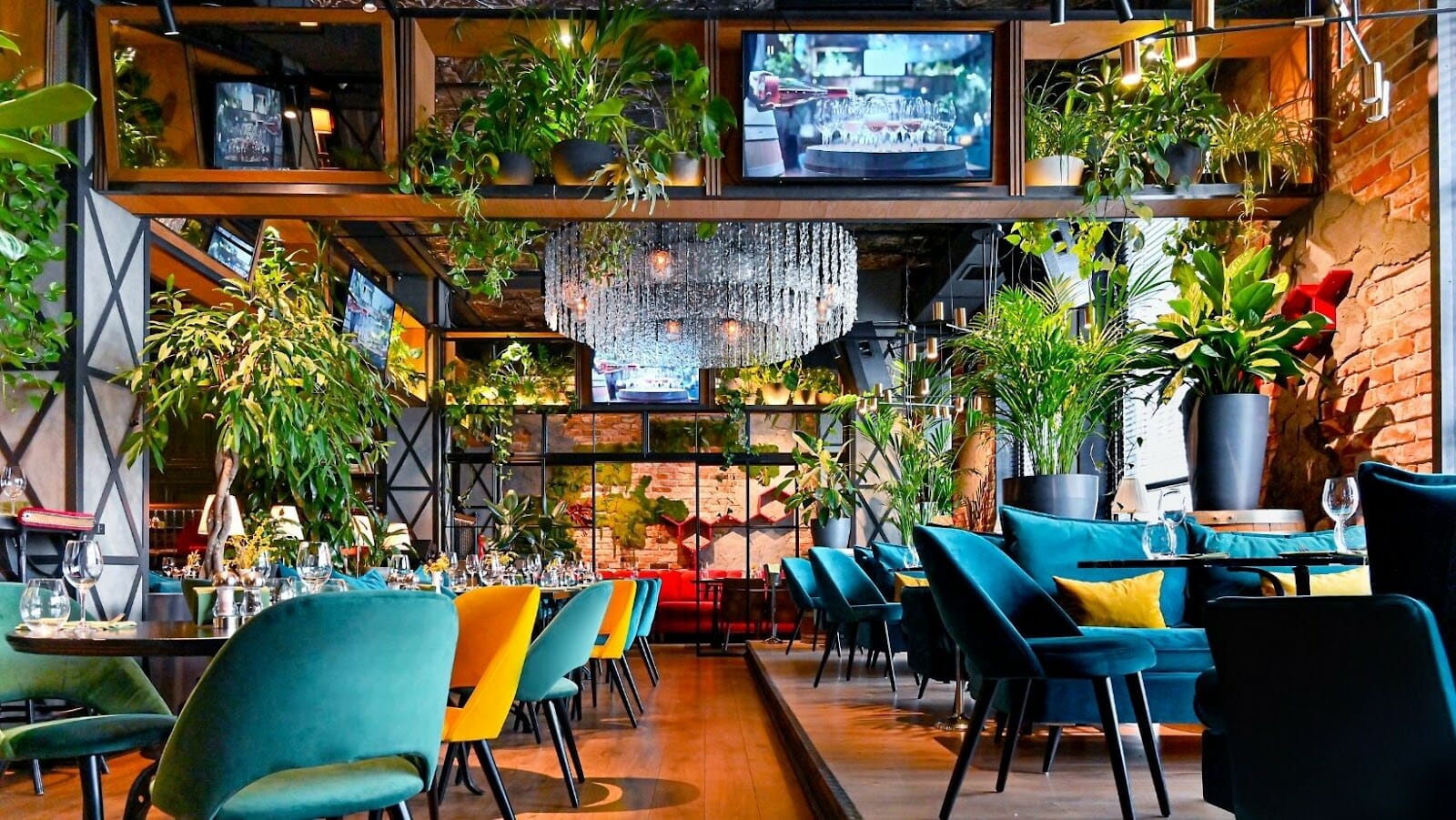 Design
Design is another characteristic you should look for, as your restaurant chairs need to look good with everything else. The furniture needs to 'belong' and help accentuate the overall vibe.
To make your restaurant a success, the chairs and the decor need to be trendy. So, you can stick to the classics or go for something hip – but you can't make a mistake either way.
Metal Stools
In the year 2022, metal stools are all the rage. The metal chairs may seem uncomfortable, but with their growing popularity, plenty of rather comfy pieces won't hurt your back.
We advise you to stick to metal chairs with cushions, as they will offer some extra comfort while giving your restaurant that industrial appearance.
Wooden Chairs
Wooden chairs are a classic, and they are usually the style you cannot go wrong with. They make your restaurant look warm and inviting to the guests, which is certainly something you wish to achieve with your decor.
We advise you to look for chairs with backrests, as they are generally very durable. Make sure you look for solid wood options, as they will stay as good as new for years!
Wingback Stools
If you are looking for functional chairs above all else, go with the wingback style. Wingback chairs are comfy, but they are also the epitome of functionality, and they are one of the most popular chair options this year.
They are highly comfortable, and they allow the guests to sit back and relax after a delightful meal, so they are an excellent choice for most classic and even modern-styled restaurants.
Retro Chairs
Retro chairs have been in style for a couple of years now, and they don't seem to lose any popularity to this day. Since retro stools are so popular, there are plenty of high-quality choices so that the chairs won't give your restaurant a rundown look.
Despite being retro, they can make your restaurant look upscale instead of appealing to guests, which is the goal. There are retro chairs with backrests and some without, so you can choose both, but remember to choose the chairs with backrests for the dining area.
Minimalist Chairs
Minimalism has been around for decades now, and the minimalist style looks good in any restaurant. Going with minimal decor and details can make the whole place look expensive and have a calming effect on your guests.
What's more, minimalist furniture, especially chairs, are relatively easy to take care of and clean. On top of it, minimalist chairs take up less space, so consider the minimalist options if you are dealing with limited space!