Keep it Cool: How the Right Awnings Can Lower AC Costs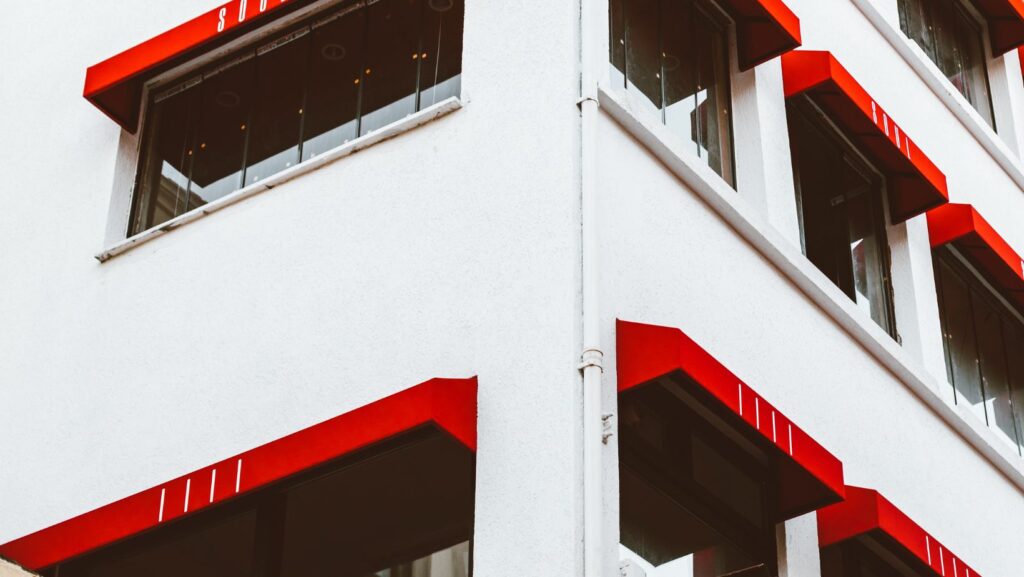 Introduction
During the hot summer months, air conditioning costs can skyrocket as your AC unit works overtime to keep your home cool. One way to significantly reduce AC costs without sacrificing comfort is to install exterior awnings. Strategically placed awnings provide shade and reduce heat gain, allowing your AC system to work less. This article will explore how the right awnings can help lower cooling costs in homes and businesses. We'll cover the benefits of awnings, what to look for when shopping for awnings, proper installation and placement principles, and creative ways to use awnings to cut electricity bills. With some thoughtful planning and informed awning choices, you can keep cool while keeping more money in your wallet.
The Benefits of Awnings
There are several reasons why awnings are an excellent solution for lowering AC costs. Awnings provide valuable shading that helps to reduce heat absorption in a building. By blocking direct sunlight, awnings prevent solar radiation from striking and heating up windows, doors, walls, and other exterior surfaces. This sunlight-blocking effect has been shown in studies to reduce heat gain through windows by up to 77 percent. With less heat radiating into the building interior, your air conditioning system does not have to run as often to maintain a comfortable indoor temperature. The reduction in AC runtime directly translates into lower electricity bills associated with cooling your home or business. For homeowners and businesses in hot southern cities, investing in quality awnings in Atlanta can provide substantial savings on costly summer air conditioning bills.
In addition to cutting AC costs, awnings also benefit your home or business in other ways. Awnings act as protective shields that can prolong the life of furniture, rugs, window treatments, artwork, and other valuables by blocking harsh UV rays from the sun. Your valuable possessions will last longer when shielded from fading and deterioration.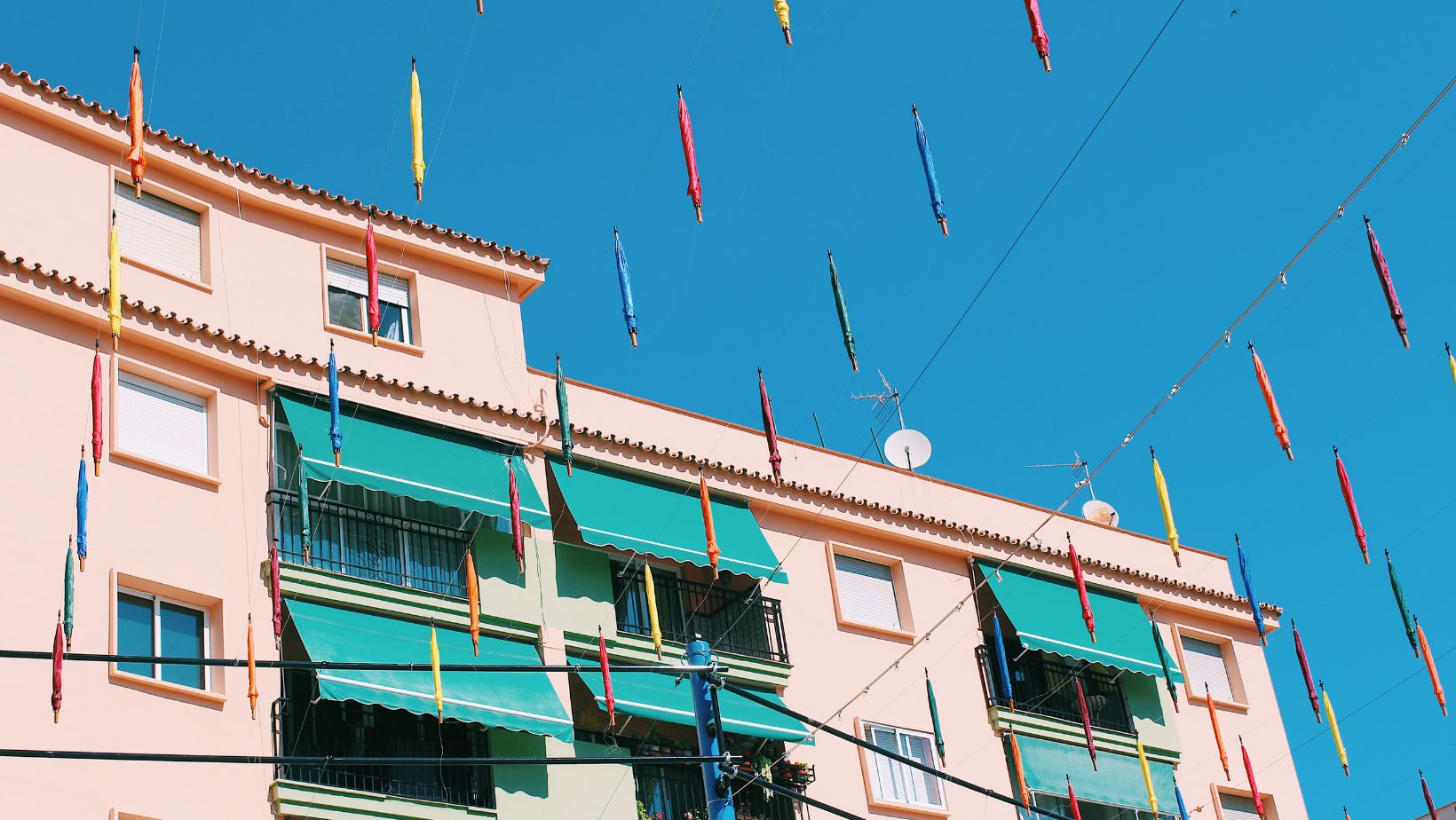 Awnings also enhance outdoor spaces like patios and decks by providing cooling shade so you can better enjoy these areas during hot summertime weather. Attractive awnings can even boost your property's curb appeal with the visual interest they add to the exterior design aesthetic. Finally, by curbing air conditioner usage, awnings help conserve electricity and reduce your overall carbon footprint, making them an eco-friendly "green" addition to your home or business.
Awning Materials and Styles
Today's awnings are available in a diverse range of materials, patterns, and forms to match any taste and budget. From traditional canvas to modern metal and acrylic fabrics, there are many options to consider. Aluminum awnings are an extremely durable and long-lasting choice. Aluminum provides excellent weather protection and can be made as fixed frames or motorized retractable units. While aluminum awnings have a higher initial purchase cost, their longevity, and low maintenance requirements make them a sound investment.
Canvas awnings have remained popular over the years as an affordable option. These awnings are made of woven acrylic-coated cotton blend fabric stretched over a frame. The fabric is breathable and provides protection from UV rays. Canvas awnings can be configured as fixed shade structures or retractable roll-up units operated manually or by motorized automation. While budget-friendly initially, canvas fabric will need replacement every 2-5 years.
Woven acrylic fabric awnings are made from colored acrylic threads to create durable, resilient coverings that resist fading, mildew, and stains. Acrylic fabrics are water-repellent and breathable. They are stretched over supporting structures made of aluminum or stainless steel. Acrylic awnings have a long lifespan of 10-15 years and perform well in all weather conditions. Other materials like mesh, polycarbonate plastic sheets, corrugated metal, and fiberglass can also be used to construct customized awnings and canopies.
The most common awning style categories include stationary awnings, retractable awnings, window awnings, freestanding awnings, and vertical drop awnings. Stationary awnings are permanently fixed shade structures commonly seen above doors and windows. Retractable awnings can be rolled up and down either manually or using electric motors. This allows adjustable control over sunlight. Window awnings are fitted coverings designed for shading individual windows. Freestanding awnings utilize standalone framed structures to create covered spaces over patios and decks. Vertical drop awnings have an angled profile that provides shade from the high summer sun while allowing lower winter sunlight to enter.
Proper Installation
To gain the most benefit, awnings must be properly sized and installed. Careful measurements should be taken to ensure a tailored fit that provides optimal shade coverage. The sun's changing angles at different times of day should be factored in when planning awning placement. Awnings should be mounted at a height that allows sufficient clearance underneath but also maximizes shade. Generally, the optimal mounting height is near the top of the window, door, or opening being covered.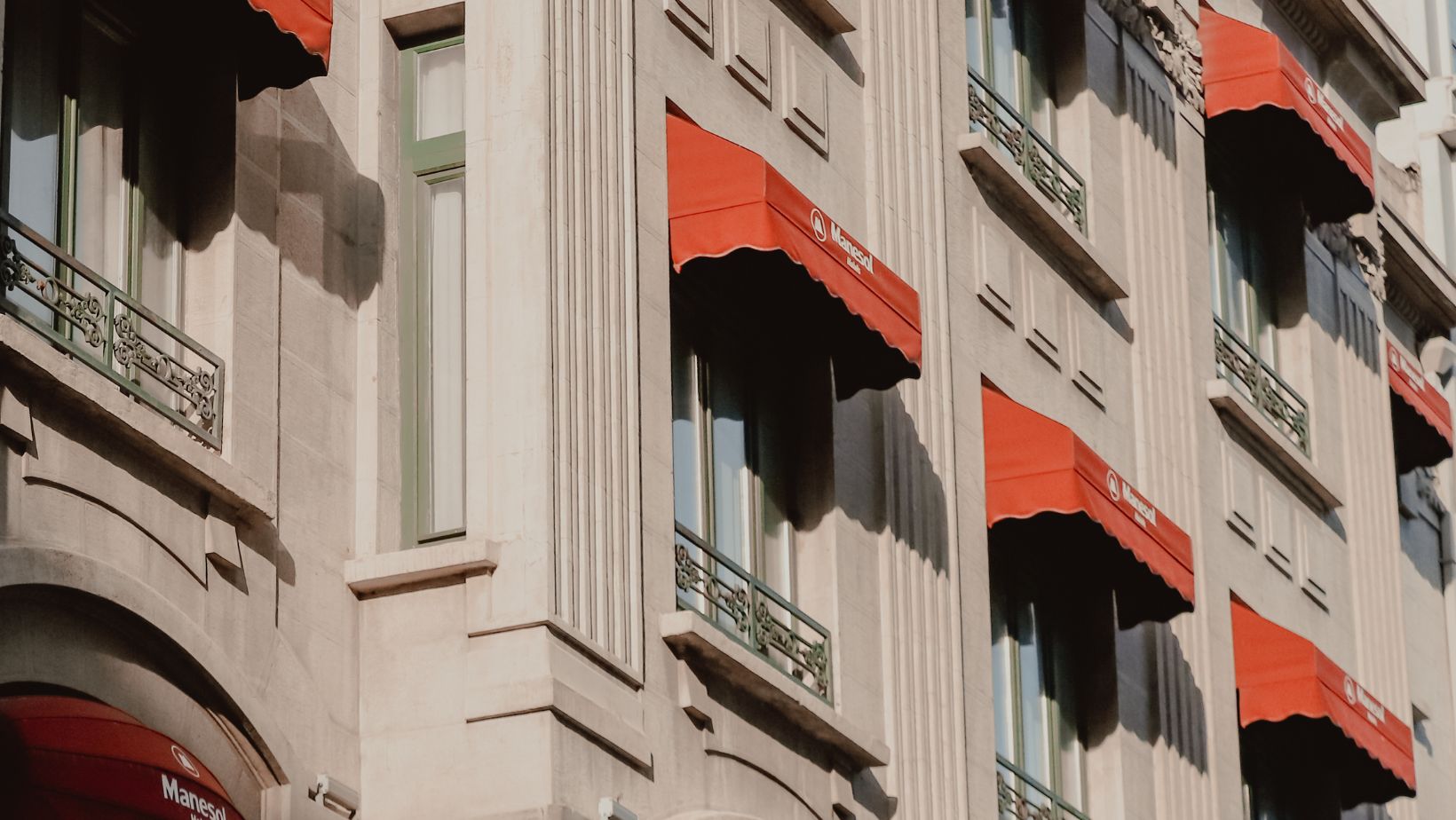 The angle of awnings should be adapted for seasonal sun positions. In summer, a steeper 45-60 degree angle is ideal to block the high midday sun. In winter, a lower 15-30 degree angle will allow beneficial warming sunlight to enter when desired. Awnings should be installed according to the manufacturer's specifications based on the awning's size, type, and building material. Unless it is a basic window awning, it is wise to hire qualified technicians for mounting to ensure proper placement and functioning.
Ideal Awning Placement
Where you position awnings in your home or business can make a big difference in their effectiveness for cooling and energy savings. Patios, porches, and pergolas can all benefit from overhead shade created by awnings. These outdoor living spaces become more comfortable places to relax when protected from direct sun exposure. Entryways should also be considered prime awning territory to welcome guests with a shady overhang. Awnings above windows are essential, especially for south, west, and east-facing windows, which tend to gain the most solar heat.
Walkways and driveways leading to and from your home or business entrance can be outfitted with awnings to give cooling relief along the way. Rooftop balconies and decks gain extended usability when shaded by weatherproof canopies. Awnings can shelter vehicles from sun damage in carports and garages. Playgrounds and sports courts become safer for kids with shade coverings overhead. Even air conditioning units function more efficiently in the shade provided by an awning above. Careful planning to position awnings at key areas based on sun patterns and activity zones can amplify their cooling power and savings.
Creative Ways to Cut Cooling Costs
In addition to awnings, some supplementary steps can further reduce your cooling costs. Strategically planting shade trees around your home provides natural daytime shade that can lower indoor temperatures. Tinting windows with solar films or tints reduces heat absorption from sunlight while still allowing natural light in. Exterior blinds give you adjustable control over sunlight entering windows. Opening windows judiciously at cooler times of day enables ventilation without raising indoor heat.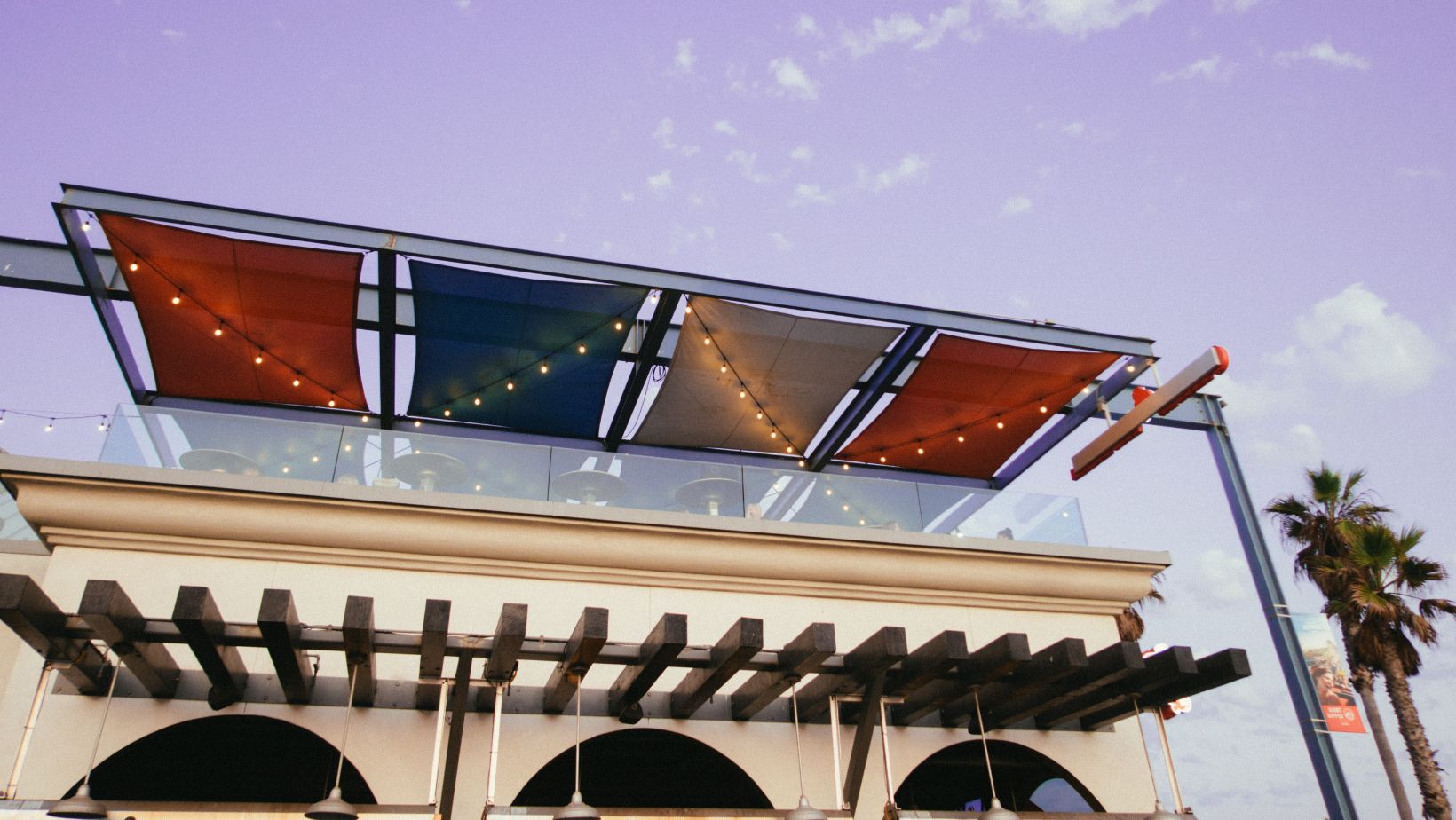 Installing ceiling fans fosters beneficial air circulation through a wind chill effect. Limiting the use of heat-generating appliances like ovens during hot daylight hours decreases internal heat buildup. Improving insulation slows the transfer of outdoor heat to your interior living space. Maintaining your AC equipment through regular filter changes and professional servicing keeps it operating at peak efficiency. Setting your thermostat several degrees higher and relying on fans allows you to minimize AC runtime. Sealing any air leaks with caulking and weatherstripping prevents cooled air from escaping and hot air from entering. With creative planning, you can attack cooling costs from all angles.
The Right Fit for Comfort and Savings
Ultimately, choosing the right awnings comes down to selecting the proper styles, sizes, and locations tailored to your specific home or business and local climate conditions. When thoughtfully installed, high-quality awnings allow your air conditioning system to work less while still maintaining indoor comfort. This translates directly into summer energy savings. With protections from solar heat gain like shady overhangs, tinted windows, and insulation, your cooling system won't have to battle as much heat. Your awnings will provide years of durable service and eco-friendly electricity savings by keeping your space comfortable while blocking intense sunlight. Consider all the options and arm yourself with the knowledge from this article so you can make informed awning choices that help you keep cool in every sense – comfort and cost!