Is Radon Testing a Scam?
It's a question that's burned in the minds of countless homeowners: is radon testing a scam? Is it worth the time and money to get your house tested for this radioactive gas, or is it just another way for shady contractors to fleece unsuspecting victims? In this blog, we'll examine the evidence and shed light on this controversial issue.
What exactly is radon?
Radon is an odorless, colorless and tasteless radioactive gas that occurs naturally in soil and rocks, and can move up and out of the ground into basements or other enclosed spaces in buildings. It's also considered to be a major indoor pollutant because it has been linked to lung cancer when present in elevated amounts.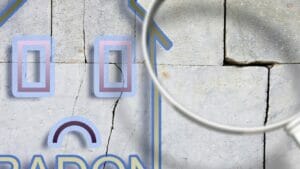 Radon is created from the decay of uranium found in soil or rock, and it often accumulates indoors after seeping through small openings in walls, foundations, and floors. Radon becomes more concentrated indoors during certain times of the year due to changes in air pressure outside versus air pressure inside the building. This can cause problems for homeowners if levels inside get too high; hence why doing regular radon testing is so important!
What Is Radon Gas and How Does It Affect Your Health?
Radon is an odourless and tasteless radioactive gas that forms naturally in the atmosphere. It is found in soil, rocks and water and can become concentrated indoors when a house or other enclosed building has inadequate ventilation. The risks posed by long-term exposure to radon gas vary, but it can have serious impacts on your health.
Radon comes from the natural breakdown of uranium in soil and rocks, entering buildings through cracks, openings and other gaps in flooring or walls. Radon gas can build up to dangerous levels within enclosed areas where air flow is not properly maintained over time. Therefore, it's important to regularly test for radon in your home or workplace so you know whether corrective action needs to be taken to prevent potential health issues associated with long-term exposure.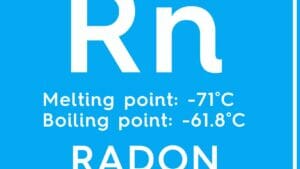 Radon can increase the risk of lung cancer if present at certain levels over a period of many years, exacerbating the risk even further if you are a smoker. According to Health Canada, an estimated 3% of lung cancer deaths are attributed to radon gas alone each year – that's more than 1,200 Canadians annually! Government approved radon testing kits are available for purchase in most hardware stores or through licensed home inspection services across Canada and they provide accurate readings on how much radon gas is present in your environment. Although testing is not mandatory – it should be completed periodically so you can take necessary precautions if elevated levels are detected.
Why Is It Necessary to Test Homes?
Testing for radon is an important preventive measure for homeowners and other occupants of residential buildings. Radon is a colorless, odorless gas that can enter homes through cracks or openings in the foundation and accumulate within an enclosed space. Radon gas has been linked to health problems such as lung cancer and its periodic testing helps identify potential hazards early on.
By testing your home's levels of radon, you can ensure that you are living in a safe environment free from potentially hazardous levels of the gas. There are two primary ways to test your home's levels of radon: short term testing and long-term testing.
Short-term testing uses active detectors which measure radon over a period of one to three days, while long-term testing is comprised of passive detectors that collect data over a period of months or years. Using either kind of test, residents can then use additional strategies such as improving ventilation or using air filtration systems to minimize any existing risks.
In most cases, testing for radon serves both as an assurance to homeowners regarding their safety from adverse health effects and as an investment in property value, especially when implementing appropriate remediation techniques after detection. Taking these steps not only creates peace of mind but will safeguard families from potentially dangerous amounts of radon gas in the future.
Are radon tests reliable?
Radon testing is an important part of determining the safety of a home and mitigating potential health risks. However, not all radon tests are reliable or accurate.
The most reliable type of test for determining radon levels in a home is known as an active long-term test, where results are taken from monthly samples collected over 90 days or longer. These tests provide more reliable results because they take into account changes in the environment that can cause fluctuations in radon levels over time.
Another form of testing—the short-term test—is less reliable due to the shorter amount of time it's taken to collect data, often resulting in false readings. For instance, two tests done on different days may result in different readings simply due to changing temperature and pressure conditions at certain times of day or seasonally with gravity variations and air pressure changes indoors and outdoors due to weather patterns.
While both types of radon tests come with their own pros and cons, it is important to remember that no matter which type you use; the best way to ensure your tests are accurate is by selecting a qualified provider who has followed industry standards for installing, calibrating, maintaining, and maintaining accreditation for their equipment. Additionally, to get the most out of any test results you must retest regularly in order to remain aware of any possible changes occurring over time due to factors such as renovations or weather changes.