How to Locate Water Lines in Your Yard
Have you ever gone outside to water your garden and wondered where the water line was? Well, wonder no more! In this blog, I'll provide you with some tips and tricks to help you easily locate water lines in your yard. So get ready to roll up those sleeves and dive into some detective work – it's time to find those elusive water lines!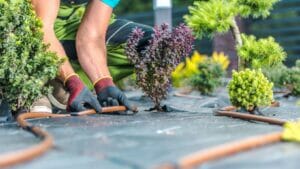 How do you find your water meter?
Locating your water meter is relatively easy, but it can be difficult to find if you have an underground system. Your water meter is typically located near a service box or pipe. This will usually be located in a visible place, such as near the street in front of your house or on the side of your house if you access the water from that side.
If you cannot locate your water meter in plain sight, however, there are other methods of tracing it. Start by checking any utility boxes you may have outdoors which are used to access utilities and are clearly marked with stickers identifying them as such. Utility boxes may contain access points and valves that control several components related to water lines around your home. Some utility boxes even contain meters inside and these can be helpful in locating where your meter resides.
If none of these methods are successful, try using a metal rod or rebar in order to detect where underground pipes or wires may run through the ground under or around your home's exterior walls and foundation. Simply push the metal rod into the ground until it encounters resistance; this is likely caused by hard surfaces beneath the ground such as concrete slabs and pipes. Carefully dig up the area until you have exposed enough surface for further exploration; chances are high that you will encounter either a service box or water line near which will be located your meter.
How do you find the water pipes in your garden?
In some cases, gardeners face the difficult task of locating water lines within their yards before beginning a project, like planting trees or installing fencing. While this may seem intimidating, finding water lines in your garden can be simpler than you think. Here are a few steps to take:
1. Contact your local water authority: Your water authority can provide more information about the key landmarks (buildings, sidewalks, and so on) that surround public utility access points in your area. This should be one of the first steps you take if you need to find the position of water pipes in your yard – typically these maps will specifically pin-point the location of local water lines.
2. Investigate man-made structures near your home: Many times, existing structures or other surface features (like mounds or depressions) indicate an underground utility line exists below it. Be mindful not to dig too close to these structures and risk serious damage to your yard and belongings for something as unassuming as a water line.
3. Look for signs in your garden: Manholes connected to utility lines should be clearly marked with bright yellow signs on their covers — look for them around areas where you think the pipes might lie beneath the surface. If that's not enough information, try using a metal detector near suspect locations to identify metallic pipes much deeper than manhole covers go.
4. Hire a professional utility locator: If all else fails, consider hiring an experienced professional who specializes in locating underground utility lines quickly and accurately from above ground level using dowsing rods and other methods — no digging required! These experts have years of experience spotting even faint indications like small color changes above pipes that otherwise would remain undetectable by amateur means alone.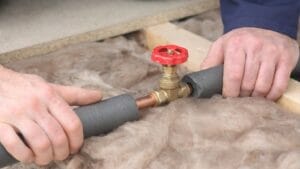 Procedure for using the water pipe locator
Locating buried water lines can often be a tricky business. However, a water pipe locator is specifically designed to help you pinpoint the position of these invisible pipelines running throughout your property. Here are the steps you need to follow when using a water pipe locator to access your underground pipes and valves.
1. Start by connecting the receiver's power supply and grounding accessories.
2. Place the receiver above ground in an open area where it can receive a clear signal from the transmitter unit, which will have already been inserted into the ground before conducting your search.
3. Connect both units to the same power supply and turn on all connections before beginning.
4. Turn on the transmitter and adjust its power setting according to voltage preferences, if necessary, by reading any accompanying instructions provided with your device model for detailed information about its configuration interface for controlling maximum current flow or other parameters of operation that may influence operation accuracy when locating underground water lines near metal pipes or electrical cables with overlapping fields of activity which could mask signals from being read on your detector's receiver-panel display.
5. When ready, step away from any obstructive material covering up underground pipes and progressively move forward while keeping an observant eye outwards towards all directions emitted outwardly by transmitter signals until reaching its intended depth in order to compensate for terrain elevation or other obstructions such as trees that may interfere in between them and create interference leading inaccurate readings onscreen containing erratic numbers showing irrelevant values near zero on each position step taken while moving further ahead while tracing along possible locations indicated during this search progression phase until one located sign reading matches another location's values so you know exactly where pipe segments intersect at this exact spot which should then point out directly towards them being buried together there beneath surface level beneath soil covering most likely laid overtop them for protection against environmental degradation produced when directly exposed towards air temperatures too hot during summer days…but now that you know where they are you have better control over these important components found within everyday life today!
The best way to locate water pipes in your garden
Finding water lines in your garden can be difficult—especially if there are trees, shrubs, and other permanent fixtures in the way. Fortunately, there are some simple steps you can take to identify where pipes lay buried beneath the soil. By following these steps, you can easily find what you're looking for and significantly reduce the risk of disturbing more than necessary when making repairs or renovations.
The best way to locate underground pipes is by using a metal detector. This tool will detect metallic objects such as pipes and wire with great accuracy by sweeping it over the soil. You may find that it's helpful to use a plastic wand attached to a long stick when searching around heavily landscaped areas as this reduces bending down while in search mode.
If metal detectors are not an option, then it may be beneficial to use a GPR (ground-penetrating radar), also known as sonar imaging, which is capable of finding non-metallic materials like plastic piping and cast iron waste lines. However, this technology is often expensive and must be used with caution due to its limited range in certain regions of soil types. However, this technology is often expensive and must be used with caution due to its limited range in certain regions of soil types. If you are thinking about choosing other garden tools for your backyard don't forget about a cordless string trimmer for your lawn.
Once an area has been identified where there appears to be a pipeline running through it–take the time to look around and see if any markers have been left indicating where various water lines run–This may save you time that would have been spent trying to identify them without any help from markers or detection tools Make sure ensure that digging follows all safety protocols —such as clearly marking accepted excavation zones before breaking ground—to ensure no one puts themselves unknowingly at risk while working on your gardening project.