Hanging a TV Outside (Best Types of Outdoor TV Mounts)
Do you have an outdoor space that could benefit from an extra entertainment option? Don't let your backyard be the only place without a TV! This blog is here to help you figure out how to mount a TV outside and what types of mounts are best for the job. Get ready to entertain friends and family all summer long—let's get mounting!
Types of outdoor TV stands
Outdoor TV stands have become more popular in recent years, with many homeowners installing their TVs outdoors to enjoy movie nights and entertain their guests. Because of the elements, it's important to choose the right type of outdoor TV stand to protect your television. Here are some of the most common types of outdoor TV stands and mounts.
Wall Mounts
Wall mounts are a great option for keeping your television in place and out of harm's way. These mounts allow you to hang the TV securely on a wall, which will help prevent damage due to wind or weather conditions. There are a few different types of wall mounts that are designed for either indoor or outdoor use.
Pedestal Stands
Pedestal stands provide a more traditional look for an outdoor living space than wall mounts do. Many pedestal stands have adjustable height settings so you can set the height at which your TV is displayed, making viewing easy for various heights and seating arrangements. Pedestal stands also offer 360-degree rotation capabilities so you can move the display when necessary without assistance from another person.
Ceiling Mounts and Hanging Mounts
These types of mounts provide even more options for mounting and hanging your television outdoors. Ceiling mounts hang from either a suspended ceiling or high up on beams if you don't have a suspended ceiling installed already in your backyard space, while hanging racks attach directly onto an existing support column or post near your seating area such as an existing patio cover or pergola structure. Some models even feature swivel technology that lets you tilt the angle of your outdoor TV mount depending on where you need the display to be viewed from most often.
Ceiling mount
Ceiling mounts are an ideal choice for installing a TV outdoors due to their space-saving upside down design that won't take up any wall or floor space. They allow you to watch your favorite shows from the comfort of your hammock, patio chair or poolside lounge. When properly installed, ceiling mounts provide a secure and stable platform for your flat panel TV as well as easy tilt and swivel capabilities.
When shopping for a ceiling mount, you'll want to make sure it is designed specifically for outdoor use and has been rated IP66 or higher. This will protect against dust, water exposure, humidity, and pollutants in the environment that could harm the finish of your television. You'll also need to check that it can support the size and weight of your particular TV. Most ceiling mounts will have weight limits listed on the box so make sure yours meets or exceeds those requirements before making a purchase.
Be sure to measure carefully before installing because once you've set up your mount it may not be easy to adjust later on. You may also want to consider hiring a professional installation if this is out of your DIY skill range so you can be confident in its safety and stability once completed.
Wall bracket
A wall bracket mount is one of the most popular ways to install an outdoor TV. A wall bracket mount attaches to either a wall or an eave and holds the screen in place, allowing for easy viewing from multiple angles. This type of outdoor TV mount is a great option for patios, decks, and porches as it does not interfere with your existing space. Depending on the size of your television and its weight capacity, you can find both indoor-outdoor rated mounts and specialized outdoor mounts available. Wall bracket mounts usually offer a tilt option to help further customize your TV viewing angle and experience.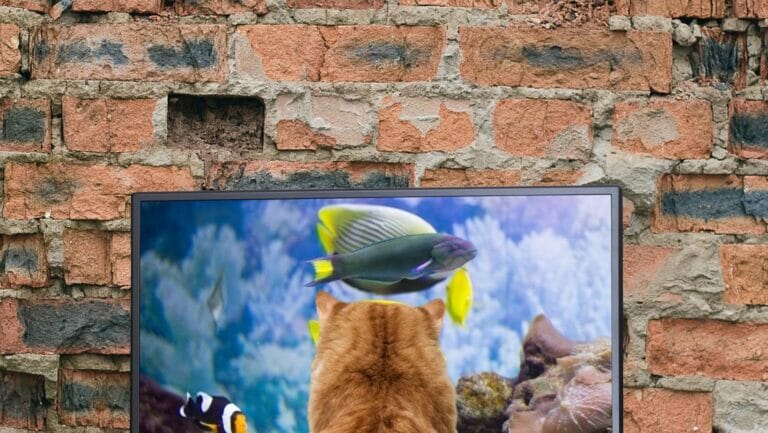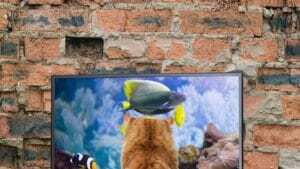 Installation of a television outside the annexe
Installing an outdoor television is an excellent way to bring the entertainment and atmosphere of your living room to an outdoor space. In order to ensure that your television is securely installed and protected from inclement weather or vandalism, you'll need the proper type of mounting bracket. Here are a few tips for selecting the best type of mount for hanging a TV outside the annexe:
Wall-mounted Bracket: A wall-mounted bracket is great for keeping your television off the ground and out of harm's way. This typically includes two screws on either side so that you can secure the mount mounting bracket into a wall or surface. This type of bracket also allows you to make minor orientation adjustments, like tilting the bracket slightly left or right, if necessary. These brackets are also able to accommodate larger TVs up to 155 lbs in weight without toppling over or wobbling.
Ceiling Mounts: Ceiling mounts provide support above rather than alongside outdoor televisions. They are great for conserving space, as they don't take up any floor space and keep cables off the ground and out of sight. It's important to note, however, that they rely on smaller weight capacities compared to wall mounts (typically 40-50 lbs). Be sure that you select a ceiling mount with strong construction materials like aluminum alloy so that it can withstand environmental elements outdoors.
Cantilever / Bridge Arms: Cantilever/Bridge arms are perfect if you're looking for some serious maneuverability when it comes to adjusting your outdoor TV position or screen size — this style offers depth adjustment plus 90 degrees of tilt and 330 degrees of swivel. In addition, this arm style will allow for easy rotation between landscape and portrait orientations without needing any special tools or bolts . Plus, these types of brackets come with enhanced articulation; having three connection points adds additional stability when supporting TVs with larger screens.
Before purchasing any type of mounting system for hanging a TV outside your annexe, be sure to review its maximum load capacity as well as additional features like adjustable arms and weather resistance capabilities in order to make an informed purchase decision about which one will deliver optimal value for money spent!