Coffered Ceiling Paint Ideas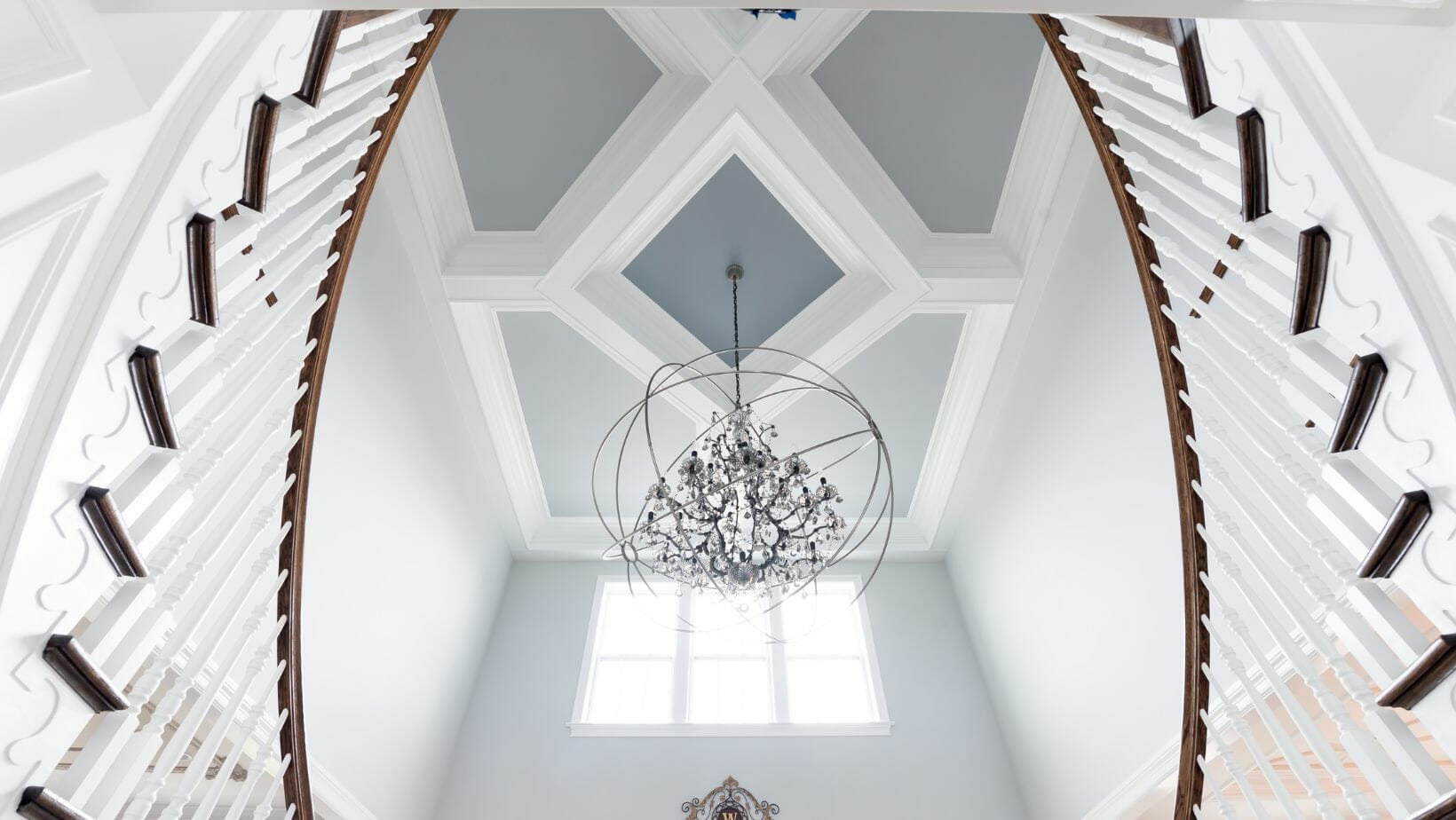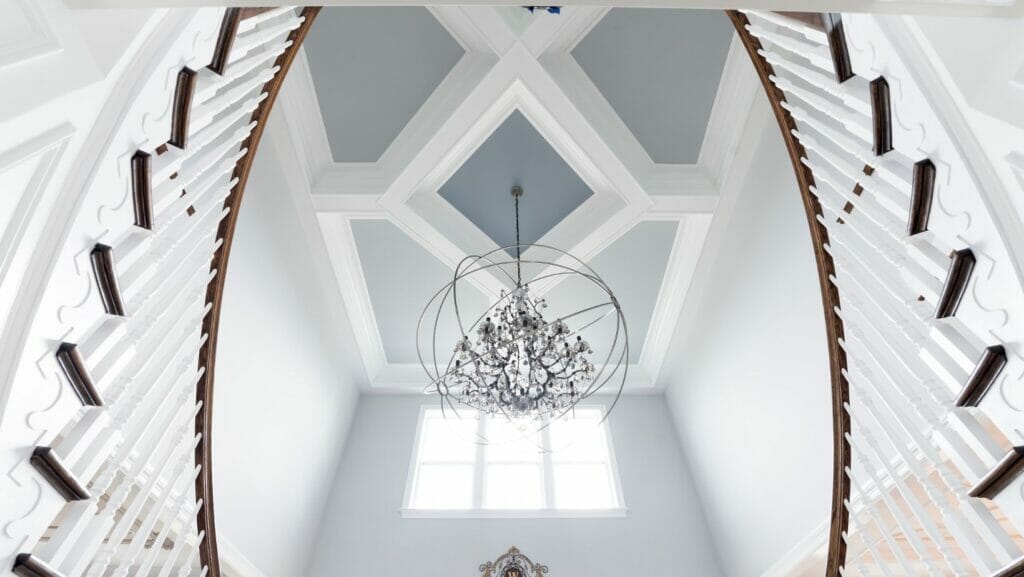 Looking for a fresh and unique way to spruce up your home? Look no further than your own ceiling! Adding a coffered ceiling can give your space an instant makeover, and the right paint job will make it look like it was professionally designed. From bold colors to classic neutrals, let's explore the endless possibilities of coffered ceiling paint ideas!
Coffered Ceiling Designs Have a Lot of Benefits
A coffered ceiling can add an attractive, architectural element to any room in your home. These types of designs have many benefits, including increased visual space and easy installation. With the right paint color, your coffered ceiling design can be the focal point of a room and draw attention to other features in the area.
When deciding on a paint color for your coffered ceiling, think about how it will look against other colors and textures in the space. For example, if you want a strong contrast between your ceilings and walls, you might want to go with a darker or brighter shade than usual. If you're going for something more muted or subtle that won't compete with the walls or furniture pieces in the room, opt for a neutral tone like white or gray.
You also have plenty of options when it comes to choosing a finish for your color. Satin paints offer a nice sheen and are versatile enough to coordinate with different types of decor and wall coverings. Eggshell paints create just enough reflectivity that highlights more intricate details on the ceiling's pattern while still offering some depth to surrounding colors in the room. If you want even more reflectivity, consider going with semi-gloss or even high-gloss paint finishes – these add extra shine without overdoing it when tastefully applied around certain parts of the design like doorways or arches that may appear darker as well as around light fixtures that hang from it.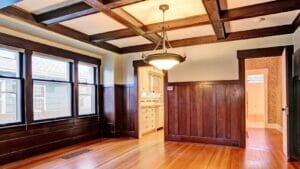 No matter which type of finish you choose, make sure it is compatible with whatever primer has been used on all surfaces beforehand so they interact well together long term – this will help ensure longevity when maintaining your intense design looks throughout its lifetime rather than having potential issues arise later down-the-line that may not be solvable retrospectively!
Colors for Coffered Ceilings
Choosing the best color for your coffered ceiling can be tricky, depending on the size of your room and color scheme of the rest of your décor. But with a few guidelines, you can find the perfect hue to highlight this classic feature in your home.
While white or light neutral paint is often a popular choice for coffered ceilings, this can be too plain for many homeowners who want something more interesting or even bolder. The key is to choose a color that will enhance and broaden the appeal of this unique architectural detail, without overpowering other design elements in the room.
Neutrals: Choose from pale grey hues to subtle tones like taupe, beige and light brown. This allows you to create an elegant backdrop while taking advantage of existing furniture and decorations already in place in the room. Darker greys and deeper taupe's are also an excellent choice if you want to make a statement but don't want too much contrast with other features in the home.
Bright Colors: If you're looking for something dramatic, consider bright shades like yellow or turquoise which will draw attention to your coffered ceiling while adding vibrancy to the space. A vibrant green or blue could also provide an unexpected pop of color that will bring light into dark corners of any room. For those wanting something more subtle, pastel blues or even burgundy reds offer a nice change from traditional neutrals without jarring other furnishings in the space.
Metallic Hues: If you're looking for something with extra sheen and texture opt for metallic hues such as silver, bronze or gold which creates an eye-catching effect without going overboard on color saturation. This look pairs especially well with modern industrial styles as well as traditional designs for added sophistication throughout any space.
Sheen of Coffered Ceiling Paint
The sheen of the paint used for coffered ceiling designs can vary from flat to glossy, depending on how it will be seen and in what lighting. Flat sheen paints are best for smaller details and ornate designs that won't catch the light, while glossy finishes are often seen in larger broader beams with multiple recessed panels. If you would like to create a dramatic or bold effect with your coffered ceiling, then you may want to consider using a higher gloss finish or a metallic paint that will reflect light and cast a beautiful shine throughout your room.
What Color Should My Coffered Ceiling Be?
When it comes to painting your coffered ceiling, there are endless options. You can opt for a subtle gray for a modern yet classic look, or an eye-catching dark blue for a dramatic effect. A cheerful aqua will brighten any room and truly bring life to your space. On the other hand, a peaceful beige hue could help create an inviting atmosphere. Whether you decide to go with a light, dark or neutral color, there are some important factors to consider.
Firstly, the style of your home should give you some ideas on what to go with. If you have modern furnishings, stark white might be the best option as its simplicity will help bring the entire room together seamlessly. Alternatively, if you prefer timeless designs and colorful accents throughout your home, choosing warm colors such as beige or green will create balance while simultaneously providing a degree of subtle sophistication.
Secondly, take into consideration what other colors are present in the room when deciding which shade paints will complement them best. If existing walls within the same space contain lighter tones then this could limit what can be used on the ceiling due to it's height relative to other items in the room – conversely if more bold colors are featured then maybe this provides ample opportunity for variations in color when painting a coffered ceiling specifically.
Finally ask yourself if mood creating effect desired from within this particular space and whether either brighter hues may help from providing energy or duller ones may encourage relaxation respectively – after all at times even small changes such as slight alterations in color choices can make huge differences when it comes down to actually creating an environment facilitating comfortability .
What Is The Best Way To Paint A Coffered Ceiling?
Painting a coffered ceiling can be quite a challenge, but with the right preparation and painting techniques, you can achieve beautiful results. The key to success is to take the time to prepare the area properly, use high-quality paint and rollers or brushes, and choose colors that will complement the rest of your room's décor.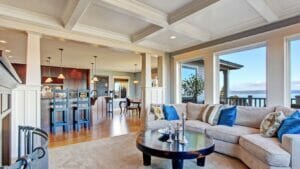 To start, you'll need to make sure your ceiling is clean and free of dust or debris. Use an all-purpose cleaning solution and soft cloths to gently wipe away any dirt or residue from the surface of your coffered ceiling. Then use an oil-based primer designed for use on wood surfaces. This will help create a uniform foundation for the top coat of paint.
Once the primer has dried completely, lightly sand any imperfections that may remain in order to create a smooth finish for your paint job. When the ceiling is ready to be painted, select a quality latex interior paint that is in keeping with your design aesthetic – traditional colors like white are popular options, but grays and blues also provide attractive contrast when applied correctly. Starting at one corner of the coffered section, gently roll on 2-3 coats of paint using a medium-nap roller cover – smooth strokes will ensure an even application without leaving behind roller marks or streaks on your finished product! Clean up any spills as they occur with damp cloths so you don't have any unsightly splotches when you are done painting. You can also add touches of color in between each beam if desired – just be sure not to overload! If desired, finish off by adding 2-3 coats of water-based polyurethane sealer for added protection from moisture and wear over time.
With careful preparation and multiple coats of quality paints designed specifically for wood surfaces, you can achieve beautiful results when painting a coffered ceiling in your home!