Accessorizing a Purple and White Bedroom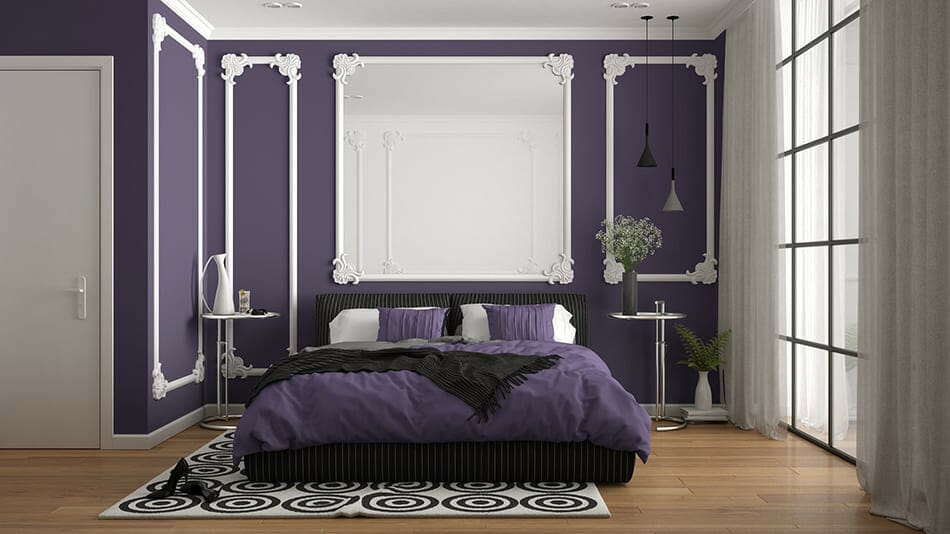 Accessorizing a purple and white bedroom is all about finding the right balance between the two colors. When it comes to wall art, you want to find pieces that complement the overall color palette without overpowering it. A purple accent wall is also an option, if you aren't feeling too keen on having your walls covered in just purple paint.
But there are a variety of options available, such as wall hangings, paintings, and prints, so there's something to suit every taste and style.
Let's look at some great pieces of wall art perfect for a purple and white bedroom.
Purple and White Bedroom Ideas
Wall art is one of the quickest and most economical ways to give a fresh look to your purple and white bedroom. If you love purple, you may go for lighter purple or deep purple hues and details.
The type of wall art you choose depends on your artistic tastes, budget, and desired statement. Do you want to incorporate a color statement into your room, create an intimate or formal atmosphere, or simply add an interesting focal point?
Purple Walls? Yes or No
Purple and white wall art can be used in many different ways to create a desired atmosphere.
If you are looking for a subtle way to add texture and interest to the walls while keeping the space bright, try using a white background with understated purple accents such as textured ribbons or delicate floral patterns. You could also opt for classic framed wallpaper designs in shades of purple and lavender set against crisp white backgrounds.
If you are going for a more dramatic effect, consider incorporating larger, more impactful pieces.
For example, you can even have one wall in purple, and another wall in white. Or you can paint one wall in purple surrounded by all white walls.
Adding artworks that would fit in the overall color theme is also beneficial.
Hang up panels printed with bold abstract designs featuring both colors in vivid hues, or go for artwork in deep reds and blues that fit within the same color wheel family as the two predominant tones featured in the bedroom – these will provide lovely complementary pops of color without overpowering the eye.
Purple Bedroom Decorating Ideas
You can add a special touch to the purple and white bedroom theme by choosing wall art with a similar feel. Vibrant abstract works are popular among bedroom décor, especially when they feature colors found in the original color palette. Consider adding framed art that flows along the same lines, such as flower patterns or wispy images of nature.
If you like a more subtle look, try adding less noticeable pieces of wall art that feature shades of purple and white, either in an all-over monochrome pattern or using specific colors for accents. Adapting your existing style and bringing it into your bedroom space can provide an interesting layer to the overall atmosphere of the room.
Furthermore, you may wish to create a romantic feeling in your bedroom. And purple and white bedroom ideas are exceptionally well suited for creating a mood for love and romance in your bedroom. You can turn your whole room purple, and keep your beds and elements white. Purple bedrooms also go exceptionally well with a crystal chandelier, and just a hint of shiny details can make a huge difference in your sleeping space.
By picking pieces carefully with colors that blend without being overwhelming and sizes that balance each other out, you will be able to tie together your bedroom design plan perfectly!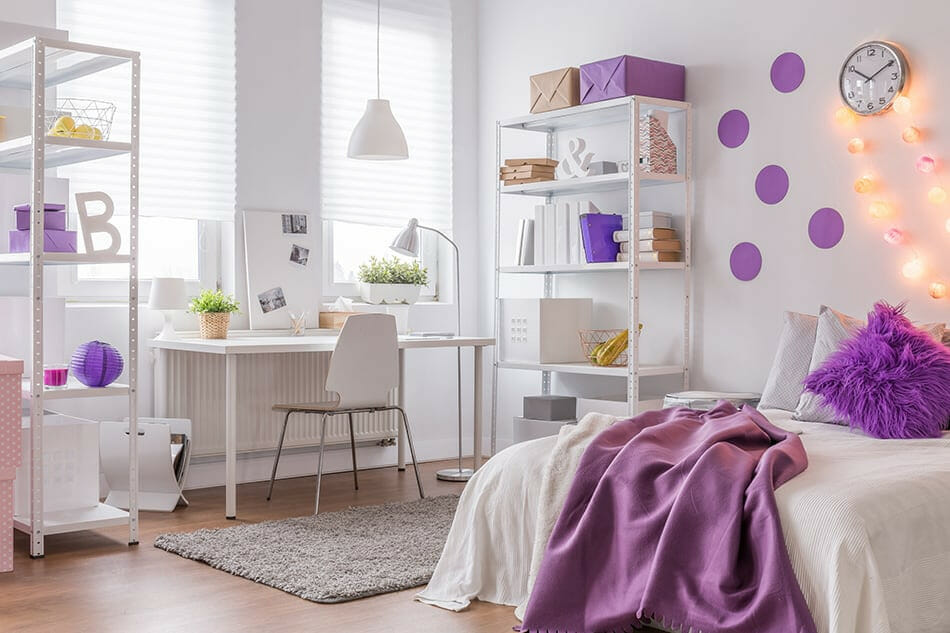 Bedding
When it comes to accessorizing a purple and white bedroom, the bedding is the focus. The bedding should be the first place to start.
Bedding can completely transform a bedroom and having the right style and colors can make your purple and white bedroom ideas come to life.
Let's look at some of the best bedding options to match a purple and white bedroom.
Choose Bedding in Shades of Purple and White
Purple and white bedding are perfect for creating a classic and timeless look in any bedroom. Furthermore, they can be the sole element that makes for a super stylish bedroom.
In addition to the traditional shades of purple, ranging from lavender to deep purple, the use of white in purple bedrooms can create more subtle balance and cohesion while bringing brightness, lightness and serenity to the space. The combination of these two colors is often used to evoke a sense of sophistication, femininity, richness and tranquility.
Purple bedding comes in a variety of forms – sheets, duvet covers, pillow cases as well as other decorative elements such as throws and pillows. White complements this range with both plain or patterned textures which help add depth to the room.
By mixing different shades of purple together or accenting with white, it's possible to customize your look depending on personal taste. And, if you pair it with just a few other neutral tones such as grey or taupe you can create a sophisticated yet cozy environment perfect for relaxing after a long day at work or school.
Look for Bedding With a Pattern or Texture
Comfort is key when it comes to picking out bedding, especially if you're going for a more traditional bedroom look with a purple and white color palette.
A comforter with a detailed pattern or interesting texture can instantly add sophistication to your space. Look for unique details that will enhance the character of the room while also offering extra warmth and texture. Quality bedding materials such as silk, linen, and cotton are soft against the skin and soothe you into peaceful slumber.
For added style points mix different colors like dark navy or grey to create variation in the room. Additionally, try experimenting with textures for added visual interest – opt for raised knit or jacquard weaves which have intricate patterns that can bring depth to your decor.
After selecting bedding material, bed runners and pillowcases are excellent accents to achieve a comprehensive polished aesthetic in your purple and white bedroom ensemble.
Curtains
When it comes to accessorizing a purple and white bedroom, curtains are a great way to add a unique look. If you want to put a modern spin on the room, choose curtains with a textured pattern in both purple and white. Alternatively, you can go for sheer curtains in the color purple for a more romantic ambiance. There are plenty of choices out there that will look great with your purple and white bedroom.
Choose Curtains in a Complementary Color to The Bedding and Wall Art
Curtains are an important finishing touch for purple and white bedroom decor. Window treatments can provide a needed pop of color, add texture, and further pull the look of a bedroom together.
Consider selecting curtains that have colors from the bedding or artwork in the room. Shades of lavender, violet, and even blues look lovely with a purple and white color scheme. When choosing curtains, think about adding subtle pattern or texture to them to complete the look of the room without taking away from its gentle sophistication.
For added interest, layer multiple window treatments for fullness and texture using sheer panels underneath your main Curtains. Hang your curtains high (as close as possible to the ceiling) as this draws the eye up and makes a room appear larger than it is.
Finally, choose complementary hardware for your window treatment: finials at either end of your curtain rod which should match each other as well as other metal elements in your room.
Look for Curtains With a Pattern or Texture to Add Interest
Patterns and textures add excitement to any room, especially a purple and white bedroom. Instead of plain or light-colored curtains, look for fabric with an interesting print or texture to add depth and visual interest to the room.
Choose a tone-on-tone pattern such as hounds tooth with shades of light purple, darker purple, and white combinations. Keep the feeling of the room soft by selecting florals, small geometric patterns or subtle plaids. To inject drama into the setting select bolder patterns like pinstripes or paisleys in deep purples and magentas. A velvet curtain fabric can also be perfect to create a dramatic atmosphere in your bedroom without overdoing it too much.
For more textures pick embroidered fabrics that are comprised of multiple colors as well as used metallic sheers for more interest and style to your look space. When in doubt about mixing prints together choose curtains with a solid background but featuring printed detail like swirling lines or curved tails that add slight texture from the window treatment itself instead of just from accessories.
Additionally, adding coordinating trimmings on the curtains offers another way to bring both color and texture into the space when creating necessary accents for a unique look within your purple and white bedroom ideas!
Rugs
When searching for the perfect rug for a purple and white bedroom, look for one that complements the color scheme and style of the room. But first consider, is it a mostly purple room, or a mostly white room?
To start, you could look for a rug in a solid tone of purple or white to create a subtle, elegant look. Or, you could find a patterned rug with both purple and white accents to tie in both colors and add a layer of texture to the room.
Whatever style and color you choose, a rug can be an effective way to accessorize a purple and white bedroom.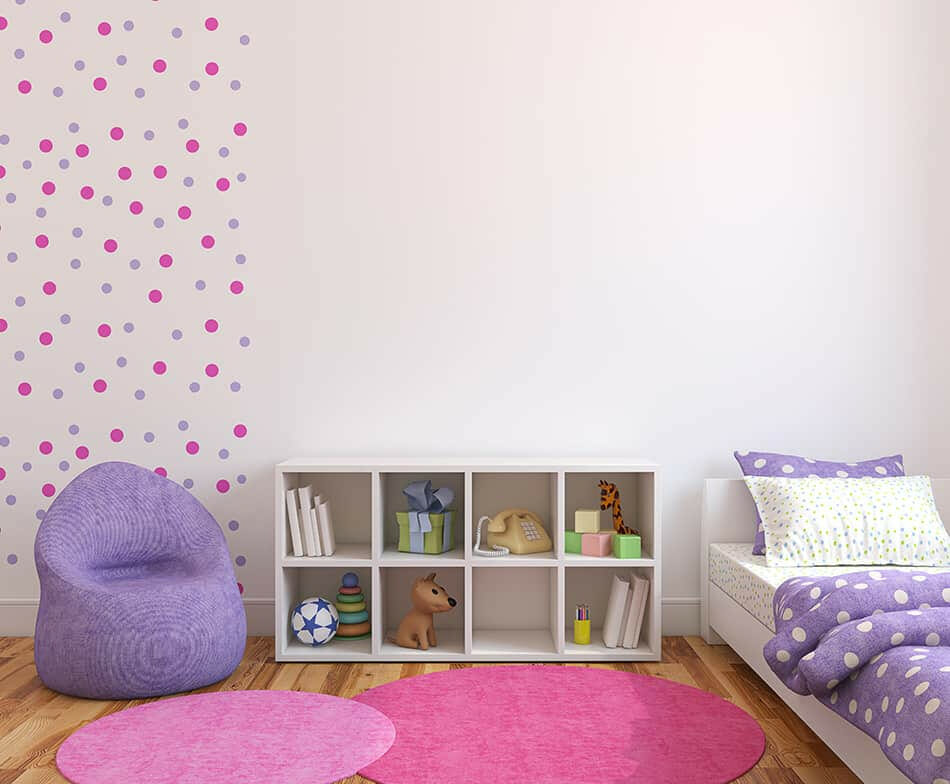 Choose Rugs in a Complementary Color to The Bedding and Wall Art
Rug color is an important consideration when accessorizing a purple and white bedroom. Depending on your desired effect, a rug can tie the other colors together or offer a simple contrast to the bold shades of purple and white. It's best to pick something that either highlights the existing colors, or provide an additional level of interest without being disruptive.
If your bedding is predominantly purple in color, consider using a rug with subtle whites or grays for contrast. This will help to keep the room from seeming too dark and gloomy. If there are lots of white highlights in your bedding, adding more will make it easier for those accents to stand out from the more dramatic purple hues.
Alternatively, you might consider rugs with vivid patterns that draw attention and add visual interest without causing any clash of hues. An Oriental rug in bright turquoise, magenta, teal, or lime green will help add life to your bedroom while also providing stunning visual detail as an accent piece. You could also opt for a cream or gold-colored carpet as an elegant understated foil against your bold shades of purple and white.
Look for Rugs With a Pattern or Texture to Add Interest
When shopping for rugs, look for patterns and texture that can add inspiration to a space. Patterns can draw attention away from any areas of the room you'd like to hide and emphasize areas you would like to show off. Patterns play against one another, so selecting a rug that has both a bold pattern and texture can create dimension in the room.
Texture, whether it's fluffy softness or more rigid structures, adds visual interest as well. A knotted rug or jute adds casual comfort while a structured flat weave might make a more polished statement. The range of sizes available when shopping online also helps you add different textures in complementary spaces quickly. You may not need two large rugs if one mid-size piece offers enough coverage but creates enough contrast between two smaller pieces to be interesting visually within its own right.
It's all about experimenting with these elements until you find something that works for your home design aesthetic.
Accessories
Accessorizing a purple and white bedroom is a great way to add a personal touch to any space. By selecting the right furnishings and accents, you can pull the entire look together.
In this article, we'll discuss some purple and white bedroom ideas to help you create the perfect atmosphere in your room.
Choose Accessories in Shades of Purple and White
Accessorizing a purple and white bedroom is a great way to give it a unified, luxurious appearance. There are many options to choose from when selecting accessories. When picking accent pieces, try to stay within the purple and white color palette and complement your main colors. For example, If you're using dark purple as the primary shade in your bedroom, opt for lighter tints like lavender and lilac; if you're using light shades of purple, mix them with gray or navy blues.
Pay Attention to Patterns
When choosing items for your bedroom walls, windows, bedding and furniture plan out how you want to layer the colors so that all are visible together. You don't have to use different shades of the same color on each furniture item – it can be just one shade used as an accent among other colors. Accessories should be integrated into larger design decisions such as fabric textures, wallpapers and flooring choices. You can pick wall art pieces with hues from darker purples like mauve or softer pastels like lilac or lavender that will add contrast with other rooms in the house but still tie in beautifully with the overall theme of your sleepy oasis.
When it comes to bedding accessories such as decorative throws pillows or sheets & quilts – fabrics featuring patterns like tone-on-tone stripes or florals are timeless classics; Stripes offer a modern twist to liven up an existing space while floral prints can express either subtle elegance or dramatic drama depending on how they're chosen & placed in unison with other elements & colors within a room's decor.
Purple Neon Lights in The Bedroom
Finally, why not add a touch of modernity to your bedroom? If you aim for romance or just a flair of passion, adding purple neon lights in the bedroom can really make for an unforgettable experience.
Look for Accessories With a Pattern or Texture to Add Interest
Adding accessories can be a great way to add color, texture and a touch of personal style to any bedroom. When designing for a purple and white bedroom, one of the best strategies is to look for accessories that have a pattern or texture. These items stand out against the solid colors, which makes them perfect for adding depth and dimension.
Pillows and Artwork are a Must
Examples of accessories that work well in this color palette include area rugs with subtle patterns like stripes or diamonds; patterned throw pillows; slightly textured blankets; and window treatments with stripes or geometric designs. Adding some artwork to the wall also helps make the room interesting without having too much going on in one space. Wallpaper with a subtle pattern or unique design may also be used if you want something more bold than just plain walls.
Lamps in The Bedroom
Lamps are another great option for accessorizing this type of bedroom because they provide illumination as well as enhance the overall space. Look for lamps with unique shapes or styles to bring even more interest into the bedroom. You could also choose table lamps that boast a beautiful silk purple shade or contemporary look to set off the monochromatic colors perfectly.
With these tips in mind, consider ways to add interest through texture and pattern when accessorizing your purple and white bedroom space!