6 On-Trend Kitchen Layout Ideas
Are you tired of your outdated kitchen? Are you ready to upgrade your appliances? Do you need better cabinets with more storage space? It sounds like you're ready for a reno.
Kitchen renovations are among the most common upgrades people make to their homes. These spaces, often called the home's heart, can have a massive impact on how people use their homes.
Your kitchen could be the deciding factor about whether you love or loathe the house you live in. and if you had a choice, wouldn't you want to love your home? Of course, most people would, which is why kitchen remodel delray beach is so popular.
Every year, two million kitchens are remodeled in the U.S. Although no two designs are the same, a few common threads flow through every kitchen. Yes, they all have a sink, refrigerator, and cooktop, but there are also a few tried-and-true kitchen layouts to keep in mind.
Island Kitchen
This is one of the most popular kitchen configurations because it accentuates areas to entertain and socialize. People want kitchens that aren't just designed for cooking but also ideal places to hang out and have fun. The island kitchen delivers on both.
You can design an island for prep or serving—or both. Many homeowners like to use kitchen islands for food prep; some even top their islands with butcher blocks to make the prep easier. Others choose to use their island primarily for seating and serving. In that case, the longer the island, the more space you'll have for people to sit and eat.
And some people even choose to install a prep sink or an extra dishwasher on their island. So the possibilities for kitchen islands really are endless. And that's what makes them so great!
The island layout is ideal because it offers a lot of versatility. You can add one to almost any type of kitchen, as long as you have enough space. And space is key here because the appeal of an island kitchen fades if the island makes the space more crowded and less functional.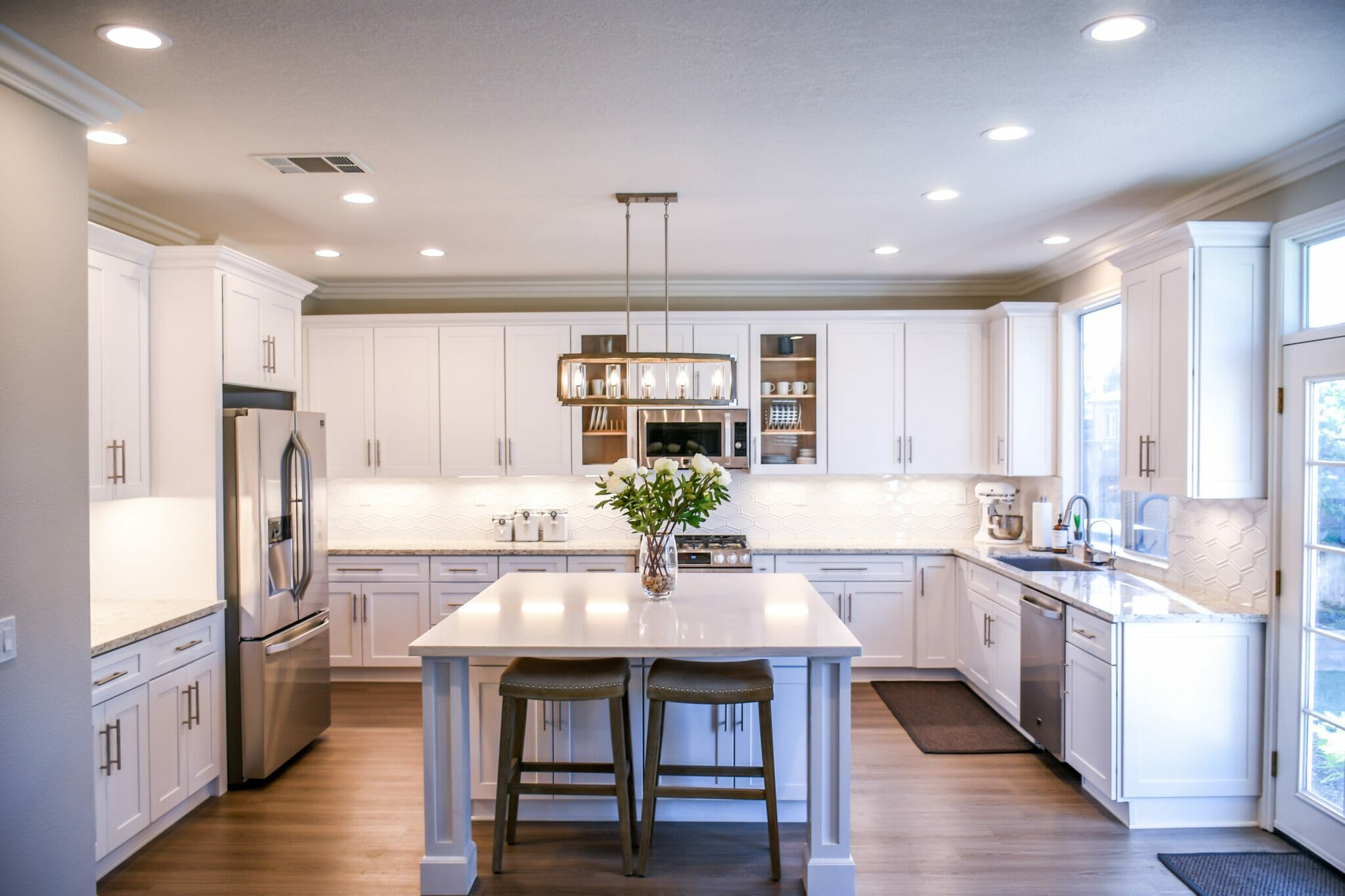 Design experts agree you need a minimum of 42 inches on either side of the island, although 48 inches is ideal. If you want to add an island to your kitchen, you'll need custom kitchen cabinets in Montgomery County, PA.
L-Shaped Kitchen
Another trendy kitchen layout configuration is the L-shaped. This works well in medium to small homes and could include an island, depending on the space.
The L-shaped kitchen is literally configured in an L-shape, with two walls used for cabinetry, countertops, and appliances. Most home design experts believe the legs of the "L" should be between 12 and 15 feet. However, this could mean a great deal of countertop space and storage in a larger home, provided the cabinets are well-designed.
And cabinets are a huge concern for most homeowners. Nearly all kitchen renovations, 94%, include plans to replace, refinish, or otherwise upgrade cabinets. This is because cabinets are the source of organization and storage for the kitchen, a top priority for most homeowners remodeling their kitchens.
Like the island layout, L-shaped kitchens are very versatile. They have the flexibility to include several useful features like islands, extra appliances, trash and recycling caddies, and more.
U-Shaped Kitchen
U-shaped, also called a horseshoe kitchen, is another on-trend kitchen layout. They are three connected slides of cabinets, countertops, and appliances.
This layout works well in kitchens that aren't also thoroughfares that provide access to other parts of the home. For example, they are sometimes seen on one side of open-concept family rooms. And if the space is large enough, they could also include a kitchen island.
If you're looking for a U-shaped kitchen design that allows you to do it yourself (DIY), a provider of completely assembled kitchens can help. DIY kitchens suit any budget and are easier to install as compared to flat-pack kitchen components.
U-shaped kitchens are also the best way to create a working triangle. Working triangles are the spaces between the refrigerator, sink, and cooktop. You want the triangle's three points to be within easy reach of one another, and a U-shaped kitchen facilitates this nicely.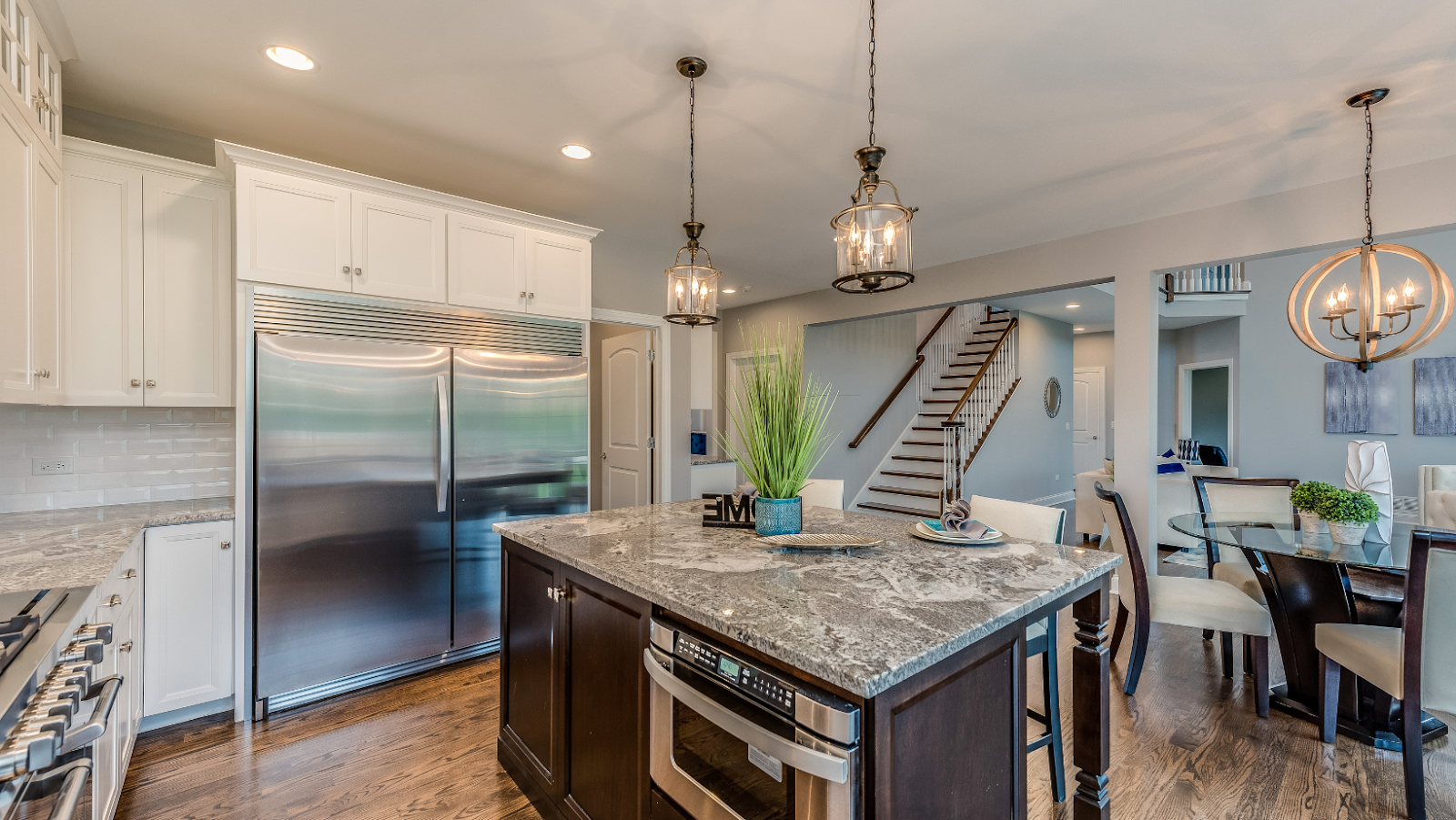 Another benefit of a U-shaped kitchen is the ability to cook as a team. Unlike a few others on this list, these layouts easily accommodate two cooks in the kitchen.
Peninsula Kitchen
A variation of the U-shaped kitchen is the peninsula kitchen. Picture a U-shape with a fourth leg, not along a wall. Often, these peninsulas are used as breakfast bars or as a connected island for additional prep space. Some kitchen professionals refer to this layout as G-shape.
Like U-shaped kitchens, this layout makes it easy for homeowners to create a working triangle that will make using their kitchen a breeze. They're also an excellent option for people who want an island but don't quite have enough space to justify it.
Peninsulas are also great for kids. They provide a wonderful place for children to eat, enabling them to easily observe the cooking process, interact, and even help when appropriate.
Galley Kitchen
Galley kitchens, originally named after a ship's galley, are two-sided kitchens with banks of cabinets and appliances running parallel to one another. These kitchens are excellent layouts for places where space is at a premium, and the kitchen is also a thoroughfare to access other parts of the home.
Usually, galley kitchens are in very wide hallways or corridors leading to another part of the home. On either side of the hallway are cabinets, countertops, and appliances. If the space is large enough, these could include a kitchen island, but that's not typical.
One of the benefits of galley layouts is they have no corner cabinet, which can be a tiresome waste of space if not appropriately designed. And if there isn't an island, the working triangle is usually very easy to maneuver in a galley.
One-Wall Kitchen
A popular option for studio apartments and lofts, one-wall kitchens can also work well in single-family homes when paired with an island. One-wall kitchens occupy a single wall of the house, with all the appliances and cabinets lining up next.
When designing a one-wall kitchen, vertical space is critical. Since these are usually found in homes where space is at a premium, making the most of the entire space is essential. Incorporate floor-to-ceiling cabinets and upper cabinetry that extends to the ceiling to maximize the space.
How to Choose The Best Kitchen Layout
Your kitchen's layout significantly impacts its functionality and the overall flow of your home. Larger kitchens can handle elaborate layouts, while smaller spaces suit one-wall or galley layouts. 
It's crucial to consider the traffic flow. Islands and U-shaped layouts are efficient in larger spaces, while one-wall and galley kitchens suit smaller, linear spaces. Considering your kitchen's use is also important. Island kitchens are for socializing, while U-shaped layouts provide ample storage. Peninsulas and one-wall kitchens are ideal for compact spaces. 
The kitchen working triangle involving the refrigerator, sink, and cooktop should be efficient. U-shaped and galley kitchens facilitate this triangle naturally. Moreover, ensure the layout complements your design preferences and home style. Islands and peninsulas can be focal points, while one-wall and galley kitchens offer a streamlined look. 
Additionally, your budget plays a significant role. Some layouts are cost-effective, like one-wall and galley kitchens, while larger spaces require more investment for U-shaped or island layouts. Your lifestyle and personal preferences should guide your choice. Consider whether you prefer an open concept or a cozy, enclosed space. If you're uncertain, consult kitchen design experts for insights.
Creating a new kitchen is an exciting endeavor. With these six layouts, you have endless opportunities to create your ideal space to cook, eat, and enjoy with your family.