Interior Door Sizes for Common Room Types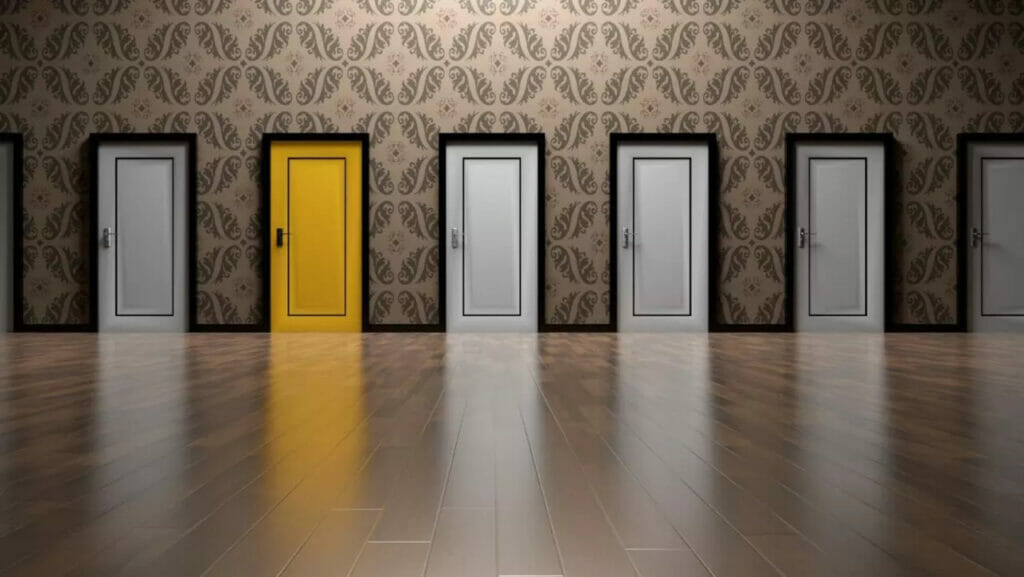 This interior door size chart provides the standard measurements for common interior room doors, to help you make the right choice when selecting new doors inside your house. Note that this is not a guide for exterior doors.
Whether you are replacing an old door or installing a new one, knowing the correct interior door measurements for the particular room type is essential. Choosing the wrong sized door, especially its door frame, can cause structural damage to your home and lead to costly repairs.
So here is a helpful guide on the standard interior door size for common rooms in most residences. Please take into consideration that not all dimensions listed below are customary, so if you are replacing an already existing door, best practice is to measure it directly for accuracy.
Interior Door Size Chart
Choosing the right interior door size for your home can be daunting, especially when there are so many different standard sizes. To make it easier, it's important to know what the standard interior door sizes are for common rooms like bedrooms, bathrooms and closets.
In this article, you will find a list of the common room types and their corresponding door sizes.
Bedrooms
Bedrooms are a mainstay of the home and provide a space for sleeping and rest. When deciding on the type of room best suited for your needs, the first parameter to consider is size. Although it is generally wise to invest in larger bedrooms so that you have ample space for furniture, bedding, duvets and other items; small bedrooms can also be outfitted with the appropriately sized furniture to maximize space.
But the size of the door frame is also crucial, because it will determine just how large of an item you can squeeze through the bedroom door frame.
A typical bedroom will include at least one bed and occasionally two. Beds can come in a variety of sizes (twin, full, queen and king) in both conventional mattress styles or futon designs. Additional pieces include dressers, wardrobes, night stands or a vanity table depending on your needs or preferences.
In larger bedrooms additional pieces such as desk can also work well; allowing you to use the room as an office or study area. Once you decide on the furniture you need it is wise to research colors and textures that will complement one another while still creating an inviting environment.
Single Bedroom
A single bedroom tends to measure 8 feet by 8 feet, 8 feet by 10 feet, 9 feet by 9 feet or 10 feet by 10 feet. Typical interior door sizes for a single bedroom include a height of 6'8″ (standard), width of 30″, 32″ or 36″, and thickness of 1-3/8" – 1-3/4".
Doors that are 36 inches wide will usually require 2×6 framing (instead of the standard 2×4). Placing double doors in a single doorway can also provide an attractive look and easier access. Doing this will increase the required width to 42 inches or two separate doors can be used that each measure 30 to 32 inches.
Double Bedroom
A double bedroom is a room that typically has two beds of approximately the same size. They are generally designed to accommodate two people, though they may also be used to house single occupants. In many cases, double bedrooms are configured as twin beds, with each bed configured in such a manner that it can be pushed up against the other when not in use.
This allows a person sleeping solo to take advantage of the entire available space.
It is not uncommon for a double bedroom to have additional amenities such as reading lamps, desk and drawers, closets or dresser drawers, nightstands, windows with curtains and custom lighting fixtures. In hotel settings where space may be limited by design constraints, double bedrooms may include bunk beds or trundle beds for additional sleeping space. In general though, double bedrooms may require large doors.
Living Room
Living rooms provide one of the most essential spaces in your home. Often referred to as the "heart" of the house, the living room is a place to relax and unwind with family and friends or to celebrate special occasions.
When planning your living room layout and design, consider how much natural light will be available, what activities will take place here, furniture placement, style and color schemes. Here are some of the most common types of living rooms:
Traditional Living Room – A classic traditional-style living room features comfortable furniture arranged in a symmetrical pattern. Its color palette includes warm hues and pale shades from yellow to blue-green. The strong lines found in traditional furniture may be softened by adding throws, pillows and decorative elements such as lighting fixtures made from wrought iron or crystal for added luxury. One additional factor to maybe consider is to think how your living room door will complement your closet doors.
Rustic Living Room – Rustic-style décor has soft colours featuring cream, white, brown and beige with minimal bright touches for subtle element offsetting against a predominantly neutral palette. Furniture pieces tend to have rounder edges as opposed to sharp angles which gives more texture to this type of living room. Other elements like antler décor and fur rugs will add an interesting variation on texture too, creating depth in this style of room design.
Modern Living Room – This type of living space focuses on functionality while keeping clutter down through built-in furnishings. These are typically storage units integrated into wall panels with sleek designs, which can include sliding doors or concealed hoods over cabinets without handles for a minimalist look. A minimalist, modern look can also be achieved by installing a sliding glass door in your living room, which an be repeated throughout different pieces of furniture. Colors are generally kept within a consistent monochromatic range but can also have splashes of bolder hues like deep blues or emerald greens adding contrast; of course, this depends on personal preference.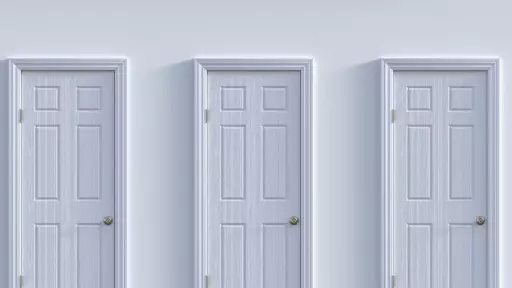 Kitchen
The kitchen is one of the most utilized rooms in a home, so it's important that the door frames are large enough to both fit furniture through and allow access for people. A standard entry kitchen door can range from 32″ to 36″ in width and 80″ in height. For larger kitchen areas, such as those with an island or other full-size fixtures, you'll want an interior door that is 36" wide and 81" high if possible.
If your kitchen area requires a wider swinging arc than the aforementioned door frame sizes, bifold or pocket door designs may be necessary to maximize usage of the space. For kitchen areas, typically, door thickness isn't an important issue, but you can for example add an additional personal stylistic touch by picking custom doors, or fitting your existing kitchen doors with a unique door knob.
Additionally, you may want consider fire-rated blocks for all doors leading from the kitchen in order to ensure safety against any spreading flames.
Bathroom
Practical and often functional, bathrooms are designed more for everyday use than for luxury. They come in a variety of shapes and sizes, making it possible to find one that fits perfectly into tight spaces or small rooms. Common bathroom features include toilets, sinks, showers and bathtubs.
One thing to consider for your bathroom doors may be their thickness, however. Door thickness can improve the sound isolation and in turn add for greater privacy in the bathroom, if you're living in a situation where that's important for you.
Toilet: The toilet is often the main focus in a bathroom because it is the first thing used when entering the room. Common designs include two-piece toilets with an elongated bowl, or one-piece toilets which combine the bowl and tank into one unit with a round or elongated shape. Small bathrooms may sometimes include only a toilet and a small sink, so going with smaller bathroom doors is appropriate there. Small bathroom doors may also be narrower doors than general, so keep that in mind as well.
Sink: Many bathrooms have built-in vanities or pedestal sinks that stand on their own. Some may have attached countertops with undersized cabinets or drawers to store toiletries and other items needed nearby. While you're already considering replacing your interior doors, maybe a bit of refurbishment is in order. If it's time to replace your sink, consider how the new bathroom doors will complement with your bathroom sink doors.
Shower: This area is where you can find showers stalls as well as tubs with showering capabilities. Showerheads come in various styles including handheld units and wall-mounted models that can provide a steady flow of water at different pressures depending on individual preferences.
Modern shower stalls usually come with a sliding glass door. Sliding glass doors for shower stalls may come as a single door or two doors, and the glass tends to come in standard glass door's thickness with an option to upgrade do thicker glass doors. If you're not sure which type and size of a shower stall to pick, it's crucial to tape measure the available area for the shower in your bathroom and then go with that.
Bathtub: Bathtubs are mainly used to relax or cleanse ourselves in warm water while soaking away all the stress from the day's activities. The common types of bathtubs vary from freestanding designs, corner models, alcove installed models and drop-in options that feature tiled walls for easy maintenance and cleaning purposes. Whichever option you go for, considering a door around a bathtub usually isn't necessary.
Standard Interior Doors Sizes Chart
Finding the right door size for your home can be tricky. You may not know the standard door sizes for different room types, like bedrooms, kitchens, bathrooms and more. To make things easier for you, this article will cover the standard sizes for interior doors for different room types, according to the interior door size chart.
So, let's get started!
Single Bedroom
The common door sizes for single bedrooms typically range from a 24" to 36" width. For most standard interior doors, the height is 80" but some may be 84" for closet doors or entryways. Standard doors measure 1 3/4" thick, although taller, wider and unusual sizes may be up to 2 1/4" in thickness.
For single bedroom doors, the following sizes are usually suitable:
24″ x 80″
30″ x 80″
32″ x 80″
36 "x 80"
For closet doors, these are the most common door sizes:
24 "x 84"
28 "x 84"
30 "x 84"
32 "x 84"
Double Bedroom
Double bedroom doors are the most common residential door size. A standard double bedroom door is usually 80 inches tall and 32 inches wide, but actual dimensions vary depending on the manufacturer and style of door chosen. While those sizes will fit an average double bedroom, some manufacturers make other size options available such as 28", 36", and 42" if your room requires it.
Remember, it's important to tape measure with accuracy prior to purchase in order to ensure that your door fits inside its frame. If you wish your new doors to be the same as an existing door, tape measure that one and use it as a template.
To determine the right size for your particular doorway, make sure to measure the width and height of the opening before buying a new interior door. It's also important to consider any furniture or objects that may interfere with the movement of a larger-than-normal door. If there is such furniture present nearby, you may need smaller sizes or special modifications like pocket doors, French doors, passage doors, or a double door in order for the area to be perfectly usable.
Living Room
In the living room, door sizes typically range from 24 to 82 inches in width, although oddly-shaped openings can also present challenges. Standard heights are 80 inches for single doors and 84 inches for double doors. As with sizing in other rooms of the home, door size should be proportional to the size of the room — two 36 inch doors won't work well in a living room entrance that is twice as wide!
The most popular door sizes for living rooms are 30, 36, and 42 inches but many manufacturers also offer custom sizes.
Ventilation may also be an issue when installing living room doors, especially if you have several windows that need to be opened for natural cooling. A sliding glass door or folding doors are excellent options for easing ventilation concerns as they provide larger spans of unobstructed space when open.
Kitchen
Kitchen doors typically need to be slightly wider than other interior doors in order to accommodate the potential of appliances, cooking supplies, and the constant traffic of personnel or family. French doors, swinging doors, bi-fold doors and custom doors may work the best for your particular kitchen area.
The standard range of interior door sizes for kitchens is 24, 28, 30 and 32 inches wide by 80 inches tall and generally feature a solid wood core or a combination with other materials such as fiberboard.
For single/double ovens or smaller spaces, bi-fold doors can be used to maximize space. Bi-fold doors are available in widths such as 24 inches for smaller spaces up to 40 inches for larger openings. The most common bi-fold doors are 80-inches in height but can come in higher sizes depending on the manufacturer.
Before purchasing your kitchen door it's important that you measure your existing opening at both width and height before selecting a size that will fit appropriately in the doorway. You may also want to ease the installation process by double checking your door swing direction; try and measure both the left swing and the right swing before ordering.
Bathroom
Bathroom entry doors are typically sized to accommodate a handicapped individual using a wheelchair, but any size bathroom will do. The standard width of a bathroom door should be at least 32 1/2 inches wide, and the height should be at least 78 inches tall.
For ease of mobility, additional space should also be added near the door, allowing 12 inches for movement of a wheelchair user from the center of the doorway through opening and into the room.
Alternatively, if there is not enough space in your bathroom to install an ADA approved doorway, you can use a pocket door instead. These doors slide open in an internal pocket built into the wall instead of swinging outwards, conserving more space in smaller bathrooms.
Custom Door Sizes
When it comes to deciding on the right door size for any room in your home, there are a few things to consider. For example, maybe the standard door size won't work for you, in which case you'll need a custom sized door.
Knowing the standard size of door to use in each situation can help ensure you get the right custom size for your need. Let's explore custom door sizes in this article.
Single Bedroom
Having a single bedroom with custom door sizes requires careful measurements and attention to detail. The ideal size of a single bed-room door is dependent on the size of the room and the décor. Generally, these doors should be between 2'6″ – 2'11 ¾" in width and 6'8″ – 6'11" in height.
When taking measurements, it is important to tape measure from the outside edge of one side door jamb to the outside edge of the other side door jamb.
Additionally, wall thickness can vary greatly and should be taken into consideration when measuring for custom door dimensions as this can affect frame dimensions as well. If you are unsure what type of door is suitable for your space, consulting an expert may be beneficial in making sure that your measurements are precisely completed and that your custom order meets all industry standards. After choosing a style and color, the manufacturer will determine the exact dimensions needed for you- ensuring that they provide a perfect fit!
Double Bedroom
If you're looking for custom interior door sizes for double bedrooms, then you're in luck. The most common interior door size for a double bedroom is 36 inches wide by 80 inches high, though the height can be 84 inches if desired. However, keeping the width at 36 inches allows the doors to fit into standard door jamb sizes – making installation simpler and quicker.
Speaking of custom sized bedroom doors, it is often important to accommodate for wheelchair accessibility. In this case, it's best to install wider doors (at least 48 inches), but these may not fit into regular openings and could require custom framing or an extension of existing walls. Additionally, some door manufacturers offer 32-inch and 34-inch doors as standard sizes which are slightly narrower than the typical 36-inch door.
Regardless of your particular reason for needing a custom sized bedroom door, rest assured that there is a great selection you can choose from.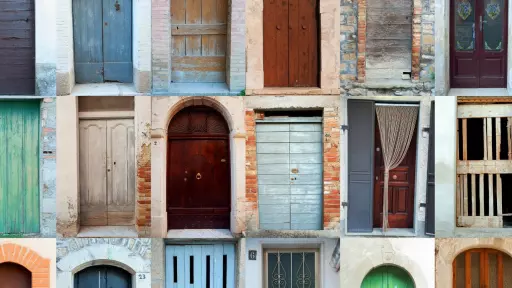 Living Room
When selecting a custom sized door for your living room, it is important to consider the general size guidelines which are often used for this space. The standard width for a living room door is 36 inches, which allows enough space for one person to comfortably pass through at a time. The standard height of an interior door for the living room is 80 inches, but optionally it can go up to 84 inches if you have a particularly tall ceiling or need extra height clearance.
But what if you need more than one person to use your living room door at a time? Or if you need to move wider pieces of furniture in and out on occasion, such as tray tables or armchairs.
Aside from a standard interior living room door sizes, you may also opt for custom-built living room doors that can be made in different sizes or shapes depending on your preferences. You may wish to install an arched doorway in your living room to add visual interest or an oversized double entry archway between the foyer and living room. In any case, there are many options available so choose wisely according to your needs and preferences.
Kitchen
In the kitchen, door sizes vary from room to room and even within the same space. Cabinet doors that align with kitchen appliances or integrated in a backsplash design often need to be modified for a custom fit. It is important to consider how the door will look when paired with adjoining surfaces.
The size of traditional three-piece kitchen cabinetry is most often based on a 24" cabinet opening. If you are creating unique size cabinetry for a modern or unexpected design element, common sizes include 18", 24", 30", 36" and 42".
Some pre-made cabinets can also be depth adjusted if necessary by cutting either the top or bottom of an existing cabinet to create the desired look.
When considering custom kitchen door sizes for each design element of your kitchen, carefully measure the total width and distance from the floor first before making changes or adjustments. The goal should be to produce a seamless finish that provides optimum functionality, while offering minimal obstruction and seamless lines throughout.
Bathroom
When purchasing a custom sized interior door for a bathroom, it's important to consider the size of the space and the intended use. Generally, you want to look for a door size that is large enough to provide easy access but small and thick enough to protect your privacy.
For single-occupancy bathrooms, you'll want an interior door measuring 1¾" by 30" or 2¼" by 36" is suitable. For bathrooms accommodating two occupants, a wide 24" will be more comfortable for entering and exiting. Prehung doors are also helpful for quickly and easily installing the new door into its frame.
Larger bathrooms may call for doors measuring up to 34" in width with heights up to 84". While odd sizes are available, they may be difficult to find and can increase the cost of your project. When selecting a prehung door unit, the rough opening will need to be built first with enough room on each side of the door so that it fits securely in place when installed.
There are plenty of different style options available when it comes to custom bathroom door sizes — from traditional paneled designs with clear glass pieces to contemporary styles with multiple segments or full-length mirror designs.
Conclusion
It is important for homeowners to be aware of the standard interior door sizes for common rooms in their home, in order to make sure their renovation projects will not be compromised by measurements that do not match the sizes needed for their new doors.
Our chart contains the most common measurements used for bedrooms, bathrooms, living rooms, and kitchens. Knowing the correct size of an interior door ensures that a design project is completed without any unnecessary problems or interruptions.
When dealing with custom-built doors, it is important to know the measurements you require and which custom door sizes are available on the market. A professional contractor can ensure that all specifications are taken into consideration to create a unique and attractive home design. Keeping this guide in mind before starting your next renovation project can help ensure that your home renovation project goes without a hitch!