Pros, Cons, and Costs of Floor to Ceiling Windows (with 15 Examples)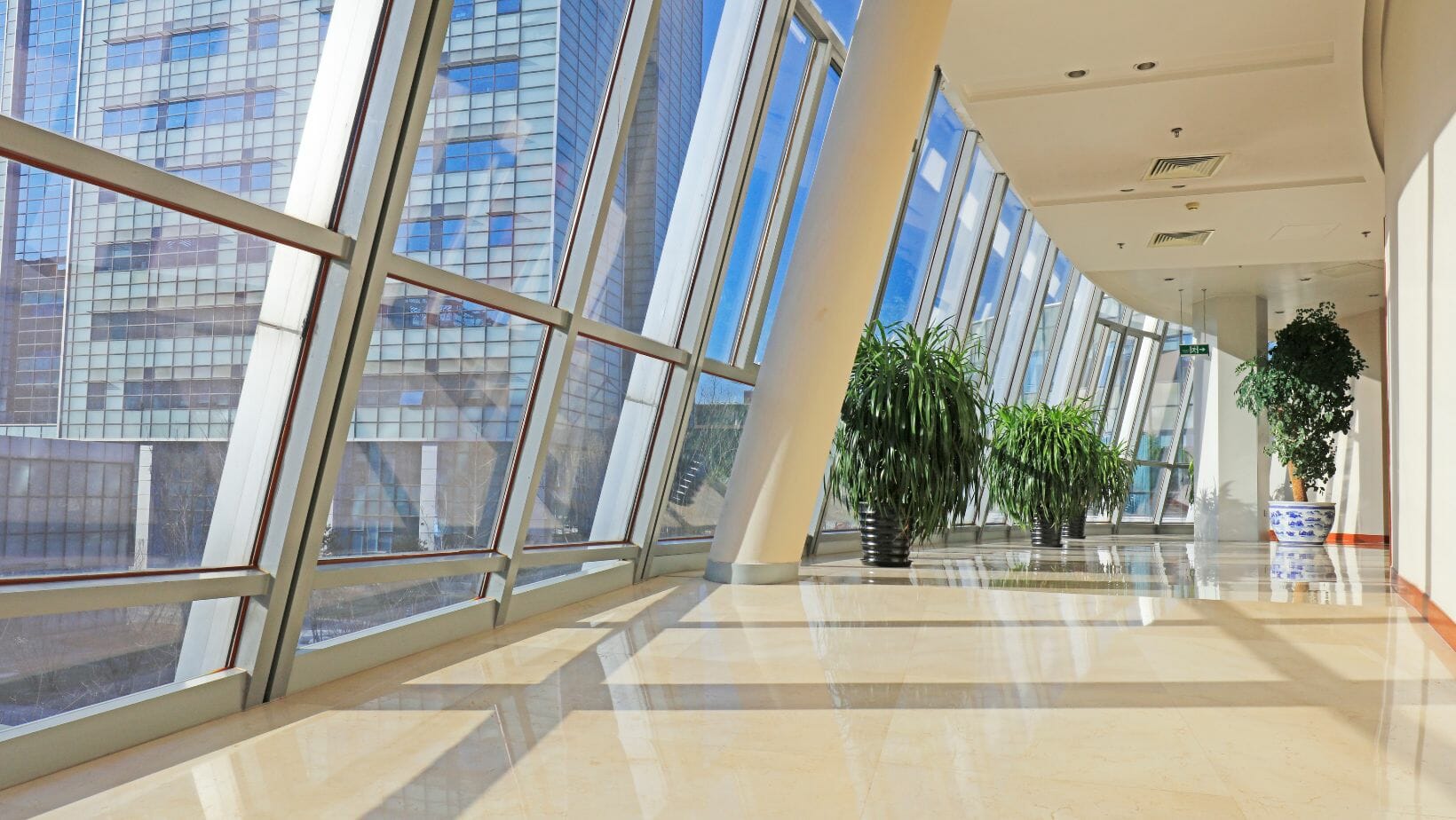 If you're interested in adding more natural light into your home, you've likely heard of the power of floor to ceiling windows. But how much do these windows really cost? And what are the possible pros and cons? Here's a deep dive into 15 inspiring examples of floor to ceiling windows, complete with a breakdown of the costs and considerations. Let's take a look!
Advantages and disadvantages of floor-to-ceiling windows
Floor-to-ceiling windows offer more natural light and beautiful views of the landscape, but they can also present unique challenges. Before installing them, it is important to understand the pros, cons, and costs associated with this type of window, as well as some featured examples.
Advantages:
– Increased natural light – People who opt for floor-to-ceiling windows tend to experience greater amounts of natural light throughout their home or office. This allows rooms to seem larger and also wards off seasonal affective disorder (SAD).
– Outstanding views – Everyone loves great views, and floor-to-ceiling windows provide just that. They can take advantage of panoramic cityscapes or picturesque rural settings depending on where you live.
– Improved energy efficiency – Floor-to ceiling windows are designed in such a way that they are often incredibly energy efficient. They trap heat during the winter months while keeping cool air inside during the summer months, allowing users to save money on their energy bills in the long run.
Disadvantages:
– Reduced privacy – People with close neighbors need to be aware of floor–to–ceiling windows being riskier than others window types when it comes to privacy because there are no obstructions for anyone passing by or looking up from below
– Noisy environment– Depending on where you live, ground level noise could be a nuisance for your home or office if you choose floor–to–ceiling windows without protective layers such as good quality blinds or shutters. Costly repairs – Floor–to–ceiling windows often require specialized parts during repair work which increases the cost associated with repairs due to complicated architecture involved in its construction.
Examples:1)Crossville Square Condominiums – These Industrial Modern condominiums in Silver Spring Maryland use a variety of expansive glass walls and panels in most units2)Broadway 2000 – This New York City apartment building features Bauhaus style metal framed walls of metal framed glass which provide both ample natural light and a photography friendly backdrop3)Urban Oasis Savannah – Located in Georgia's historic district are two distinct buildings connected by a wall of full height glass which bring an unexpected modern touch into this traditional cityscape4)465 North Park – Residences in this Chicago high rise utilize its 39thfloor wraparound deck with full height glazing overlooking nearby Lake Michigan5)Midtown Modern Singapore – This Singaporean residential complex incorporates several full height window pods into its design6)Angkor Residence Apartments Siem Reap Cambodia – A contemporary East meets West style can be seen here throughout its six story building incorporating local materials like galvalume metal panels used against several layers of outdoor screening7)Cascina Monti Italy – This restored Italian farmhouse used expansive openable glaze walls interspersed between brick brick piers resulting in true indoor outdoor living8)"The Rock" Costa Rica— Situated along an idyllic beachfront these vacation homes were designed into boulders utilizing large frameless glazing walls spanning up three stories9Lighthouse House Oregon USA— This coastal gem features curved glazed facades wrapping three stories together10Casa La Noria Spain— Sectional glazed walls allow sea breezes flow through this Andalucian family home surrounded by stone walled terraces11Lake Lugano Residence Switzerland—This four story riverfront home features symmetrical bay windows creating internal balconies framing stunning lakeview backdrops12MILHOUSE Collection Australia —Commercial property utilizes various levels expanses for single glass wall connecting entire top level13The Treehouse NYC USA — Utilizing passive style double glazed windows in this "living" workspace creates an open feel connected to natural elements14Metroparque Bogota Columbia — Apartment tower painted steel frames wrap around exterior providing dynamism against soaring ceilings15Victoria Melbourne Australia— True spirit penthouse showcases uninterrupted sight lines enveloping entire corner penthouse suite
How much does a floor-to-ceiling window cost?
The cost of a floor-to-ceiling window will depend on the size, type of window chosen, and the installation requirements. Floor to ceiling windows can range in price from several hundred dollars up to several thousand dollars. The cost is also impacted by any additional construction needed to make way for the window, and any other considerations like waterproofing or reinforcing for load bearing. If a homeowner is looking for a considerable increase in natural light, larger windows can be more expensive; however, even smaller sizes can be surprisingly costly due to tricky details of installation.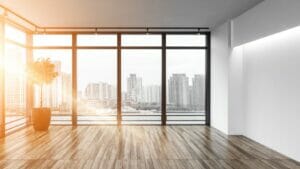 There are many factors to consider when deciding between traditional and floor-to-ceiling windows but overall cost should not be overlooked when making the decision. Floor-to-ceiling windows will likely require some construction (or significant repair) and waterproofing that regular sized windows do not need, which could add significantly to the total cost. It's important for homeowners seeking large spaces of glass in their home to weigh all costs before committing to an extensive window installation project.
Inspiration for floor-to-ceiling windows
Floor-to-ceiling windows offer a wealth of benefits in both residential and commercial building designs, such as plentiful amounts of natural light, unobstructed views, and an influx of fresh air. Floor-to-ceiling windows can also be aesthetically pleasing, maximizing the beauty of your home or office.
To help you decide if floor-to-ceiling windows are right for you, here are some pros to consider:
1. Health Benefits – Increased natural light can boost mental and physical health by boosting serotonin levels in the body and helping to regulate the body's sleep cycle.
2. Increased Property Value – A home or office with floor-to ceiling windows stands out from the crowd and may even lead to a higher sale price for a potential buyer.
3. Energy Efficiency – When designed correctly, floor-to ceiling windows can help reduce your energy bills by allowing warm air in during sunny months or trapping it inside during winter months to increase insulation.
4. Increased Security – High quality frames help add extra protection against intruders who might be tempted to try and break through a lower window due to its higher visibility.
5. Unobstructed Views – Floor-to ceiling windows offer an excellent view of nearby nature and landscapes outside your building, while regular sized windows simply don't measure up when it comes to enjoying views with clarity.
While these are all great things about installing floor-to ceiling windows into your home or office, there are also some disadvantages that should be taken into account before making any major changes:
1. Installation Costs – Professional installation can be expensive as larger window frames require additional materials, labor fees, and more specialized tools for fitting them into place accurately; 2 . Condensation – The pocket of warm air trapped between the window panes may cause moisture build up which leads to condensation on your glass; 3 . Privacy Concerns – Windows that extend from the ground up provide no hiding place from curious eyes peeking into your building; 4 . Security Risks – Floor-to ceiling windows might provide increased security but they aren't impervious – burglars (particularly those working in teams) may still gain access if they can find weaknesses in mounting glass panels or frame materials used; 5 . Direct Sunlight – Too much direct sunlight streaming through this style of window could cause damage to furniture surfaces or artwork inside enclosed areas/rooms within a building structure over time if left unchecked.. So depending on how you wish use them (and where they will be placed in relation specific areas around your property), this is something that need careful consideration before making any final decisions on glass construction styles/types chosen..
Additionally it's worth noting that while floor–to–ceiling glass solutions might achieve both aesthetic practical needs well enough when installed properly… there are likely going be costs associated with maintenance over time compared other alternatives (e.g., double–glazing) which could potentially offset potential savings elsewhere as outdoor temperatures change over time… This is especially true if living/working climates which require keeping outdoor elements while trying preserve internal comfort levels high enough maintain quality life standards… So it pays invest wisely early stages ensure get long–lasting effect out investment made!
Window with full view of the forest
Window with a full view of the forest can be highly beneficial for adding natural light to your home, providing picturesque scenery and creating a unique feeling in living spaces. Here are some of the main pros, cons and costs associated with this type of window:
Pros:
-A major advantage of having a window with a full view of the forest is the natural light it will bring into your home. This can be especially helpful if your home is located in an area where there are few windows or small windows due to building regulations.
-Not only does this type of window bring in natural light, but it also provides breathtaking views of nature that you would otherwise not get the opportunity to enjoy on the interior side of your home.
-It also creates an open, airy feel in living spaces, making them feel larger than they actually are.
Cons:
-The main downside to installing a large window with a full view of the forest is that it may require special construction methods or materials that can increase costs.
-Additionally, some people prefer not to have one continuous expanse due to concerns about privacy; installing blinds or curtains for this reason can become expensive over time as well.
-The view itself may become obstructed by trees or branches at times throughout the year, blocking natural light and ruining what should be an uninterrupted panorama.
Costs: Depending on size and construction requirements, installing a window with full forest views can range from relatively inexpensive to quite costly. An example cost would be between $1500-$2500 USD per linear foot for custom made aluminum frames and laminate glass material. Installation costs would need to be added on top based on complexity involved in fitting and finishing onto existing walls correctly while also ensuring proper weatherproofing and security measures are taken into account as well.
Large windows for a spacious living room
Floor to ceiling windows are a great way to make a living room appear larger and more open. Not only do they allow for plenty of natural light and provide an abundance of air flow, but the unique designs can also bring an elegant touch to the home. Here are some of the pros and cons, along with costs, associated with floor to ceiling windows.
Pros:
– Let in lots of light and air
– Increase interior visual space
– Create a beautiful atmosphere
– Enhances exterior views
– Cost effective on energy consumption if double pane is used
– Variety of sizes and designs available
Cons:
– Possible heat loss in winter if not installed properly
– Privacy issues may arise depending on window location
– Installation cost may be substantially higher than regular windows depending on design
Costs: Floor to ceiling windows can range in cost depending on size, style, energy efficiency ratings and installation (or do it yourself) costs. For instance, smaller single pane units without any additional installation may start at as low as $100 for basic constructions. Custom styles could range from $600-$1000 or higher for larger models. For example; a 5ft x 8ft single hung window that includes dual pane glazing is likely to cost between $450-$650 for the unit alone before installation is considered.