From Drab to Fab: How the Right Products Can Elevate Your Bathroom's Style
Decorating the bathroom is one of the biggest challenges for every homeowner. As one of the most frequently used, most intimate areas of your home yet, you obviously want to make it more attractive and cosier. And sometimes, it may take a lot of work and nerves to complete this task. 
Whether you are working on a new bathroom or the existing one no longer meets your needs, so you want to update it a little bit and adapt it to your lifestyle, you need to choose functional and beautiful bathroom products that will elevate the look and feel of the entire space. To begin with, here are some of the basic supplies no bathroom can go without.
Toilets
This is the most used feature in every bathroom, and very often, it can set the tone for the rest of the room. There is a wide range of toilet styles to choose from, and while the look is important, when it comes to this bathroom fixture, you may want to consider practicality as well and invest in a durable, low maintenance toilet that saves water. The most commonly used type of toilet is the closed-coupled toilet and if you are working with a small bathroom and looking for a space-saving solution, go with a back-to-wall closed coupled toilet. Wall toilet suites are also a popular choice lately you may want to consider if you have space to spare. 
Basins
A basin is an essential unit of any bathroom. Besides its primary role, it can give the bathroom a sophisticated touch. If you are wondering how to choose the right bathroom basin, consider what style will instantly tie the room together and choose a quality material to ensure it lasts longer. You can pick a sleek granite sink in white or a soft pastel color if you're more into the minimalist or Nordic styles, or go all drama and add a bold black ceramic sink – it's all up to you.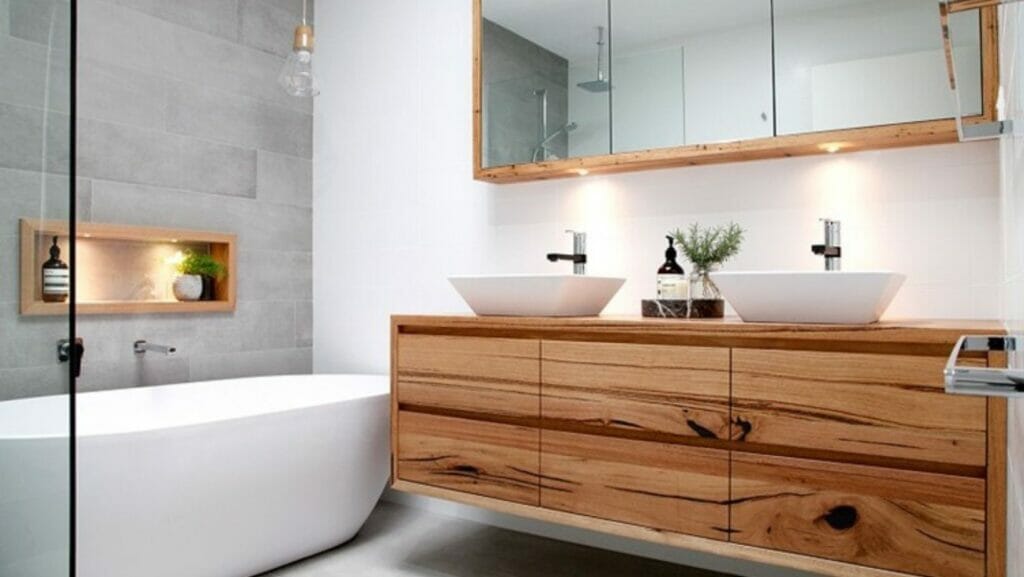 But whatever you do, make sure to keep mounting options in mind and choose what will work best for everyone who will be using it, whether it's in your master bathroom, shared bathroom or kids' bathroom. Wall-mounted sinks will save you the most space and allow for the addition of vanity while pedestal sinks are mostly used to make a statement. 
Bathroom Tapware
Picking the style of your basin first and moving on to tapware can help you eliminate specific bathroom tapware that is too high or the wrong style. Also, when it comes to the bath/shower faucet, it's a good idea to match it with the sink faucet for a cohesive design. There is a wide range of styles and designs you can choose from and find the perfect tapware depending on your bathroom design and personal preferences. The rule of thumb is brass goes for vintage and classic spaces, matte black fixtures look best in Scandi-inspired baths, and sleek stainless-steel taps are perfect for modern ensembles. 
The idea is to find taps that tick all the boxes, enhance style and function and complement the overall look of the area. Focus on functionality and reliability with added aesthetic, and you will get the ideal match.
Baths
Even though it may seem like showers have taken over the bathtubs' fame, the truth is that the popularity of baths is still alive. If your space allows it, investing in a bathtub is a smart thing to do as it may help you unwind from the stresses of our modern lifestyles. Also, it can be a very helpful feature when it comes to bathing children. If you are not sure what to choose, you can always combine it with a shower and get the best of both worlds. 
If you lack the space – a sleek corner bath is all you need, plus it goes perfectly with a glass shower door. If you have a lot of room to spare and want to add a dramatic element, then consider the range of clawfoot bathtubs that will leave every visitor in awe. 
Shower Screens
If you are a true fan of showers, or your space doesn't allow installing a bath, then make sure to invest in good quality shower screens. A well-chosen shower screen can easily add to the look of the entire bathroom and give an instantly fresh vibe to it, whether you choose a frameless or semi-frameless option.
Vanities
Choosing the right vanity can help you create a relaxing and elegant space. One of the first things you'll need to decide is whether you want it to adhere to the style of the rest of the bathroom or you want it to be a standalone piece. Whatever you go for, make sure to choose the right size vanity that will perfectly fit in your bathroom.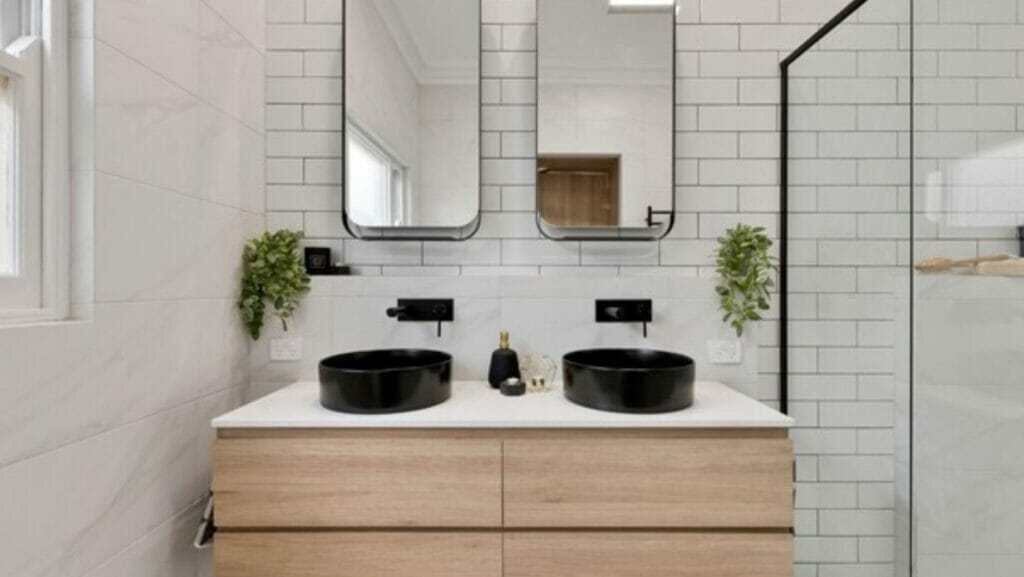 Mirrors
If you think about it, you will probably realize that you have never seen a bathroom without a mirror. It's very rare as every bathroom needs one. You can choose from a variety of mirrors in different shapes and sizes and get the one that fits your preferences and matches the size of your space. A carefully-chosen mirror can make a small bathroom feel bigger and brighter.
Accessories
When choosing bathroom accessories, make sure to select the ones that match other elements in the bathroom. There is a huge range of products you can choose from, including towel rails, toilet roll holders, soap dispensers, toothbrush holders and much more. All of these have one main purpose – to make your daily routine easier and keep the entire space look more organized and tidier.
How to Choose Your Bathroom Fittings and Accessories 
Durability
This is an essential feature that you should consider when looking for bathroom supplies. Most of the bathroom fittings, such as taps and hand showers, for instance, will be touched many, many times and get wet, so it's always a good idea to opt for a material that's corrosion-resistant and can stand up to moisture. 
Ease of Cleaning
You don't want the overall appearance of your bathroom to be ruined by a dirty tap, so make sure to choose bathroom fittings that would be easy to clean and maintain resistant to corrosion and water stains. Since it's one of the most frequently used areas in the house, keep in mind that all bathroom essentials require proper and regular care to stay in good shape for longer.
Functionality and Design in One
These days we can see how bathroom products have been developed rapidly with various designs and different functions. To make the most of your bathroom, choose supplies with a variety of functions, so you can save money and get more space. To improve the overall look of the entire area, note the design of each product and make sure it matches your style and preferences.
Style Scheme
Consider the style of your home design to determine how you will decorate your bathroom. Choose bathroom fixtures and fittings that match the style of your interior to ensure a beautiful overall design for your home interior. Traditional style bathroom supplies are quite popular as they go very well with most home designs. Contemporary styles, on the other hand, match better specific architectural home styles. Also, you could opt for a blend of traditional and contemporary and elevate the look of your bathroom space by adding a unique, elegant touch to it.
Matching Fixtures or Mixing It Up?
Most homeowners prefer the uniform look that matching fixtures give to the bathroom. Usually, it's because it doesn't interrupt the focal point of the room design. However, there are no strict rules about it, and in the end, it all comes down to personal choice. So, if you are one of those who would like to mix styles for a more eclectic look of your bathroom, make sure to use the same metal and finish for all fixtures, regardless of style.