ES Windows vs PGT – Hurricane Impact Windows Comparison
Are you looking for the perfect window to protect your home from hurricane-level winds? Ever wonder what the differences are between ES Windows and PGT Windows? Look no further – in this blog post, we'll be comparing the two and letting you know which is the best choice for your needs. Get ready to hurricane-proof your home!
What effects does the Windows Hurrian have on homes?
The impact of a hurricane on a home is extremely powerful, and protecting against this force requires special technology. ES Windows and PGT are companies that offer durable, reliable Hurricane Impact Windows that are designed to provide superior protection against powerful wind gusts, flying debris, and intruding water. Before deciding which window is right for your home, understanding the differences between these two options can be beneficial.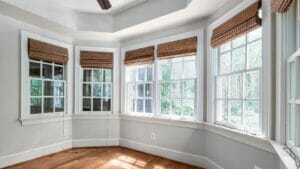 ES Windows offers a single layered glass panel with Laminated Impact safety glass in both its single-hung window series and its sliding glass door collection. This layer of glass is hard-coated with a thin film on the exterior face of the glass, increasing protection from high winds and flying debris. ES Windows also offers an optional LoE366 triple layered glazing for those who want to take their hurricane preparedness one step further.
PGT's Hurricane Impact Windows system uses an impact-resistant frame coupled with two layers of tempered safety glass for maximum protection from wind damage. The removable panel assembly is designed not only to reduce the risk of broken windows but also helps stop against water penetration as well as maintains sound insulation levels inside the home. Additionally, their product offer includes insulated frames with full length reinforcement fins on select models which provide even greater strength under heavy beat pressure from high winds or storms.
PGT Win Guard Windows
PGT Win Guard Windows are a great choice for hurricane protection. Manufactured by the PGT Industries, these window systems are designed to meet the building codes of various coastal regions throughout the U.S., and provide superior protection from forced entry, wind-borne debris, and Hurricanes. The windows are tested to withstand pressure from Category 4 hurricanes, and feature an advanced three-film construction that resists air and water infiltration. Along with their impact performance benefits, PGT Win Guard windows also look stunning— available in a variety of colors and styles to match any home's existing décor or color scheme— allowing homeowners to get the combination of beauty and protection they need in one package. Other unique features of PGT Win Guard Windows include multi-point locking systems, easy external maintenance access, glare control options such as coated glass or blinds between glass systems, grilles between glass options with simulated divided lite grilles (also known as SDL's), and non-corrosive hardware components for added strength.
ES Window vs. PGT
In recent years, the category of hurricane impact windows has increased in popularity. Homeowners looking to bolster the safety of their homes from severe weather are recognizing the security provided by these advanced windows. When choosing between impact windows, two popular brands that stand out are ES Windows and PGT.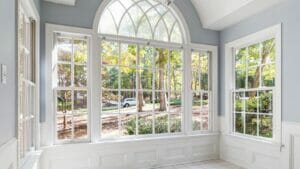 ES Windows provides a variety of hurricane rated products, including Aluminum Impact-Resistant Hurricane Shutters and Supersaver Series Hurricane Resistant Vinyl Sliding Glass Doors. All ES Window products feature reinforced steel framing and shatter-resistant glazing to protect your home from Mother Nature's wrath. ES Windows also offer a selection of interior and exterior finishes to accentuate the beauty of your home while still providing superior protection against stones, windborne debris, rain and wind force up to 192 mph.
PGT is another well-known name in the hurricane window industry, offering a variety of Architectural Series Impact Rated Units with laminated glass in single or triple layers for superior resistance against projectiles up to 12MIPS. The High Velocity Hurricane Zone (HVHZ) certification ensures PGT impact windows meet stringent Miami-Dade County requirements for wind resistance up to 212 mph with no failure or sustained wing deflection off leeward parameters. With an array of multiple frame colors available from yellow paint finishes to bronze clad vinyl, PGT has plenty of options for both aesthetics and strength when it comes to selecting new windows for your home!
Design and Styling
The design and overall look of an impact window is an important consideration when selecting which type to use. ES Windows and PGT windows both offer intricate detail and combinations of decorative materials for a custom look.
ES Windows is well-known for their beautiful frame designs, allowing homeowners to select from a wide range of colors, shapes, sizes, grilles ID bars or glass treatments. Their popular ES Brand Fusion-Welded Vinyl Window Frame offers superior weather protection with clean lines and sleek aesthetics for any style home.
PGT windows have sleek frames and insulating chambers to prevent air leakage, making them Energy Star rated for optimal energy efficiency in all climates. Their impact line has many options to complement the surroundings including colors, simulated divided lites (SDLs) , and glass types that can add maximum security while minimizing throughout the home. Along with their architecturally correct detail options that allow homeowners to customize their impact window beyond industry standards.
ES Windows
ES Windows is one of the leading manufacturers of impact-resistant windows and doors in the United States. Their hurricane impact windows are designed to withstand extreme wind, debris and water conditions present during a hurricane. ES Windows utilizes high-quality vinyl frames and also offers products with fiberglass reinforcement for added protection. The laminated glass provides superior protection from breakage due to wind-borne debris flying at high speeds during a storm. Furthermore, our impact windows are endorsed by Miami-Dade, Florida Building Code Compliance and ASTM E1886 (testing for structural integrity). These features combined make ES Windows the ideal choice for hurricane protection in seismic areas such as Florida's Gulf Coast communities.
The ES Window series comes in 4 levels of protection, each one is customized to fit your needs:
Basic: Not compensated framed or multiple glazing's of 3/8" thick laminated glass with air spaces that keep glass from flying outward in hurricanes .
Advanced: Exterior reinforced frame, fully compensated for strength and stability plus 6 layers of 3/8" thick laminated glass
Deluxe: Maximum strength frame with steel channels and aluminum framing around neutrally balanced window plus 9 layers of 3/8″ laminated safety interlayer glass
Premium: Maximum number of layers of highperformance3/8″ laminated safety interlayer glass maximizing your visitors experience while they feel safe at home or business.