Designing a Garden Sheds With Aesthetic Appeal: A Complete Guide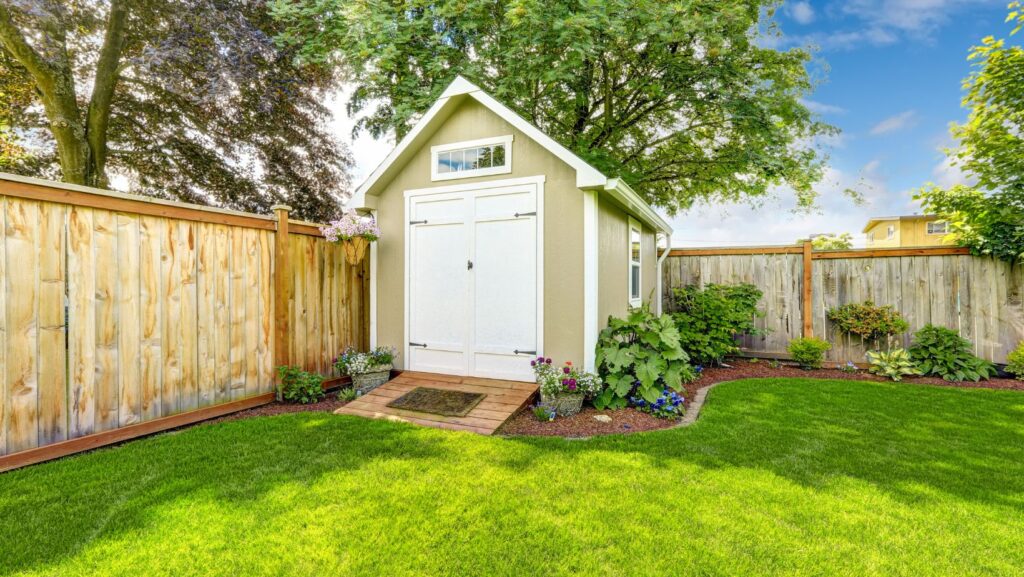 You're not just building a garden shed; you're crafting a work of art. Don't dismiss it as merely storage.
This guide will show you how to blend functionality with aesthetics, creating an appealing addition to your garden.
You'll learn what design elements to consider, how to incorporate your style, and even maintenance tips for keeping your shed looking its best.
Let's transform that ordinary shed into something extraordinary together.
Understanding the Basics of Aesthetic Garden Sheds
You've got to grasp the basics of aesthetic garden sheds before you can begin designing your own. Start by exploring various garden shed kits available in the market. They're often a great starting point, providing a variety of materials and designs for different tastes and needs. Consider whether wood, metal, or resin best suits your outdoor space and climate.
Next, design your new shed online to visualize how it'll look in your garden. Be creative with colors, textures, window placements, and even plant choices around it – remember, it's not just storage but an aesthetic element, too.
Lastly, don't forget functionality. Even the prettiest shed won't serve you well if it doesn't meet your storage or work requirements. So, blend form and function seamlessly for a truly successful project.
Key Elements to Consider for Aesthetically Pleasing Garden Sheds
Let's delve into the crucial factors to contemplate when aiming for an attractive backyard storage unit.
Your shed's design should harmonize with your home's architectural style. You're not just building a utility area; you're creating an extension of your living space. Consider using similar materials and matching colors, ensuring it doesn't clash but complement.
Think about incorporating greenery into the design. Trellises adorned with climbing roses or ivy can camouflage unsightly areas while adding beauty. A well-placed window box bursting with vibrant blooms adds charm and appeal, too.
Don't forget functionality amidst aesthetics! Your shed should serve its purpose efficiently, whether it's storing tools or serving as a garden retreat. Cleverly designed shelving and hooks maximize space, keeping things tidy yet accessible.
Step-by-Step Process for Designing Your Garden Shed
We'll start by drafting a blueprint, which is essential for any construction project. You're the architect of your garden shed's destiny, so let's make it count!
1. Choose Your Shed Location: Consider sunlight exposure, proximity to plants, and overall landscape design.
2. Decide on Size and Shape: This depends on your storage needs and aesthetic preferences. Remember, it needs to blend with the surrounding environment.
3. Select Materials & Design Elements: Go for materials that are durable yet contribute to an appealing look.
It's not just about building a shed; it's about creating a piece of art that complements your garden beautifully.
So, get creative! Let every aspect of your shed reflect knowledgeability regarding plants and design elements while ensuring functionality remains paramount.
Incorporating Personal Style Into Your Garden Shed Design
Incorporating your style into the shed's blueprint isn't just about self-expression. It's a chance to make the space truly yours. You might love English roses, succulents, or tropical orchids. Reflect that in your color choices and furnishings. If you're an artist, create a mural on the wall or add personal touches with handcrafted pottery.
Don't forget functionality while designing. You'll need storage for tools. Consider stylish yet practical cabinets or shelves. Add a potting bench if you'll be doing lots of planting. Lighting is crucial, too – opt for solar lanterns for an eco-friendly touch.
Maintenance Tips for Keeping Your Garden Shed Appealing
You'll find that regular maintenance of your outdoor refuge can significantly extend its lifespan and keep it looking as charming as the day you finish setting it up. Always start with a thorough annual inspection, checking for any signs of damage or wear on the shed's structure and paintwork. Small issues like peeling paint or loose hinges can be quickly fixed, preventing them from developing into more serious problems.
Don't forget to care for the surrounding vegetation, too; overgrown plants can cause dampness and unwanted shade. Trim them back regularly to ensure they don't obstruct sunlight from reaching your shed.
Conclusion
You've got the tools to create a stunning garden shed now.
Remember, nearly 67% of homeowners feel happier after improving their outdoor spaces.
So, go on, let your imagination run wild, blending form and functionality.
Throw in those personal touches that make it 'uniquely you'.
And don't forget the upkeep – your stylish shed deserves it!
Happy designing!