Decorative Arch Mirrors: Your New Favourite Bathroom Features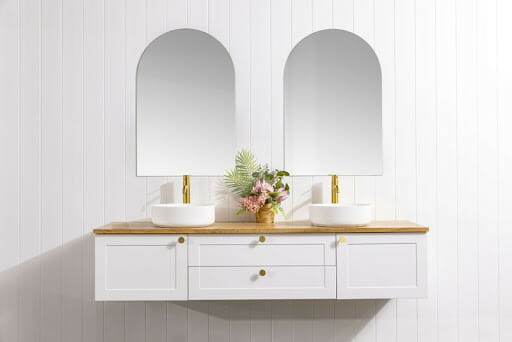 As we've witnessed in recent years with the various makeover trends, bathrooms are so much more than spaces reserved only for fundamental hygienic purposes. They can be our sanctuaries, our special retreats where we can go to unwind and relax, enjoying precious moments of solitude. For some people, they're also the places where inspiration strikes.
Now, if you often find yourself addressing the bathroom as a room that's simply "over there" when giving guests a tour while proudly putting the rest of the home on a pedestal, then it's high time you gave it the TLC it deserves. And there's no need to worry. It would cost you an arm and a leg because sometimes smaller details can make a huge difference.
When looking for inspiration on the pages of design mags and photos of design blogs, you might feel inclined to go in the direction of changing up your toilet suite and getting a matching bath sink or bathtub, and that's all fine. But what if I told you diverting your attention to the mirror instead, as an essential element, would get you just as far in the décor game? And at a fraction of the cost too! One of the designs that are as popular as ever is the arched mirror, thanks to its distinct shape, so you won't regret choosing it as your bathroom statement piece.
Are Arch Mirrors Good?
If you're the queen of selfies, then you'd certainly love framing your perfect selfie in one of these mirrors. You can now find a wide range of Bathroom LED Mirrors and decorative arch mirrors to add a touch of luxury to your bathroom. These new favourite bathroom features are available in a variety of sizes, shapes and finishes. However, rest assured that's not all there is to them when it comes to functionality and stylishness. When you buy yours, think of it as buying a box full of surprises you'd get to unravel and enjoy day after day.
They're Versatile Decorative Pieces
One look through the homeware and bathware stores' collections of arch mirrors is enough to see just how many options you've got to choose from. Whichever aesthetic you're after, based on the rest of your bathroom's décor, be it minimalist with sleek lines and minimal details, contemporary with slightly more details, or traditional and rustic with notable embellishments, there's the ideal model for every taste.
Don't think your choices end here, though, because you've also got to make decisions choosing between small, medium, and large sizes, beveled and penciled edges, with or without shelves, as well as framed and frameless designs. In terms of framing, it might be best to pick the finish and material that complement those elements you already have in the room.
This could refer to the intricate door, window handles, decorative hooks, as much as striking cabinetry and eye-catching tapware to make the space look put together. And, even if you end up with a clean model stripped of any detail, you could always bring out your inner designer using garlands for some greenery, flowers held together with delicate lace, pearl detailing, or light strips to make it pop.
They're Fit for Any Setting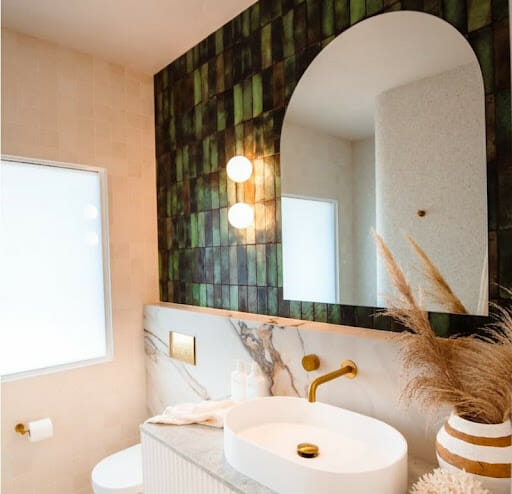 If the fact that arched wall mirror options are endless doesn't make it clear about them being ideal for various arrangements, then let's make it clear. Regardless of the tiles, you have for your walls, you can rejoice in knowing whichever arched design you choose would fit in like the missing piece of the puzzle.
This flexibility stems from the elegance of this type of mirror the balance of its clean and delicate appearance, which all guarantees you'd be safe from design blunders. Even if it's not the case with the tile but textured wallpaper adorning the walls of your private oasis, you can still pull off a seamless outcome. In terms of specific placement, the obvious choice is right above the sink because of the practicality of grooming and pampering.
However, if you want to shake things up, you have the chance to hang the beautiful arch mirrors above the bathtubs too. This is especially a prudent solution in homes with small bathrooms since they help visually enlarge the space. Moreover, with their unique shape, which makes them look like windows, you could use them for an interesting effect if you don't have sufficient money for a grand-scale makeover to add actual windows.
Another area where they truly shine is right beside the linen closet for more dimension and décor drama. Bathrooms on the larger side leave you with some room to spice things up both regarding the layout and the style, so why have a combination of vanity with sink when you can use a vanity on its own to showcase its beauty and enhance it? With a show-stopping mirror. Then, on the other side, you can have the sink with another fancy mirror above that equals in length.
How to Choose an Arch Mirror?
Knowing the benefits stylish arch mirrors bring about may not make it easier for you to find the ideal design for your stress-free zone, and I get it. Honestly, with the many choices available, who could blame you! As it happens, things become less overwhelming if you separate the shopping process into steps.
Step One: Decide on the Size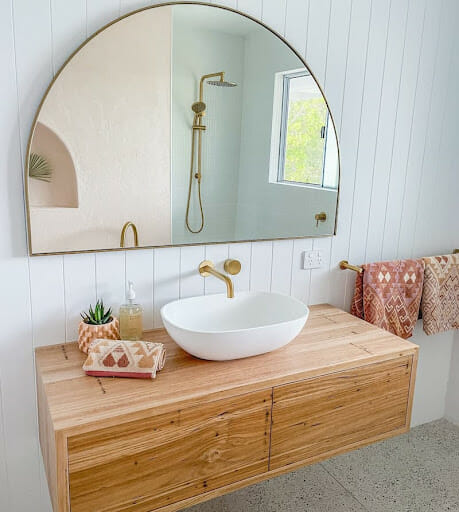 Size is an important factor that shouldn't be overlooked. After all, there's a reason why mirrors are available in a range of sizes, which is that one size doesn't fit all. You can easily clutter the room or leave an empty space when filling it, so it needs your special attention.
When deciding to beautify your bathroom with this kind of decorative feature, have in mind a stunning large arch mirror can work as a nice focal point. If you want the same effect with a smaller one, you'd be able to achieve it with a bold frame.
When used in combination with a furniture piece, like vanity, it's advisable to choose a mirror that's at least two-thirds of its width. Measure up your room and your furniture, besides checking the specifications of the product prior to the purchase.
Step Two: Pick the Right Style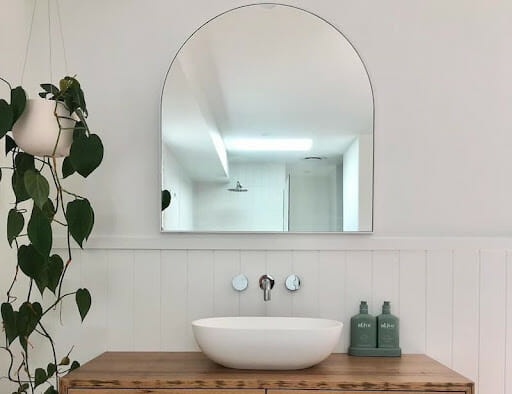 Decorating a new bathroom is easy because you get to work from scratch, which isn't the case with an existing décor arrangement. While you may not have all the flexibility you would want with the latter scenario, it doesn't turn out that complicated if you match the style of the arch mirrors with that of the rest of the furnishings.
If you're decorating a Scandinavian bathroom, then you know you need to focus on a sleek modern mirror, which is the exact opposite of, say, an art deco washroom. Leave nothing to chance; include every detail in the equation, and you can have a successful result.
Step Three: Consider the Installation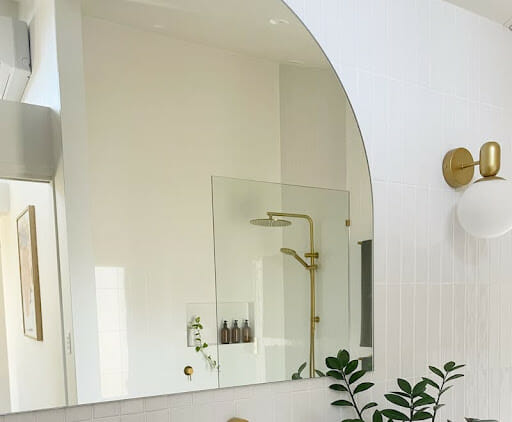 It may seem like the easiest thing in the world, but installing a mirror can turn out to be a hassle if not properly done. Hanging it at an angle instead of flat against the wall could give you a distorted reflection, in addition to putting it in danger of a breaking accident.
Be sure to read up the instructions before the purchase if possible, and if not, make inquiries. This would give you a hint on whether it's a one-man job or whether you'd need a (professional) helping hand.