8 Unique Restaurant Chairs Styles for Most Enjoyable Dining Space Design
Whether opening your dream restaurant or remodeling your existing one, you must make several design decisions. From your restaurant's location to its ambiance, from restaurant furniture to menu, from the restaurant staff to cutlery, there are endless things to consider and select. Restaurant chairs are the highlight of your dining room. Before a customer can order food or experience the service at your restaurant, chairs form the crucial first impression. Selecting stylish yet comfortable and affordable yet durable restaurant chairs positively impacts the dining experience of your guests. Read on to learn about unique restaurant chairs styles for the best dining space design:
Unique Restaurant Chair Styles
1. Metal Restaurant Chairs
 The rustic look and industrial charm of metal chairs fit with any theme or ambiance in a restaurant. Gone are the days when metal chairs lacked the warmth of wooden chairs. These days, metal frame chairs made from aluminum, stainless steel, brass, or wrought iron, are available in various styles and designs.
Thanks to their high tensile strength, metal chairs are sleek, durable, and long-lasting. The affordable metal chairs are ideal for restaurants as they are space-efficient, can withstand temperature variations, and are suitable for indoor as well as outdoor seating. On top of that, metal chairs are easy to clean and maintain and continue to be a favorite among restaurant owners.
2. Wood Restaurant Chairs
 The stylish, classy wood restaurant chairs offer unparalleled charm and can enhance any ambiance in a restaurant. The warmth of wood chairs creates an inviting and intimate setup for your guests to create an unbeatable dining experience. Wooden restaurant chairs are available in hardwood like oak, teak, maple, walnut, or softwood like pine.
Hardwood restaurant chairs are strong and offer sufficient protection against dents, scratches, chipping, etc. Whether yours is a fine dining restaurant or a sandwich shop, wood chairs have endless grain and design options to complement any theme in your restaurant.
3. Stackable Restaurant Chairs
 Every restaurant owner has to manage space inside their restaurant while planning flexible solutions for events. While conventional chairs are bulky, occupy more space, and are difficult to shift around, stackable chairs are a sensible alternative. They are space-efficient, light in weight, effortless to move around.
Moreover, you can stack them together when not in use. Stackable chairs are available in materials like metals, plastic, upholstered, etc. Such affordable, versatile chairs offer mobility and are suitable for several occasions like banquets, auditoriums, churches, outdoor dining, etc.
4. Folding Restaurant Chairs
 Folding chairs are another choice for flexible event seating due to their strength, portability, easy storage, and appearance. When it comes to finding the perfect folding chair for your restaurant, you have plenty of material, color, style options to choose from. Just like stackable chairs, folding chairs are space-efficient and are perfect for extending your seating capacity during events.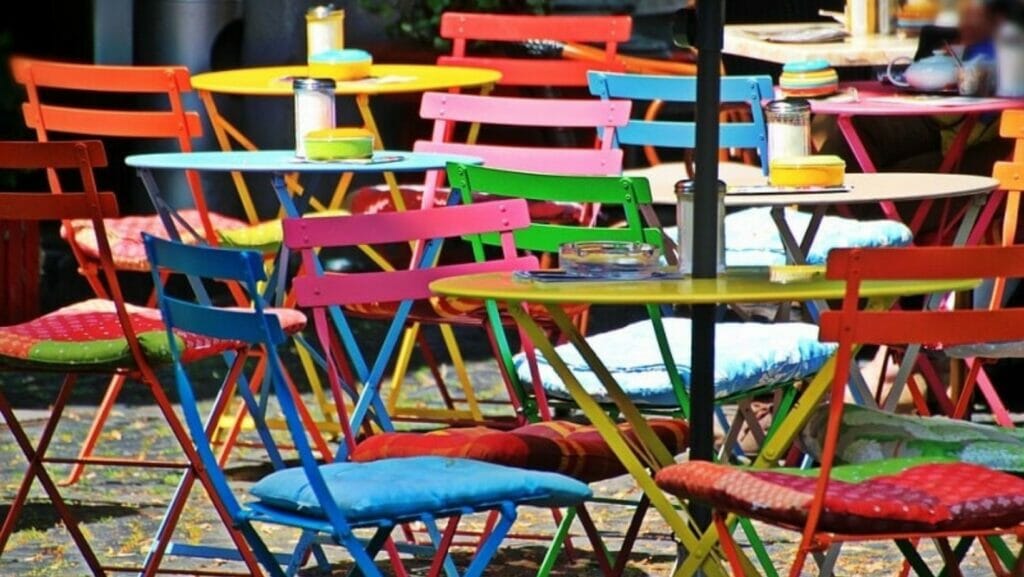 Folding chairs are available in numerous materials and styles, from rustic wood to comfortable upholstered, sturdy metal to vibrant plastic to suit your restaurant's ambiance.
5. Assisted Living Chairs
 Assisted living chairs are perfect for your senior guests or customers with special needs. These chairs offer extra structural support and durability than conventional chairs. The highlight of assisted living chairs is their stability and sturdy design for balancing your guests.
These comfortable yet supportive chairs make it easy for your guest to sit and get up from the chairs. Available with arms or in armless designs, they usually feature lightweight metal frames for easy transport. Assisted living chairs come in various frame colors and fabric options that can match any interior in your restaurant.
6. Lounge Seating Chairs
 Lounge seating chairs are the pinnacle of luxury and style. By opting for lounge chairs, you offer ultimate comfort to your guests. However, there is more to lounge chairs than just a style statement or visual appeal. They are the perfect combination of purpose, comfort, style, and relaxation.
These chairs have a sophisticated yet balanced look with well-designed styles to accentuate your restaurant. With back and head support, cushions, etc., lounge chairs help your guests relax for long hours. These lounge chairs combine sophistication with modern design, are functional in use, and their excellent built quality lasts for years.
7. Outdoor Chairs
 Outdoor chairs come in several materials and style options, and your choice depends on your taste, theme, budget, other design elements, etc. When it comes to outdoor chairs, from rattan to wicker, from aluminum to plastic, resin to stainless steel, you have plenty of options. Unlike your indoor restaurant chairs, outdoor chairs are exposed to extreme environments and need to be more rugged and durable.
In particular, the outdoor chairs you select must offer sufficient resistance against rain and moisture to prevent the growth of fungi, corrosion, or rust formation. Similarly, harmful UV rays from Sun and sudden temperature variations can result in cracking or fading. Among outdoor chairs, some popular designs are Adirondack, rocking, etc.
8. Plastic/Resin Chairs
 Plastic or resin is a versatile, lightweight, and affordable material for restaurant chairs. Over the last few decades, manufacturing technology has progressed significantly, and plastic chairs are now available in several designs, shapes, sizes, and color options.
Trendy designs and vibrant colored plastic chairs are perfect to create a minimalistic ambiance in your restaurant. Outdoor plastic chairs are sleek, occupy less space, and are usually stackable for easy storage between the seasons. Additionally, they are effortless to clean and require minimum maintenance. 
Summing it up
 With the endless design, material, and budget options, finding the perfect chair for your restaurant is rarely straightforward. So, is there a solution? While there is no shortcut or sure shot guide for finding the best restaurant chair, you can narrow down the choices by the following considerations:
Understand your requirements and clientele

Keep consumer's expectations in mind

Check compatibility with your ambiance and other design elements

Consider the importance of cleanliness and easy maintenance

Opt for simple, elegant designs
This article lists some unique styles and types of restaurant chairs. From metal to wood, from stackable to folding, from assisted seating to lounge chairs, this article covers it all. Hopefully, this short style guide helps you find the ultimate chairs for your restaurant that create a stunning look and comfortable seating without burning a hole in your pocket.