7 Tips to Decorate Your Dark Bedroom Walls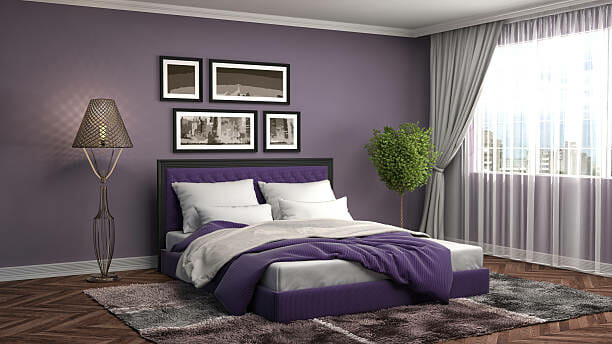 What do your bedroom walls look like in terms of colour? Do you feel they should have a darker shade or a brighter one? Nothing is wrong with neutral, white, or pastel. You can choose to try out the dark feel and still have a modern, glamorous and airy room. Plus, as you search how to buy modern furniture for your room, consider the best dark wall colours you can choose for a change. Below are tips on how to decorate your bedroom's dark walls.
Chocolate Brown
Dark rooms need to be right to make a room appear larger. It may seem counterintuitive but dark colours fool the eyes to make the walls seem far away, for they visually recede. For instance, chocolate brown walls are rich and warm. Pair it with a white ceiling, a rug with patterns, and eye-catching bedding. It will make any small room feel large. To make the room feel airy, maintain the palette to two colours. 
Black and White Bedroom
Black is not a colour most people are confident about for painting their bedroom walls. But, in modern choices, black should not be a colour to shy away from using. Yes, black can be intimidating. But the key is to balance it with lighter pieces. For instance, black and white always work best together. Therefore, choosing white décor is an ideal choice for your furniture or bedding. It adds contrast to your bedroom space. 
Deep Purple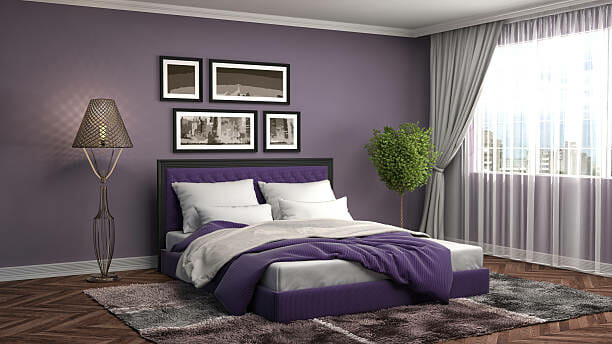 For some elegance and a touch of modern style in your bedroom décor. Choose dark walls in a colour no one expects as your ideal backdrop. Using the deep purple on your walls allows your bed to pop out against it, while the patterns on your artwork will add enough contrast to the space. It is vital to use white touches in a dark walled bedroom to prevent claustrophobia. Plus, the white helps bounce light around for an airy feel in the space. 
Black With Natural Textures
Try out the darkest colour for your bedroom and ensure you do it right. The darkest colours are not just for goths but can create a gorgeous bedroom. Plus, do not allow the dark colour on your walls to limit your decorating style. Take your décor to a new level with black walls and use wooden accents, fabulous texture, natural lighting, and whimsical touches.
Black Walls With a Pop of Colour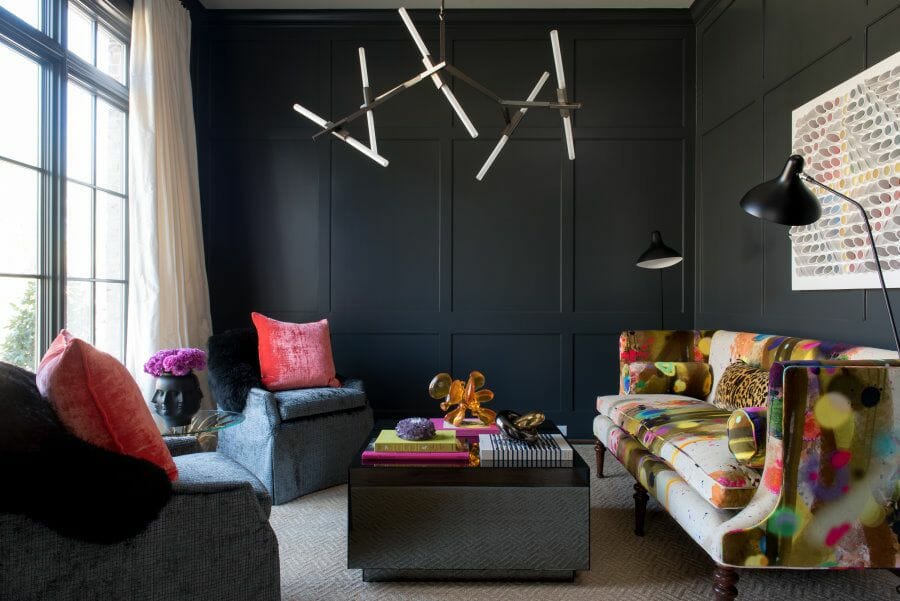 Another way you can use black walls to your advantage is to use them as a base to display colour. Hand colourful pieces of artwork over the headboard. Since it is over a dark wall, the colour will shine out. Plus, it comes out as an eye-catching piece with the display on a dark base. Another touch is using a colour nightstand for a colourful and playful space. 
Dark Red
Red walls are too stimulating for the bedroom space. Muted shades of red such as wine or burgundy can be as dramatic, but at least you can sleep around them at night. But to up the excitement with a bright colour to blend the dark red walls. Keep it under control and limit to fewer pieces of décor or artwork. Also, consider having a light colour for your ceiling to balance the strength of the dark walls. 
Smoke Grey
Grey walls are ideal for a relaxing atmosphere. As you opt for dark colour on your walls, choose a monochromatic look and match the decorative items and furniture to the desired shade. For instance, with this colour, you can choose to have a grey headboard to serve as an extension to the wall, while the accent chairs and white bedding can have a different colour to stand out in striking contrast. Plus, grey bedrooms are an ideal backdrop for those wishing to try out a minimalist route. 
To sum up, it is vital to create a bedroom space you want. Plus, as you opt for dark walls, you can get a colour of your choice in a dark hue. But, ensure the ceiling remains white to balance the feel of the space. Plus, choosing a décorthat is contrasting to make the room pop.