33 Amazing Backyard Palapa Ideas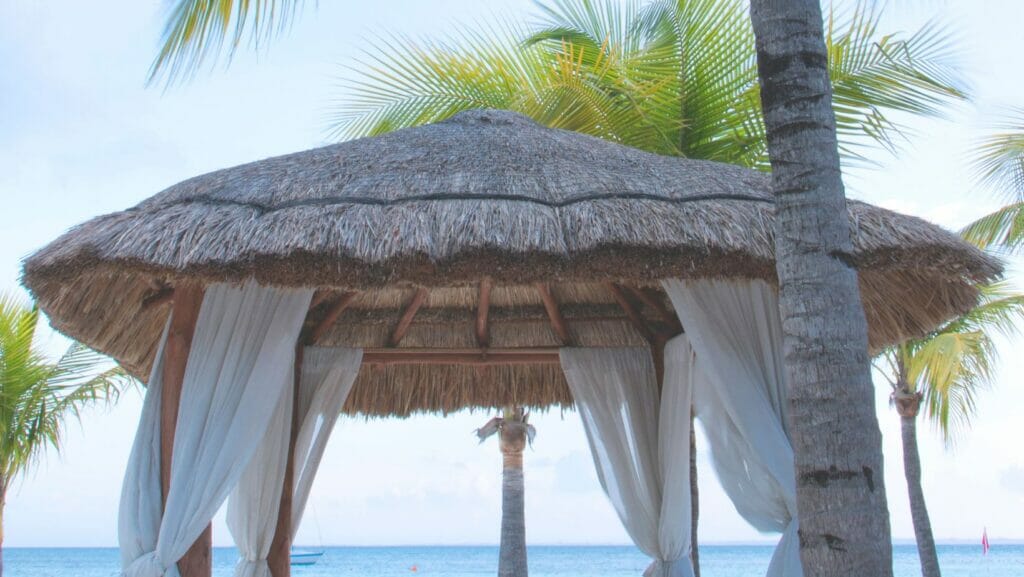 Summertime usually calls for spending extra time outdoors, and what better way to take advantage of your outdoor space than with a backyard palapa? Whether you're looking to create an outdoor dining area, add a poolside gathering spot, or just trying to spruce up your yard, these 33 amazing backyard palapa ideas will have you dreaming of endless days in the sun!
What is a palapa?
A palapa is an open-sided structure with a thatched roof made from natural materials such as coconut palm, woven bamboo, or grasses. It is typically circular in shape, with sides constructed from poles placed in the ground and joined at the top. A palapa can provide shelter from the sun, allowing you to take advantage of your outdoor space while also protecting you from the elements. Additionally, they are often used as tropical lounging areas or bar spaces due to their visually pleasing beach aesthetic.
Palapas are a great way to bring a little bit of tropical paradise into your own backyard. From soothing outdoor spa retreats to backyard hangouts perfect for hosting parties and get-togethers – with some careful planning and creative design ideas palapas can create amazing outdoor living spaces without breaking the bank! With that in mind here are 33 amazing backyard palapa ideas for any size space.
How much does a palapa cost?
The cost of a palapa can vary depending on material, size and labor needs. Palapas come in a range of sizes and shapes. They typically include poles and have an open roof covered by either a thatched cover or lumber. The cost for a basic thatched palapa package can start at approximately $1500, with larger packages running around $3000. A palapa kit including lumber for the roof and poles can run from $2500 – $6000, with installation costing around $500 – $2500 depending on the complexity of your install. When you're budgeting for your backyard project, keep in mind the added costs of taxes and shipping as these costs can significantly add to the total cost. Additionally, you will want to factor in regular maintenance such as new thatching or replacing any damaged pieces of lumber or poles over time.
How to build a Palapa roof
A palapa roof is a great way to provide shade to your backyard and create a year-round outdoor living space. It is an ideal solution for anyone who loves spending time outdoors, but also wants some protection from the sun and rain. Building a palapa roof can be a challenging but rewarding project, and there are many different ways to go about it.
When building a palapa, you will need to decide what type of materials you want to use for the frame and roof. Wood, metal, or bamboo are the most common options for framing the structure, which will hold together the thatching material that makes up most of the visible portion of your palapa. You'll want to choose materials that are strong enough to support the weight of your chosen thatching material while also offering UV protection against fading or discoloration over time. When sourcing your materials, make sure they are treated against rot and weather-resistant so they maintain their look in all seasons.
When it comes to choosing a type of thatching material, natural ones such as palm leaves or reed grass provide an authentic look but require more maintenance than synthetic materials like PVC or polypropylene mesh since they need to be replaced every few years due to wear and tear from wind and rain. Both types have benefits – natural options not only look more traditional but will block out UV rays better than plastic alternatives; however synthetic materials can last up to 10 years without needing replacement if properly cared for.
Unlike building a flat-roof patio extension which requires precision cuts and lots of concrete work, building a palapa is relatively easy; however adequate preparation should still be taken into consideration before starting construction so everything goes smoothly. When you have all your supplies gathered together it's time for installation – make sure you position your palapa where there is maximum shade during high summer months as well as sheltering when tropical storms arrive in offseason months!
What is the lifespan of the Palapa roof?
The lifespan of a palapa roof boathouse will depend on several factors, such as the quality of materials used in its construction and how frequently it is maintained. Typically, palapa roofs can last between 5 to 10 years, depending on these factors. However, by taking proper care of a palapa roof and performing regular maintenance such as sealing and re-thatching, its life expectancy can be extended significantly beyond this.
In addition to regular maintenance tasks, it is also important to select materials that are capable of withstanding harsh weather conditions. To ensure that your roof is up to the task, look for durable materials such as synthetic thatch which can last up to 50 percent longer than natural sources. The use of treated woods for framing also helps your palapa roof last longer because it's less prone to suffering water damage over time.
Palapa version
Palapa is a traditional Mexican structure, made from natural materials and intended as an outdoor shelter. Many people use palapas as a great way to beautify their backyard space. Palapa structures come in several styles and varieties, giving homeowners lots of design options and allowing them to select the palapa version that meets their needs.
The most basic palapa style is known as the "T" design and consists of two upright posts joined by an overhead beam. This type of palapa is ideal for patios and other shaded area applications. Another version, often referred to as the "H" version, uses four uprights placed in a square formation, with rafters extending diagonally from either side of the center crossbar for extra support. The H style palapa is perfect for larger areas such as poolside cabanas or outdoor kitchens.
Still more types are available featuring intricate archways, half-circle shapes, or even hexagonal designs that can create stunning visual effects when viewed from different angles. For areas where extra privacy is desired or larger groups are expected to gather on a regular basis, these special-designs are ideal solutions.
Many people also choose to enhance their backyard palette by adding bamboo screens or interlocking thatch panels for added shade protection . In some cases electric fixtures can be installed directly into specially crafted openings in the palapa itself for nighttime illumination or mood lighting – creating cozy rooms where family members can gather during chilly nights or where guests can observe a spectacular night sky show. Regardless of shape or size – palapas provide durable piece of beauty (and function) to any backyard space!